Financial Trends: What's In and What's Out in 2017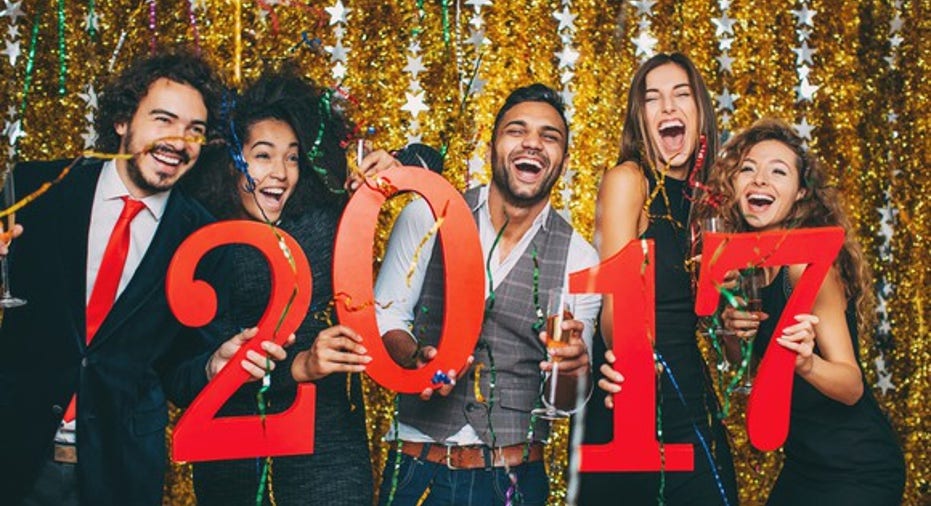 Now that 2016 is over, you may be reflecting on what went well, and what didn't.  Were you unemployed? Did you carry some debt? Land a gig? Buy a new home?
You may also be wondering what's ahead for 2017, and how you might fare, financially.
Here's a take on what will be in, and out, monetarily speaking, in 2017:
1. Out: Borrowers; In: Savers
---
With unemployment at a nine-year low, jobs being created at an average of 180,000 per month, the economy growing at better than three percent in the most recent quarter and some signs of a pickup in inflation, it makes sense that we got an interest rate hike last month, and that we'll get a few more in 2017.
That's good news for savers (Rates on your savings accounts will eventually go up.), and bad for borrowers, says Greg McBride, chief financial analyst, at Bankrate.com.  "Those with variable rate debt such as credit cards, home equity lines of credit and especially adjustable rate mortgages will pay more—and it'll be much more immediate."
When it comes to credit card interest alone, each quarter point rate hike means you'll pay a extra $25 a year for every $1000 of debt, according to NerdWallet.
2. Out: Full-time jobs; In: Freelancers
---
Get this: the freelance economy grew to 55 million Americans last year, according to a new study by Upwork, in partnership with Freelancers Union. That's 35% of the total U.S. workforce. "The freelance workforce is the fastest-growing component of the economy," says Louis Hyman, Director, Institute for Workplace Studies at Cornell University.
And while there are many reasons why, says Hyman, "from demographic trends to companies that are loathe to commit to full-time workers, the growth will continue.  That's expected.  The one unknown is how this will play out—whether it will be a good thing or a bad, whether it will be liberating for workers or repressive."
3. Out: Retirement; In: Gigs
---
Given that so many of today's retirees are too financially strapped to retire the way they had perhaps envisioned, some are turning to the "gig" economy and outfits like Uber and Lyft to earn supplemental income.
In fact, more than 400,000 seniors are earning money this way, and they're more reliant on these alternative jobs for income than younger adults are, according to according to a study by the JPMorgan Chase Institute (NYSE:JPM).
4. Out: Vacations; In: Experiences
---
While you could pay an additional $120 to $180 (if not more) at the pump this year, GasBuddy.com estimates, and airfares, while projected to remain flat in 2017, could edge higher if oil prices rise (and remain) at elevated levels, Americas are still going to take vacations. It's just that we'll be traveling "differently," says Chris Elliott, author of How to Be The World's Smartest Traveler. "In 2017, more travelers will move away from being traditional 'tourists' and will be looking for something completely unique -- that all-authentic experience."
Whether that's immersing ourselves in the local culture, learning something new, giving back, or incorporating wellness, the bottom line is this, says Elliott: "We have less vacation time than ever and budgets remain tight, so the thinking is, 'Why not make the most of it and make it the most memorable experience ever?'"
5. Out: Gyms; In: Boutique studios
---
Chain gyms are sweating it out due to the rise of boutique fitness studios, which have been exploding on the fitness scene for several years.
According to IHRSA, boutique studios now constitute 42% of the U.S. market in terms of the number of units—that's double what it was just two years ago.
"There's a social aspect, you're surrounded with like-minded exercise enthusiasts, you've got good instructors, it's personalized, and it's fun," says fitness expert, Nicole Glor, founder and president, NikkiFitness. "It's really about the total experience."
And those experiences, which consumers are willing to pay a premium for ($20 or more per class, on average), are becoming increasingly unique as fitness studios try to differentiate themselves from the competition.
Think: Throwback fitness classes, hip hop yoga, team-based workouts, rope waving, rowing, barre and cardio fusion-combined, and a whole lot more.
Vera Gibbons is a Senior Consumer Analyst with GasBuddy.com, personal finance journalist, and editor of nonpoliticalnews.com. A former analyst with MSNBC who appeared regularly on the "Today Show," Gibbons was previously a Financial Contributor with CBS News. Prior to CBS, she worked as a Correspondent for CNBC's "High Net Worth".  Gibbons has written for Inc., SmartMoney, Kiplinger's, Real Simple, New York Times, Fortune.com, CNN Money and CNBC.com.