Financial Steps to Take Before Walking Down the Aisles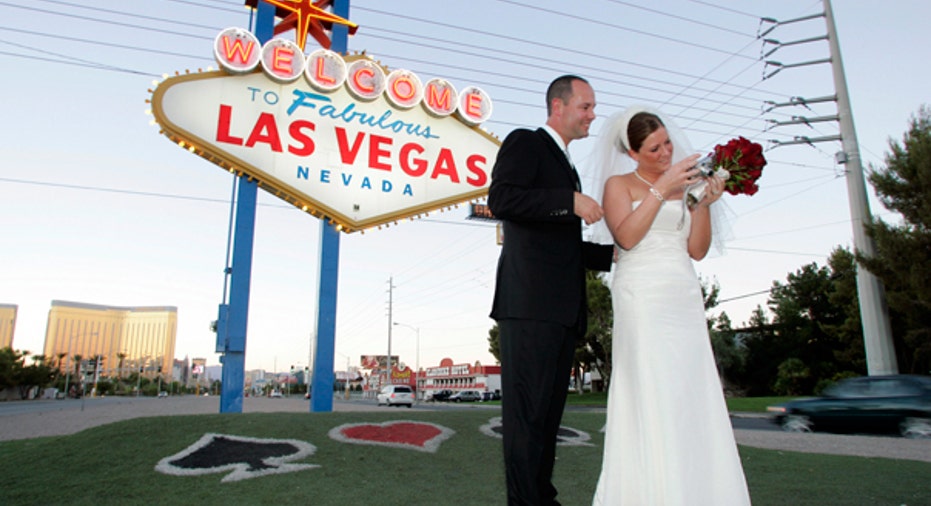 Love is in the air this time of year, and if you happen to be one of the lucky ones to get engaged, there are steps you can take before you tie the knot in order to avoid fights over finances.
Arguments about money can create a relationship rift. To avoid these problems, it's important to get on the same page with your spouse, take inventory, and plan ahead.
Marriage, like all other life changing events, can be made less stressful through communication and sound realistic planning. As with any legal merger, there are details to consider and papers to sign. Couples need to first understand each other's attitudes and concerns about money and then concentrate on the strategies and tools they will use to organize their financial affairs.Pre-Wedding Financial Discussion
Decide on a non-stressful setting to have your first serious discussion about money. Share past money management experiences, and be honest. Discuss where you want to be financially in five, 10, and 20 years and express any fears you might have associated with money and brainstorm ways those fears could be alleviated.
List your financial goals; this is a way to find out what is important to each of you. Rank the items on the list according to importance so that when the lists are compared and consolidated it will be easier to concentrate on the most important issues. Also, make sure to assign a price to each goal. This will make it easier to sharpen the focus of your combined lists. Then decide where the money will come from to meet these goals, how and where it will be saved, and who will earn and contribute towards what.
Finally, make a monthly budget. Many people cringe when they hear the word budget because they equate it with penny pinching and see it as a world without luxury or spontaneity. It's not: You do not have to deny yourselves the things you love, just work them into the budget.W-4 Employee Withholding Allowance Certificate
Once you have made a joint financial plan, you're ready to face the world and fill out a new Form W-4. You can ask your employer for a new one, copy it from the IRS books at your local library, or download a copy here (LINK OUT: http://www.irs.ustreas.gov. Before filling out new W-4s, figure out who will claim what. The number of allowances does not indicate the number of people in your family and be sure to take into consideration retirement plan contributions, mortgage interest, and childcare expenses, all of which can reduce your federal income tax obligation.
The IRS suggests that the spouse with higher income claim all of the allowance, this will help to ensure a more precise withholding calculation.Post Marriage Discussion 
When the honeymoon is over it is time to update your public records. Items that may need to be updated include:
•Passport•Driver's license•Military records•Employer ID card•Insurance policy (group and individual coverage)•Adoption record•Health insurance card•Marriage or divorce record•Vehicle titles•Real estate titlesMost importantly, if either of you change your name you will need to inform the Social Security Administration. If they are not notified before April 15, it could cause a delay on your tax return.Filing Separate or Joint Returns
There are many factors to consider when deciding whether you and your spouse should file joint or separate tax returns. Filing separate returns may help you avoid the "Marriage Penalty" but you will not be eligible for certain benefits.
Special provisions in the Economic Growth and Tax Relief Reconciliation Act of 2001, provide "marriage penalty" relief starting in 2005. Special rules apply to couples who choose to file separately, it's a good idea to consult your tax expert for advice.Wedding Costs are Not Deductible  
The cost of invitations, legal fees, and payments to your minister are not deductible on your tax returns. However, some business owners have been successful in deducting the cost of inviting business contacts to the reception.Review Health Insurance Options
You will probably need to alter some aspect of your health insurance after you get married depending on your present coverage, options and the number of dependents. The cost of being noninsured can have a devastating financial impact--this is a high-priority item. A personal visit to your employee benefit office or your insurance agent is the best way to get things moving.Family Finance Expert, Princess Clark-Wendel, holds an MBA from the University of Chicago and is the author "A Pocketbook of Hope in Tough Economic Times".  Ms. Clark-Wendel is an international business consultant and financial advisor who has held management roles in two Fortune 100 companies.  Visit Princess at  www.livelifeworryfree.com