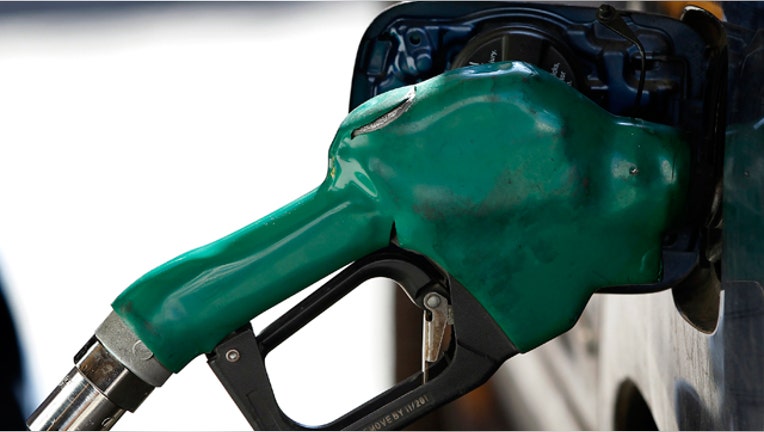 There's an unfortunate surprise waiting at the end of those long gas lines in the Northeast: sharply higher prices.
Gas prices jumped across New York and New Jersey over the weekend as officials rationed gas from the stations that remained open after Superstorm Sandy. The price increases are a final blow to the region, experts say. They won't spread to other parts of the country.
Outside of the Northeast, gas prices have been dropping, and they're expected to continue to do so. The national average gas price fell to $3.47 per gallon Monday, and it could drop as low as $3.35 per gallon by Thanksgiving, says Patrick DeHaan, a senior petroleum analyst at GasBuddy.com.
Prices are currently heading in the other direction in New York, where they rose by an average of 3.4 cents per gallon statewide during the past week, according to AAA's Fuel Gauge Report. Gas prices added 9.4 cents per gallon in New York City. In New Jersey, AAA said a gallon of gas increased by an average of 6.8 cents during the past week and 11.2 cents in Newark.
Is this price gouging? Not really, says Tom Kloza, chief oil analyst with the Oil Price Information Service. Most stations are simply trying to recoup the lost sales for the days they were out of service.
"When you have lines 200 cars long, and everyone's clamoring to get to your station, then yeah, maybe you're going to charge a little markup" for the gas, he says. "If you're charging 50 cents or more, that's gouging. But 5 (cents) to 10 cents, that's not."
What's happening in New York and New Jersey is actually quite normal following a natural disaster. Last year in New Jersey, the state average jumped by nearly 6 cents per gallon after Hurricane Irene slammed into the Atlantic Coast. And prices surged by 24 cents per gallon in Louisiana after Hurricane Katrina hit in 2005.
Hurricanes unerringly cripple a region's energy supply by flooding the electrical grid and cutting off fuel supplies. When Sandy swept into the Northeast last week, it smashed entire neighborhoods, flooded coastal regions and left many communities in the dark.
Refineries serving the East Coast were forced to temporarily shut down, and fuel tankers stayed clear of New York Harbor. Sandy also temporarily cut off the Colonial Pipeline, a crucial artery for transporting gasoline and other fuels from the Gulf Coast to the Northeast.
The U.S. government says that Sandy cut off more than 300,000 barrels per day of fuel production to the Northeast.
Petroleum experts are advising drivers in the region to relax a little and avoid filling up out of concern for gasoline shortages. There are ample supplies to serve everyone. Power outages are just making it harder to get the gasoline. It'll eventually get back to normal.
However, if you need to fill up now, here are a few tips for saving time and money.
Save time, money filling up
Don't fill up unless you must. It's tempting to top off your tank out of fear that more supplies won't be coming. But that's not going to happen. Gasoline will become more available as the power gets restored. "I have a half tank in my car now, and I'm not worried," Kloza says.
 Try to fill up in areas where multiple stations are open. The best way to protect yourself from price gouging is to make sure you're buying from someone who has competition across the street.
Use gasoline websites, blogs and apps for tips on the cheapest stations. GasBuddy, for example, gathers price information every day from thousands of volunteers around the country.
Combine trips and carpool. This is simple advice that's sometimes easy to forget. But if you find ways to conserve, you won't need to go to the pump so often.
The silver lining, if there is one, is that Sandy hit later in the year, well after the summer driving season when fuel demand is at its peak. That means the storm will have a gentler impact on gas prices than hurricanes Irene and Katrina, which both made landfall during August -- though in different years.
"In terms of impact on gasoline supply and prices, it was one of the better times for a hurricane to hit," Kloza says.