Fiat Chrysler Will Buy Back Recalled SUVs, Trucks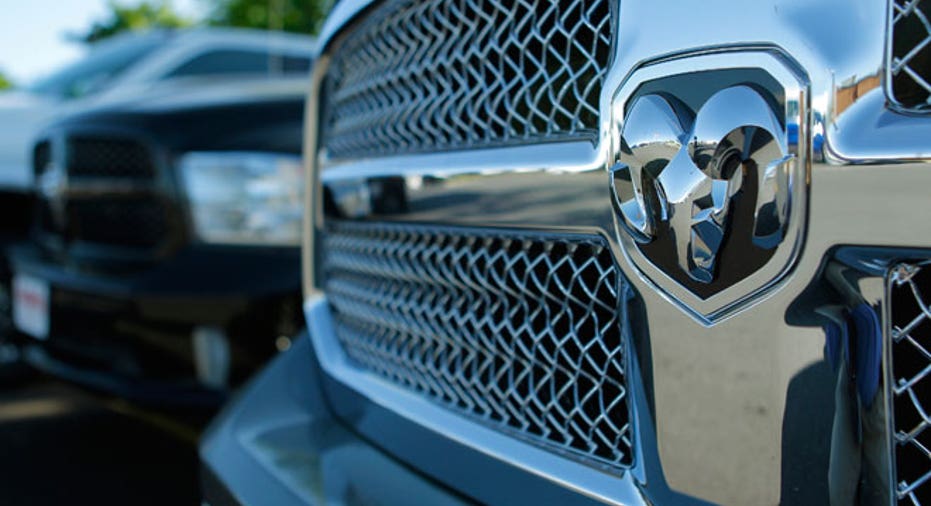 Owners of recalled trucks and sport-utility vehicles made by Fiat Chrysler Automobiles (NYSE:FCAU) will be allowed to sell them back, and some Jeeps can be swapped for new rides as part of a deal with federal regulators.
The offers are part of a settlement between FCA and the National Highway Traffic Safety Administration, which levied a record fine of up to $105 million for recall lapses.
FCA had recalled 500,000 vehicles, mostly Ram trucks, to repair faulty suspension parts that could lead to the loss of control. According to FCA spokespeople, approximately 190,000 of those vehicles have yet to be repaired and are thus eligible for the buyback offer.
Ram Buyback
Owners who have not responded to the recall yet can request a free repair or, under Monday's agreement with NHTSA, they can choose to sell their vehicles back to FCA for 10% above the original purchase price, minus depreciation.
These recalled models are eligible to be repurchased by FCA:
Certain 2009-2012 Ram 1500 pickup trucks
2008 Ram 1500 Mega Cab 4x4
2008-2012 Ram 2500/3500/4500/5500 4x4
2009 Chrysler Aspen and Dodge Durango SUVs
2009-2011 Dodge Dakota pickup trucks
Kelley Blue Book's online price tool says a base-model 2009 Ram 1500 with a standard cab has a trade-in value of $7,987 when in "good" condition. A 2012 version is valued at $12,269.
FCA can resell the vehicles it buys back once they are repaired.
Jeep Offers
FCA also agreed to offer unrestricted $100 gift cards to owners of recalled Jeeps that regulators believe are prone to fires following a crash.
Owners of 1993-1998 Jeep Grand Cherokee and 2002-2007 Jeep Liberty will receive gift cards if they bring affected SUVs to dealers. The repair process consists of installing a trailer-hitch assembly. A spokesperson for FCA said dealers have 60,000 hitch assemblies in stock, while 290,000 more are within a day's shipping from each store.
Alternatively, the Grand Cherokees are eligible for an additional trade-in offer. Customers will receive $1,000 above the fair market value of their vehicle. The trade-in funds can be used toward the purchase of another FCA vehicle or parts and service.
FCA will notify consumers of the new incentives.
FCA has said the 1.56 million recalled Jeeps are not at risk of catching fire more than other vehicles from the same period. In the settlement with NHTSA, FCA did not admit to any design flaw involving the gasoline tanks, which were mounted behind the rear axle.
A spokesperson for FCA said dealers have processed more than 500,000 Jeeps to date. The recall population includes SUVs that may already have trailer hitches.
At least 75 people have died from crash-related fires, based on findings from safety regulators.
Federal Fine
NHTSA said FCA was fined $70 million over the execution of 23 recalls covering 11 million vehicles. FCA must spend an additional $20 million to meet "performance requirements" detailed in the consent order with NHTSA, plus another $15 million if an independent monitor finds new violations.
The $105 million fine, which is connected to FCA recalls dating back to 2011, surpassed Honda's (NYSE:HMC) $70 million total penalty for defective airbags manufactured by Takata.
FCA shares dropped 5.4% to $14.34 on Monday.
S&P Capital estimated that the total cost to FCA could reach 7% to 8% of the company's net income in 2015. In a note to clients, analyst Efraim Levy said the amount should be manageable. FCA's U.S. sales have been gaining market share despite brand-denting recalls.
This article was updated July 28 to add the current number of Jeeps processed in FCA's recall.