Fewer NFL fans watched games at sports bars during 2016 season, data shows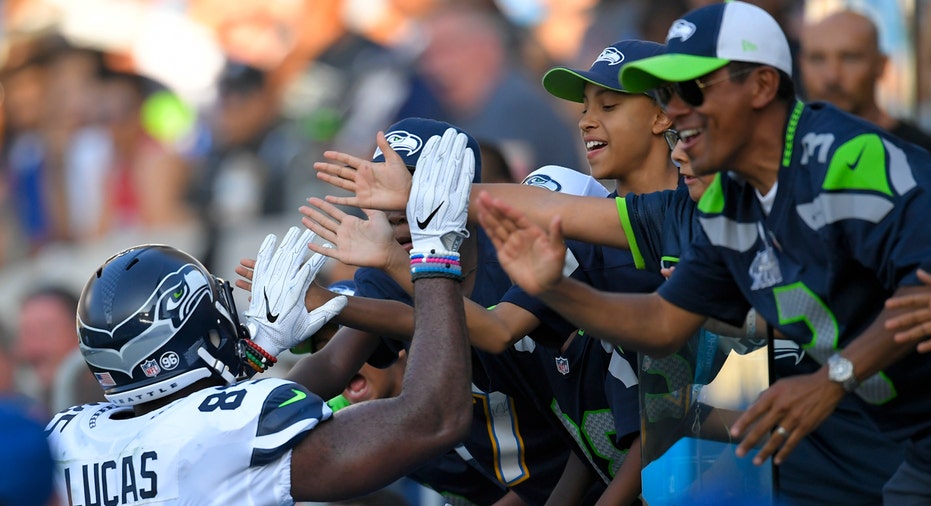 The television ratings decline that left NFL executives scrambling for an explanation last season may also have impacted business at local sports bars, according to data released Thursday by Foursquare, a location intelligence company.
Sports bars in cities with NFL teams saw a 12% drop in foot traffic on NFL Sundays during the 2016 season compared to the previous year, a Foursquare analysis of data from more than 2.5 million users revealed. The drop was slightly steeper in cities without NFL teams, where foot traffic at sports bars dropped 13% year-over-year.
"Fans might be shifting their viewership habits by running errands and picking up groceries to enjoy later, while watching the game at home, or perhaps they were out and about, checking scores on their mobile devices," Foursquare President Steven Rosenblatt said in a blog post. "If they persist, these shifting patterns may indicate continued declines in viewership during this year's football season."
The declines in sports bar attendance occurred in cities regardless of their local team's success – or lack thereof – on the field. Cities with first-place and last-place NFL teams each saw declines in bar traffic on Sundays in 2016 compared to 2015, according to Foursquare.
Women and millennials were the most likely demographics to visit sports bars less during NFL Sundays last season. Diehard fans weren't immune, either – the number of people who went to the bar to watch football more than three times during the 2016 regular season dropped 10%.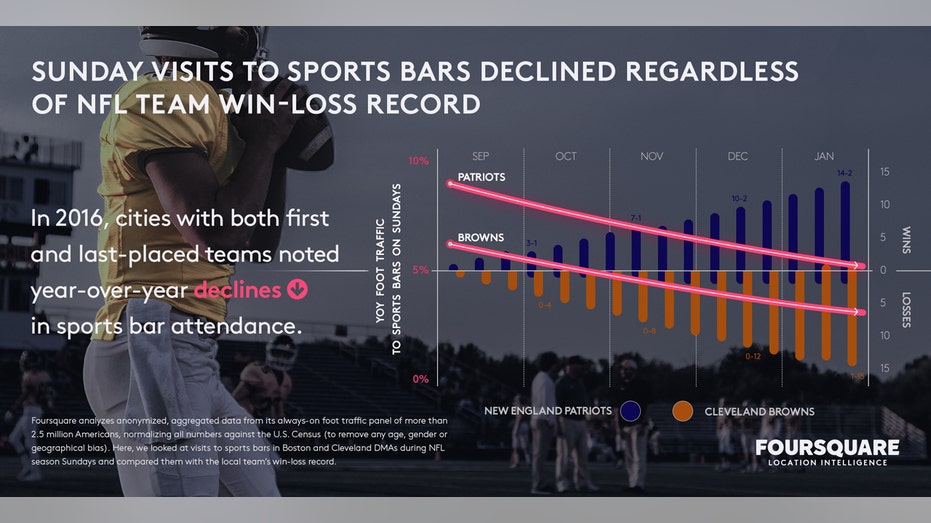 At the same time, visits to local gas stations and hardware stores rose 12% on football Sundays, while trips to grocery stores rose 3%, indicating that fans may have used the free time to catch up on their to-do lists.
"Decreased viewership may also equal decreased marketing spend for traditional TV; marketers should reconsider their strategy when it comes to targeting this audience. Additionally, liquor and beer advertisers may want to reconsider expectations for the 2017-18 football season, and work with on-premise distributors and liquor stores to develop new promotional opportunities to drive more Sunday bar traffic," Rosenblatt said.
Despite the decline in bar attendance, NFL Sundays remain a key business driver for local venues. Sports bars saw a 32% boost in foot traffic on Sundays during the 2016 season compared to the offseason, according to Foursquare.
The cause of the NFL's declining ratings were a source of near-constant debate throughout the 2016 season. Unprecedented coverage surrounding the 2016 presidential election, the NFL's concussion scandal and a series of player protests during the pre-game National Anthem were all posed by pundits as potential explanations for the drop.
Overall, NFL viewership dropped by an average of 8% during the season, with steeper declines for primetime Monday and Sunday Night Football broadcasts. NFL executives took steps this offseason to address the ratings dip, implementing changes designed to speed up the pace-of-play and reduce interruptions to on-field action.