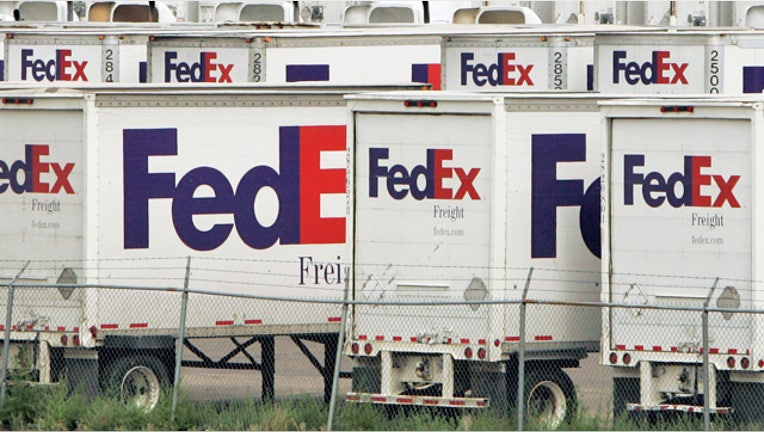 Hurt by the impact of Hurricane Sandy and slumping express profits, FedEx (NYSE:FDX) logged a 12% contraction in fiscal second-quarter profits on Wednesday, but the shipping giant's results managed to exceed Wall Street's projections.
Shares of the economic bellwether ticked up about 1% on the earnings beat and management's decision to reaffirm full-year financial forecasts.
FedEx said it earned $438 million, or $1.39 a share, last quarter, compared with a profit of $497 million, or $1.57 a share, a year earlier.
FedEx said Hurricane Sandy dragged down its quarterly EPS by 11 cents due to lower shipment volumes and incremental operating costs.
Excluding those charges, the company earned $1.50 a share. Analysts had been calling for non-GAAP EPS of $1.41 and FedEx spooked shareholders but projecting weaker-than-expected EPS of $1.30 to $1.45 back in September.
Revenue rose 4.9% to $11.11 billion, topping the Street's view of $10.84 billion. Operating margins slipped to 6.5% from 7.4%.
"Operating income for the quarter improved at FedEx Freight and FedEx Ground due to increased volumes and higher yields, while persistent weakness in the global economy and increased demand for lower-yielding international services limited profits at FedEx Express," CEO Fred Smith said in a statement.
Revenue at FedEx Express gained 4% to $6.86 billion as domestic revenue per package inched up 1%, but daily package volumes slipped 2%. Operating income at the segment tumbled 33% to $230 million.
Meanwhile, FedEx Ground logged an 11% jump in revenue to $2.59 billion and a 4% rise in operating income to $412 million. Average daily volume grew 8% and revenue per package gained 2%.
Looking ahead, FedEx sees EPS of $1.25 to $1.45 for the current quarter. Only the high end of that range would meet the Street's view of $1.45.
Management also reaffirmed its call for full-year EPS of $6.20 to $6.60. The midpoint of that range, $6.40, would top current estimates from analysts by a penny.
FedEx also projected overall holiday related shipping volumes to climb 13% from a year earlier.
"We are hard at work on another record-setting holiday shipping season, driven by the continued growth of e-commerce," Smith said.
On the other hand, Alan Graf, Jr., the company's chief financial officer, warned that "the mounting uncertainty in the U.S. related to fiscal policies and their potential to impact earnings by further restraining economic growth is a concern."
Shares of Memphis-based FedEx ticked up 1.10% to $93.38 in premarket trading. Coming into the day, FedEx has rallied about 10.5% so far this year.