FedEx Experiences Turbulence After Profit Warning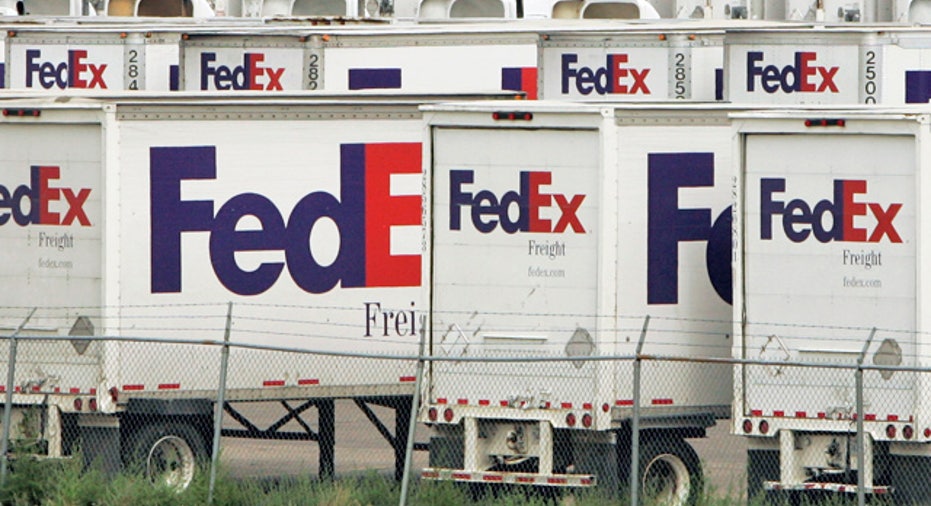 Shares of FedEx (NYSE:FDX) fell almost 3% Wednesday morning as Wall Street grows less bullish on the shipping giant after it issued a profit warning due to trouble in the global economy.
The gloomier earnings view led analysts to cut their price targets on the No. 2 shipping company and also helped weigh on the markets, which view FedEx as an economic bellwether.
FedEx cited "weakness in the global economy" that constrained revenue growth at FedEx Express more than it had anticipated.
The global economy has been hit by turbulence in recent months, fueled largely by the deepening sovereign debt crisis in Europe as well as slower growth in emerging markets like China.
"We do not see any near-term catalysts to reverse the slowing trends," Wells Fargo (NYSE:WFC) analyst Anthony Gallo wrote in a note, citing a potential "notable deterioration" in FedEx Express last month, Reuters reported.
Gallo downgraded the stock to "market perform" from "outperform"
Analysts at Royal Bank of Canada (NYSE:RBC) slashed their price target on FedEx to $85 from $90 but maintained a "sector perform" rating on the stock.
"While we like the idea of a turnaround at the Express division, we remain cautious on the name with the view that any major improvement will take time to materialize," RBC analyst John Barnes wrote in a note, Reuters reported.
Late Tuesday FedEx downgraded its fiscal first-quarter EPS view to $1.37 to $1.43, down from $1.45 to $1.60 previously. Even the optimistic end of the new range would significantly trail the Street's view of $1.56.
The new outlook puts FedEx on track for its first year-over-year decline in earnings since 2009. FedEx said it hasn't yet closed its books on the quarter and will release its full results on September 18.
Shares of FedEx retreated 2.56% to $85.30, putting them on pace to slash their 2012 gain of 5%.
Rival UPS (NYSE:UPS), which similarly cut its full-year earnings outlook in July, saw its shares slide 1.97% to $72.25.