Federal Reserve Leaves Interest Rates Unchanged Again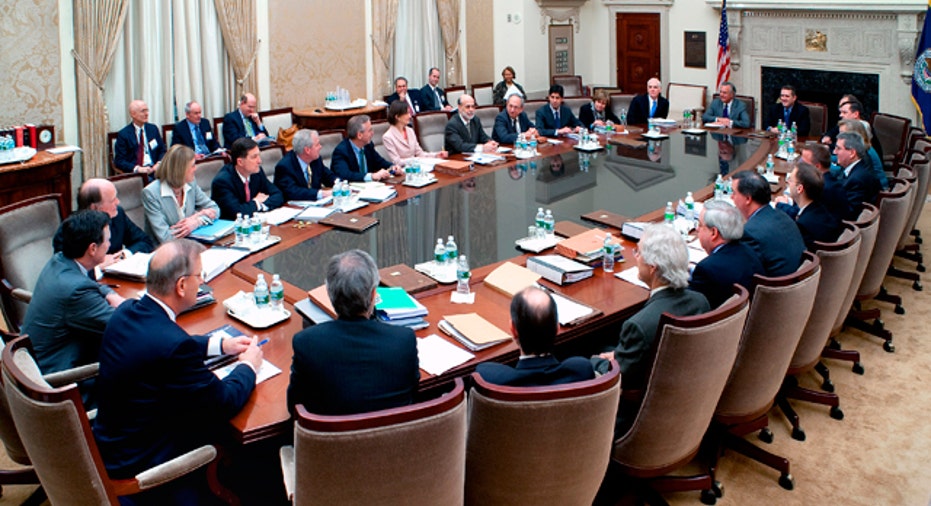 In its final meeting of the year, the Federal Reserve again left its lending rates unchanged, and experts say to expect more of the same through 2011.
At the conclusion of its one-day meeting on Tuesday, the Fed decided not to adjust its key lending rate. With the federal funds rate still in a range of 0 percent to 0.25 percent -- and the prime rate at 3.25 percent -- the central bank will instead continue to buy up government bonds in an attempt to stimulate the sluggish economy.
That approach means that interest rates on existing credit cards won't suddenly spike anytime soon -- at least, not based on anything the Fed does.
Bank decisions and borrower blunders can still result in higher annual percentage rates (APRs) for cardholders. Under the Credit CARD Act of 2009, however, lenders must give 45 days' advance warning about any APR hikes that don't stem from mistakes by credit card users, such as failing to make an on-time payment. The law makes an exception for rate changes that result from Fed policy adjustments.  
But according to analysts, the Federal Reserve may not tweak its lending rates in 2011, either. The Fed's "rates aren't going anywhere next year," says Dan Greenhaus, chief economic strategist with institutional trading firm Miller Tabak. Others agree. "I would expect them to be keeping interest rates low through most of next year, if not all of it," says Robert Mark, chief executive of consulting firm Black Diamond Risk.
The Fed speaksThe central bank wants to see sustained economic growth before it begins raising rates. In a statement accompanying the decision, the Fed reiterated its concerns about the economic recovery.
"Information received since the Federal Open Market Committee met in November confirms that the economic recovery is continuing," the Fed said in a statement, "though at a rate that has been insufficient to bring down unemployment. Household spending is increasing at a moderate pace, but remains constrained by high unemployment, modest income growth, lower housing wealth and tight credit."
The central bank's Federal Open Market Committee reaffimed its purchase of Treasuries -- debt issued by the U.S. government -- as a way to reinvigorate the economy. The Fed said it will continue its purchase of $600 billion in additional Treasuries between now and mid-2011.
The FOMC members voted 10 to 1 in favor of the decision, with only Thomas M. Hoenig dissenting, as he had at other recent Fed meetings. Hoenig said he "was concerned that this continued high level of monetary accommodation would increase the risks of future financial imbalances and, over time, would cause an increase in long-term inflation expectations that could destabilize the economy."
Experts weren't surprised by the Fed's decision to offer the economy more of the same. Miller Tabak's Greenhaus had said he expected as "uneventful a Fed meeting as we've had in several years."
Fed policy keeps APRs steady Things will also be uneventful for cardholders with variable rate cards, thanks to the Fed's decision to leave rates unchanged. Only variable rate cards will be impacted when the Fed eventually boosts lending rates. That's because only variable rate cards are tied to the prime rate and thus impacted by a shift in the fed funds rate. Meanwhile, more and more consumers hold variable rate cards, experts say.
"Currently, we are still seeing the percentage of variable cards owned increasing, while fixed rate cards continue to fall," says Lauren Guenveur, study director with Synovate
Among new cards, Guenveur says only First Premier -- a so-called "subprime" issuer that markets to consumers with thin or poor credit -- is mailing fixed rate offers to potential card applicants. The rates on those offers have also been changing: After reaching record highs in November, CreditCards.com data shows that APRs for new card offers have declined three of the past four weeks.
The New York Times has reported those new card offers are increasingly being directed toward borrowers who may appear risky, including those with credit scores damaged by the economic downturn. Failure to pay a mortgage, for example, could have left otherwise responsible borrowers with blemished credit histories. Although their credit scores have fallen, those numbers may not accurately predict whether those borrowers are able te repay loans in the future. It's a question card issuers need to consider. "What is their credit risk going forward?" asks Mark of Black Diamond Risk.
When you try and connect the dots between mortgage problems and credit scores, "past is no longer prologue because we're in a new environment," Mark says.
More from CreditCards.com: