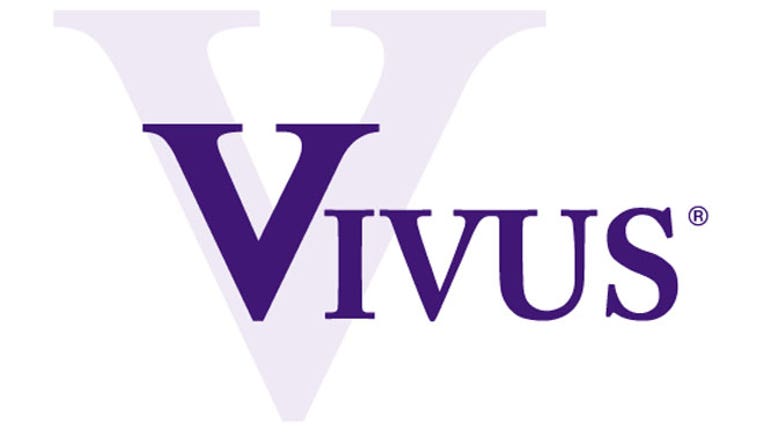 Shares of Vivus (NASDAQ:VVUS) jumped nearly 14% to new multi-year highs on Wednesday after the drug maker said its weight-loss drug Qsymia was granted approval by the U.S. Food and Drug Administration.
The drug is intended for use with a reduced-calorie diet and increased physical activity to manage chronic weight in adult patients with an initial body mass index (BMI) of 30 or greater, which is considered obese.
People with a BMI of 27 or greater, which is considered overweight, can also qualify for the drug if they also have at least one weight-related complication such as hypertension, high cholesterol or type-2 diabetes.
"Qsymia is the first FDA-approved once daily combination treatment for patients struggling with obesity," Vivus President Peter Tam said in a statement.
He said the drug was developed partly due to the "degree and severity of obesity" and a "lack of effective pharmacological interventions."
The weight pill is expected to be available in the fourth quarter of this year.
Shares of Vivus are up 267% from 12 months ago, with a majority of that growth occurring in 2012. Shares of Vivus touched a 15-year high Wednesday on the news.
Qsymia was studied using two late-stage trials that included severely obese patients and overweight patients with weight-related complications. The average weight loss was 10.9% and 9.8% in the two studies compared with 1.6% and 1.2%, respectively, for the placebo.
The most common adverse reactions for patients were tingling sensations in the hands or feet, dizziness, altered taste, insomnia, constipation and dry mouth.
Vivus said it will conduct post-marketing studies to assess the long-term treatment effect of Qsymia, as well as the safety and efficacy of the drug for weight management in obese children and teenagers.