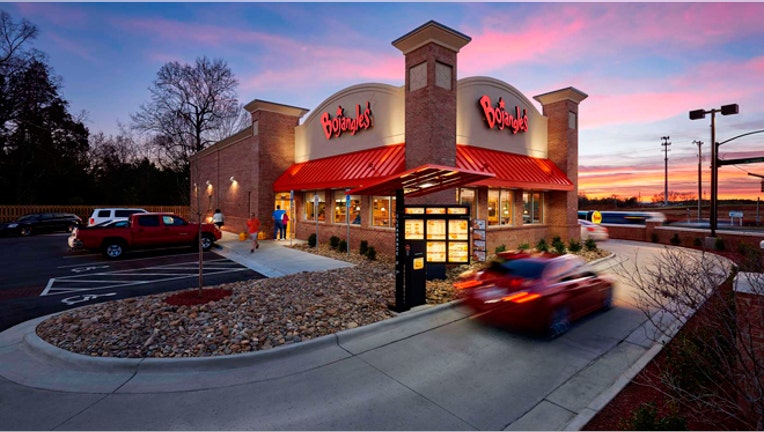 Shares of Bojangles Inc rose as much as 47 percent in their debut, valuing the chicken-and-biscuits restaurant chain at nearly $1 billion, as investor appetite for "fast-casual" dining chains continues unabated.
Bojangles, which operates in the fastest-growing but crowded restaurant segment, serves southern U.S.-inspired food, including buttermilk biscuits, and says it uses chicken that is not frozen.
The IPO comes at a time when more consumers prefer dining out as low gas prices and an improving job market bolster their discretionary spending power, giving a boost to restaurant stocks.
The Dow Jones Restaurant and Bars Index has risen about 10 percent this year, outperforming the S&P 500 Index's 1.5 percent rise.
Bojangles' rousing debut follows the January listing of cult hamburger chain Shake Shack Inc, whose shares have risen about 44 percent since the debut.
"I think it's a sector play," said Bob Goldin, an executive vice president at foodservice consultancy Technomic, referring to the surge in Bojangles' shares.
"When they trade at these really high multiples, they have no margin for error from a public investor's point of view," Goldin said.
However, few restaurant chains that have gone public in recent years were able to replicate the success of investor favorite Chipotle Mexican Grill, whose shares have surged more than 14-fold since their 2006 debut.
Bojangles, which records about 40 percent of its sales before 11 in the morning, has a menu that remains largely unchanged since the company was founded in Charlotte, North Carolina in 1977.
The company has 622 restaurants, of which about 60 percent are franchised, mainly located in the southeastern United States. It gets about 80 percent of its revenue via drive-through and takeout.
The offering of 7.75 million shares was priced at the high end of the expected range of $18-$19 per share. The company's shares touched a high of $27.97 within minutes of trading on Friday.
Bojangles' revenue jumped about 15 percent to $430.5 million in 2014, while net income rose 7.4 percent to $26 million.
The IPO raised about $147 million, with a majority of the proceeds going to its controlling shareholder, private equity firm Advent International Corp.
Advent's stake in Bojangles fell to about 74 percent from about 94 percent after the offering.
Bank of America Merrill Lynch, Wells Fargo Securities and Jefferies are the lead underwriters of the offering.
Bojangles' shares were trading up 32 percent at $25.09 in midday trading.
(Reporting by Amrutha Gayathri in Bengaluru; Editing by Saumyadeb Chakrabarty and Sriraj Kalluvila)