Fashion World's Tinder Launches Ahead of Black Friday in U.S.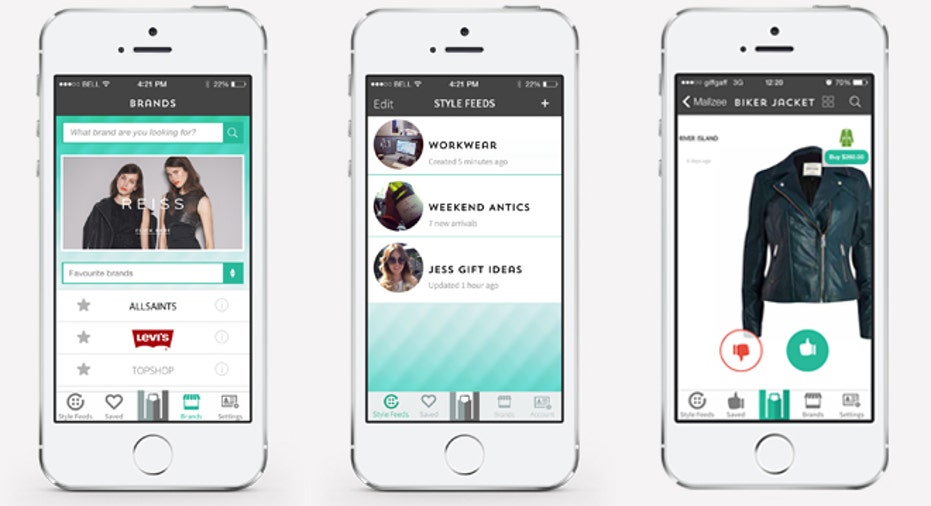 Just in time for the Thanksgiving shopping holiday, one of the most popular fashion apps in the U.K., Mallzee, is making its U.S. debut.
"We saw a massive gap for a personalized mobile shopping experience in the U.S. that made it simple to find clothes and grab a bargain -- Mallzee fills that gap," Cally Russell, CEO and founder of Mallzee, said.
The app is often described as the "Tinder for shopping," and aims to provide a personalized, multi-retailer shopping solution for time-constrained shoppers. Apple labeled it as one of the "best new apps" in six countries where it is available. It is free to use, and on Wednesday became available in the U.S., via Apple app store.
Like Tinder, it uses a swiping functionality that allows shoppers to flick through items like they would flip through clothes on a rack. According to Russell, this is "incredibly addictive and fluid" for the user. Swipe right to buy, swipe left to nix.
"It's an easy and familiar interaction on mobile and helps us learn each user's preferences in a way that's not invasive to the shopping experience," Russell said.
With so many fashion apps saturating the marketplace, Russell said what distinguishes Mallzee is the interactive and intelligent mobile experience. She said the way people shop varies widely based on what they're looking for, be it something to wear on a date or new workout gear. Mallzee allows users to create "style feeds" for different needs and to set everything from color to brand preferences. The app then sifts through all the user's preferred retailers to find items that match their style and need.
It can also send users personal price drop notifications on items they've swiped right on, which the team calls the "ultimate sale 'hack,'" as well as update their offerings as retailers add new items. But Mallzee's biggest hack is that it is actively learning a user's personal style, as they swipe through products, so the next time they sign on the app optimizes its offerings accordingly.
"Think of it a bit like creating a playlist that's constantly updating and bringing you new recommendations," Russell explained.
Raising capital in the U.S. might prove tough, as there's more competition and the company needs to innovate further, according to Sergio Monsalve, a partner at Norwest Venture Partners (NVP), who also doesn't think any retail app has "fully cracked the code" among mobile commerce apps. Monsalve says RetailMeNot is the closest example of a retail app with a strong strategy, as they have been able to provide the right offer, at the right time, in the right place and for the right price -- which compels users to buy.
"The [retail apps] that have done the best job offer a lot of different benefits to the customer, not just the eye candy or the gamefied swiping," Monsalve said. Though, he adds, that when people have downtime they tend to play with their phones and between scrolling through Twitter or Facebook, swiping through Mallzee could be the next go-to option.
The startup says it is "well into the tens of thousands" of users in the U.K. and is "adding a lot organically" each week. Per session people rate over 100 items on average, according to Mallzee's stats for users in Europe. Russell said the app sees up to 100,000 swipes per day, with one in every four shoppers not just swiping right to place an item in their cart, but clicking on the "buy" button.
Mallzee works with around 100 retailers currently in the U.K. and in the U.S. they will have about 40 retailers for launch, with around 200,000 products from which to choose.
"A huge part of our offering is 'everything in one place,' so we're proud to offer shoppers the opportunity to shop big-name brands, like Topshop, and smaller boutique retailers together," Russell said.
The Edinburgh, Scotland-based startup has raised about $850,000 to date and is "currently looking for between $4-7 million investment for our Series A, to allow us to continue to scale and continue to grow internationally," according to Russell. Mallzee generates revenue in a number of ways: Commission on sales generated through the app, native advertising for select retailers on Mallzee and plan to provide trend data to retailers.
Russell says the biggest challenge in moving stateside will be to scale in the U.S. quickly, continuing to add users. But she's confident.
"With our next round of funding we're confident we can execute this goal," she said.