Farmers 'Limping Along' as Drought Ravages Midwest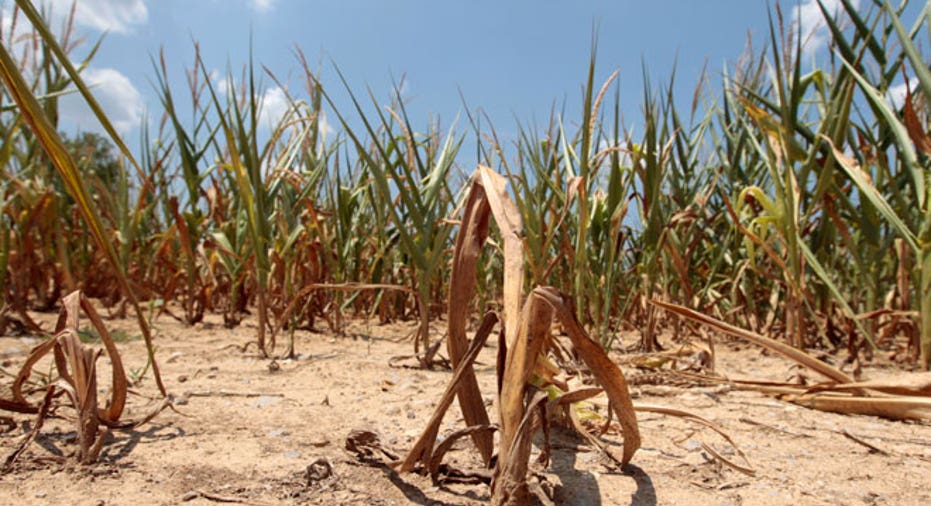 Fifth-generation dairy farmer Jason Schmidt says he is a big believer in grazing. And for decades, the sheep, beef and dairy livestock raised on his family farm in Newton, Kansas grazed on homegrown alfalfa and hay; however with a drought ravaging the Midwest, Schmidt says he is forced to pay nearly double to produce the hay needed to feed his animals.
Like many small farmers, Schmidt selectively opts for crop insurance, but has chosen not to insure his pasture grounds. The U.S. Department of Agriculture's Risk Management Agency has policies available for more than 100 crops, which vary in pricing based on past revenues, yields and locations. Policies are optional to purchase and cover a certain percentage of crops-per-acre, per-year.
"Maybe I will learn in subsequent years, but it's expensive," he said of the USDA–sponsored insurance. "With our dairy cattle we will probably break even this year, and hopefully not going into the red too much. I hope we can limp along."
The future of Schmidt's Grazing Plains Farm is uncertain. Farmers across the country like Schmidt are being impacted by what some are calling the worst drought to hit the Midwest in more than 50 years. Reuters is estimating corn yields will hit a 10-year low due to the extreme weather.
Steve Baker's Shenandoah Valley, Va., farm may not be suffering from a lack of rain, but he says he is getting hit hard on grain prices. Baker Farms imports grain for its hogs, and the farmer has been paying at least 25% more than usual for his feed ingredients.
And, he says, there's no insurance available for the situation he is stuck in.
"We grow some crops, but have to buy a lot of feed for our hog operation," he said. "We're at the mercy of the price and the Man above. You can try to budget and project for the upcoming season, but something like this [drought] throws a curveball at you."
He estimates feed costs five years ago were around $60 a ton, where as today he paying around $180 per ton for feed.
Baker's situation may be even worse than the farmers who are coming up short on crop production, according to Jim Farrell of Farmers National Company, which is based in Omaha, Neb., and manages more than 5,000 farms across the Midwest. Farmers short on crops will be charging more for their yields, however livestock farmers will be the ones potentially purchasing these yields at higher prices.
"There are the haves, and have-nots," Farrell said of the farms the company manages. "On the livestock side, this drought may impact them harder than the straight crop producer, so long as [crop producers] have adequate insurance. If not, that's like being unemployed for a year."
Cattle producers in particular are being tested, he said, because of last summer's drought in the Texas area, as much of the grain and feed was sent there to account for depleted sources.
"They can only try to buy feed at the right time," Farrell said.
Larson Acres, in McPherson, Kan., will have reduced corn and soybean yields by 50% to 70% this season, according to its owner, Daryl Larson. Larson has been farming since his high school graduation in 1972, and also has a commercial cow operation. Farms around him have had to begin hauling water to their livestock due to the scarce water situation.
Larson also has federal crop insurance, which he estimates costs him about $8 to $10 per acre. He is covered for about 75% of what he raises annually, which gives him some stability for the next year.
"We will survive this, but thank goodness I can afford the federal crop insurance," he said.
Bruce Lackey, president and CEO of Happy Chicken Farms in Urbancrest, Ohio, said the drought has forced his farm to charge its retailers more for its eggs.
"It's a national move—all wholesalers' prices are going up," he said.
And as small farms like his own raise their prices, retailers and wholesalers may look to others for supplies, Lackey said.
As for right now, Schmidt is hanging on and hoping for rain.
"We are dry land, and don't have the option for an irrigation system where we are," he said. "We are waiting for Mother Nature to bring some rain."