Families Wise Up About Paying for College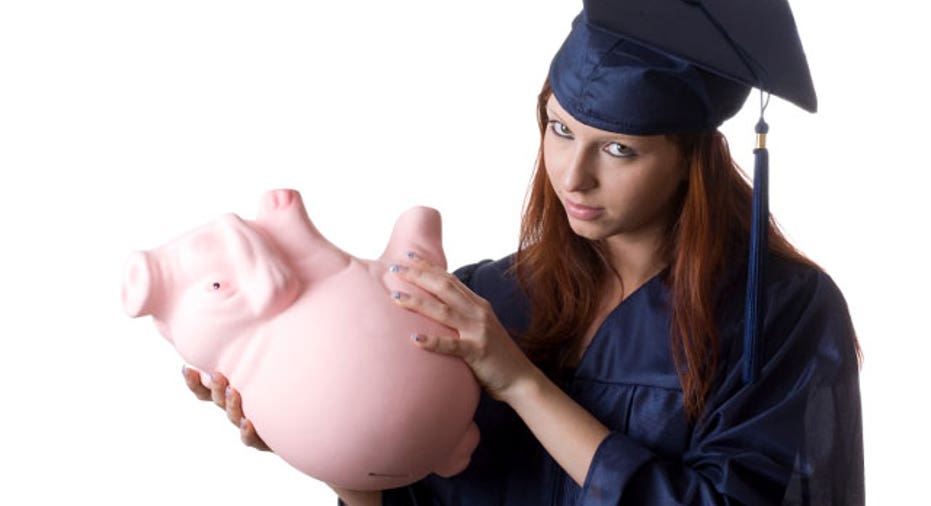 Despite the worst economic slowdown since the Great Depression, the collapse of housing prices, sharp declines in the financial markets and an unemployment rate stubbornly stuck above 9%, there is one thing that keeps going up: the cost of a college education.  According to the College Board, during the 2010-2011 school year, tuition jumped nearly 8% at public institutions and 4.5% at private schools.
Heres the amazing thing: according to education financial services company Sallie Mae, over that same period, families report paying 9% less to educate a student.
Despite (or perhaps because of) the awful economy, Americans are more committed than ever before to the importance of getting a college degree (1) and they're making smarter choices about how to pay for it.
Families are resourceful, says Sarah Ducich, a senior vice president at Sallie Mae and co-author of the latest How Americans Pay for College study. Nine out of 10 families said they took action to make [college] more affordable. By far, the No.1 strategy was to reduce personal expenses, cited by 70% of surveyed families.This savings strategy also held true among families in the wealthy category, defined by Sallie Mae as having income in excess of $100,000.
Families are also choosing lower-cost schools, according to Ducich. Three years ago, greater numbers of lower-income students began attending community college for their first two years. Last year, those from middle and higher-income families started doing the same thing. In addition, they also moved away from four-year public institutions. Enrollment is increasing the fastest at two-year publics and at four-year private schools.
That sounds counter intuitive: Arent state-supported colleges and universities supposed to be less expensive? If you just look at the average cost of tuition, room and board in terms of dollars, thats still the case (for in-state students). But revenue-squeezed state budgets have led to a sharp reduction in the amount of funding to subsidize public colleges and over the past decade, in inflation-adjusted dollars, the cost of attending a four-year public college or university rose 5.6% per year- nearly twice as much as it did at private schools, according to the College Board. This has reduced the gap between the cost of attending a public university vs. a private school, at least for out-of-state students.
At the same time, the Sallie Mae study found that the percentage of students from middle and upper-income families receiving grants (i.e. the kind of money you dont have to pay back) rose from 30% to 46%. Part of the reason, says Ducich, is that theres more federal Pell Grant money available. Since the grant is need based, its unlikely that students from wealthy families qualify, which means they must be receiving institutional grants. It turns out, that private schools have increased the amount of aid theyre providing, sats Ducichm which is offsetting the cost for upper-income families and boosting attendance.
A recent Fidelity Investments study identified strategies families have adopted in the past five years to reduce the cost of higher education, such as requiring the student to maintain a minimum grade point average in order to for mom and dad to continue to foot the bill.(2) Other steps include:
This research shows the strong commitment Americans have to the importance of higher education and the lengths they will go to ensure that a child receives one. In Ducich's words, families see college as an important investment in the future. Students, in particular, believe that they are less likely to be unemployed and more likely to earn more money if they have a college degree.
The evidence supports this. The College Board study Education Pays 2010 found that the unemployment rate for adults with at least a four-year college degree was half that of those who only have a high school diploma. In addition the report stated, as of 2008, college graduates earned $22,000 more a year than high school graduates&A college graduate can now expect to earn two-thirds more in lifetime pay than a high school graduate.
Although families have become increasingly savvy about ways to reduce the cost of a college education, Ducich maintains many are overlooking a significant source of cash: the American Opportunity tax credit can shave up to $2,500 off your federal tax bill for each qualifying student. The credit starts to get phased out once you reach a certain income level and disappears when you reach an amount above that. For single taxpayers, the thresholds are $80,000 and $90,000; for those filing married/joint, they are $160,000 and $180,000.
As a tax credit, the $2,500 will directly reduce the tax you owe the federal government. However, since its a refundable credit, if your income tax bill is less than $2,500, the government will send you a check for the difference.
1. The Sallie Mae study, conducted in the spring of 2011, found that the percentage of parents who strongly believe a college degree is a necessity held steady at 83%. The number of students who said this rose from 84% to 90%.
2. On average, parents report they require a GPA of 3.1% out of 4.0%
Ms. Buckner is a Retirement and Financial Planning Specialist at Franklin Templeton Investments. The views expressed in this article are only those of Ms. Buckner or the individual commentator identified therein, and are not necessarily the views of Franklin Templeton Investments, which has not reviewed, and is not responsible for, the content. 
If you have a question for Gail Buckner and the Your $ Matters column, send them to: yourmoneymatters@gmail.com, along with your name and phone number.