Facebook Gets Thumbs-Up for WhatsApp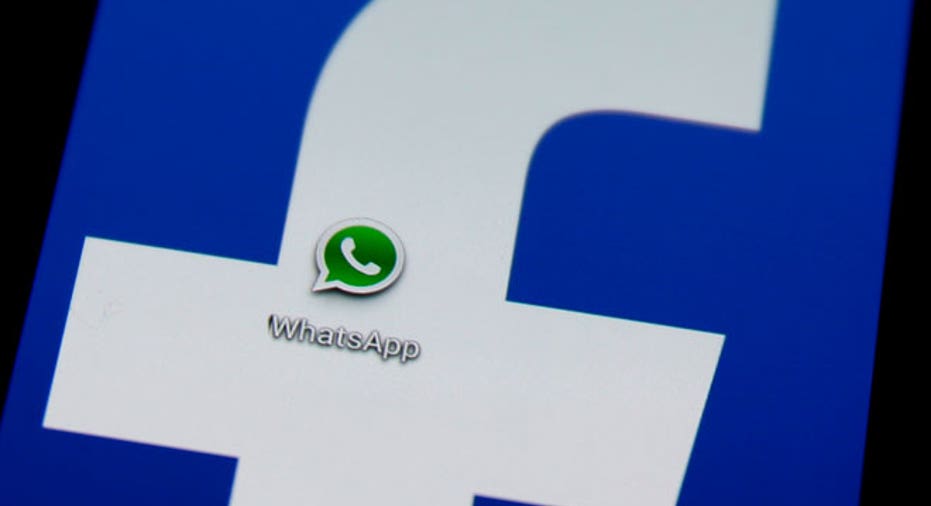 Facebook's (NASDAQ:FB) gargantuan $19 billion purchase of WhatsApp makes the messaging service bigger than nearly half the companies in the S&P 500 and virtually half the world's nations by GDP.
Yet, the jaw-dropping deal, which is valued at about 8% of Facebook's market cap, is getting applause by analysts, and shares of Facebook are only off a mere 2% despite shelling out that colossal amount of cash and stock.
"While $19 billion is an eye-popping valuation for a communications app with little revenue and a short history, we find this deal interesting for several reasons," Cantor Fitzgerald analysts told clients.
Perhaps it's because the M&A market as a whole continues to rebound. WhatsApp is only one of several transactions in recent months to surpass the $10 billion mark, a sign of companies' willingness to shell out hefty levels of cash in the name of innovation.
In a PwC report released Thursday on trends in tech M&A, transaction experts said the stabilization of the U.S. political and economic environment as well as positive momentum at the end of 2013, including the market debut of Twitter (NYSE:TWTR), point toward "an elevated level of activity in 2014."
This year "looks well positioned to resurrect the headier days of technology M&A," PwC said. "As evidenced by the number of billion-dollar transactions already announced in the new year, 2013's strong finish is clearly resonating into 2014."
Analysts believe WhatsApp will compliment Facebook's transition toward mobile during a  crucial time, increasing multi-platform engagement and accelerating user growth, while simultaneously joining forces with what was becoming a potent rival to both Facebook and Google (NASDAQ:GOOG).
In fact, some reports have said Google even offered to pay $10 billion for WhatsApp before Facebook.
Goldman Sachs (NYSE:GS) says the deal makes "strategic sense" for Facebook as the social network builds out its apps and expands its global footprint. Analysts at Topeka Capital Markets say they believe the combined company will accelerate user growth across both platforms, similar to when Facebook scooped up Instagram for $1 billion in 2012 and kept the picture-sharing app's brand intact.
James Cordwell of Atlantic Equities said Facebook is now well-positioned to dominate messaging and has taken out a "potentially disruptive competitor." He also believes the implied price per monthly active users is in-line with comparable deals and gave the thumbs up over Mark Zuckerberg's comments that the company is exploring a subscription-based rather than advertising model to drive revenue.
JPMorgan Chase (NYSE:JPM) analyst Doug Anmuth said the price is high but that WhatsApp is one of the few social networks on the path to more than one billion users over the next few years. The messaging app currently touts a user base of 450 million, growing at a pace of one million registered users a day.
Of course, it's unclear how successful a potential subscription-based model for WhatsApp will be, especially with an abundance of other free cloud-based chatting services, including Gchat.
Cantor Fitzgerald said it will take some time to realize just how financially successful this deal is but believes the "strategic rationale is sound."
"One thing is certain: disruptive technologies continue to drive change and opportunities at an  increasing rate," PwC said.
Facebook late Wednesday said it was buying WhatsApp for $19 billion, including $4 billion in cash, roughly $12 billion worth of Facebook shares as well as an additional $3 billion in restricted stock units.
The purchase price values the app, which only has 55 employees, above Blackstone (NYSE:BX), Harley Davidson (NYSE:HOG), Gap (NYSE:GPS), Under Armour (NYSE:UA) and Sony (NYSE:SNE), and virtually in-line with Macy's (NYSE:M) by market cap.
If WhatsApp were a country, it would be valued just below Afghanistan by GDP.
But Zuckerberg isn't worried. He says any service on the path to connect one billion people is "incredibly valuable."
Shares of Facebook were down about 2.3% to $66.49 in recent trade on unusually high volume, valuing Menlo Park, Calif.-based Facebook most recently at $131 billion, according to data from Thomson Reuters.