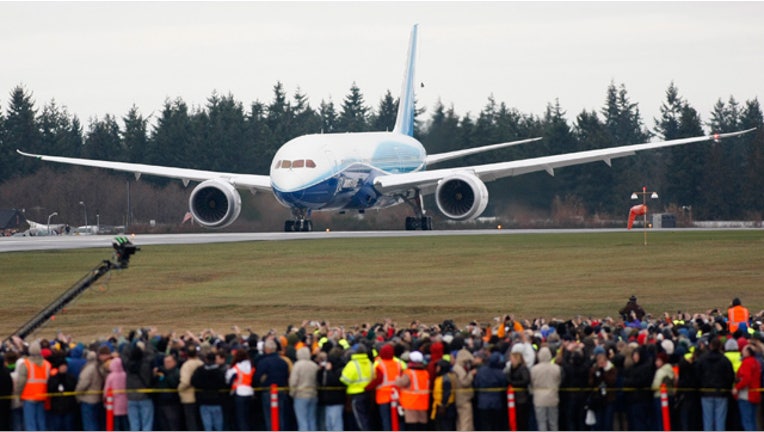 Following a series of hiccups this week, the Federal Aviation Administration said Friday it is launching a compressive safety review of Boeing's (NYSE:BA) new 787 Dreamliner.
The FAA, in a joint press conference with U.S. Transportation Secretary Ray LaHood and Boeing Commercial Airplanes CEO Ray Conner, said it will review the aircraft's "critical systems," including its design, manufacturing and assembly as it looks to discover the "root causes of recent events."
Earlier this week, the National Transportation Safety Board launched an investigation following a fire in the auxiliary battery pack of a grounded 787 at Boston's Logan Airport that resulted in one firefighter sustaining minor injuries.
Also this week, there were two fuel leaks of grounded 787s and a crack in another's cockpit window mid-flight, which All Nippon Airways pilots landed in Japan without incident.
LaHood said the FAA is concerned about the recent Boeing events but continues to maintain that the jet is safe for commercial use.
"I would have no reservations boarding this plane and taking a flight," he said.
The 787 began commercial use in 2011 after undergoing a rigorous certification process that the FAA says was the most comprehensive in aviation history. The FAA logged more than 200,000 hours in flight during the test period and since then the jet has carried more than one million passengers.
The Dreamliner, which is the world's first carbon-composite jumbo jet, features the newest aviation technology and runs more fuel efficiently than its predecessors, which has given it an irresistible lure.
The FAA investigation, while dedicated to resolving the matter and ensuring the 787 is at its safest, also seems to be trying to calm passenger concerns and reassure those outside the aerospace industry of the jet's reliability.
There are a total of 50 Dreamliners in service today with more than 150 taking off each day, Boeing said.
"We are confident about the safety of this aircraft but we are concerned about these incidents and will conduct a review until we are satisfied," FAA Administrator Michael Huerta said.
Much of the recent issues have been chalked up to typical teething problems that regularly occur when a plane is moving into commercial service. Boeing said the 787 is on par with past commercial aircraft introductions but nevertheless remains committed to resolving "any issues that reflect on the reliability" of the aircraft, Conner said.
Shares of Boeing slumped more than 2.5% on Friday.