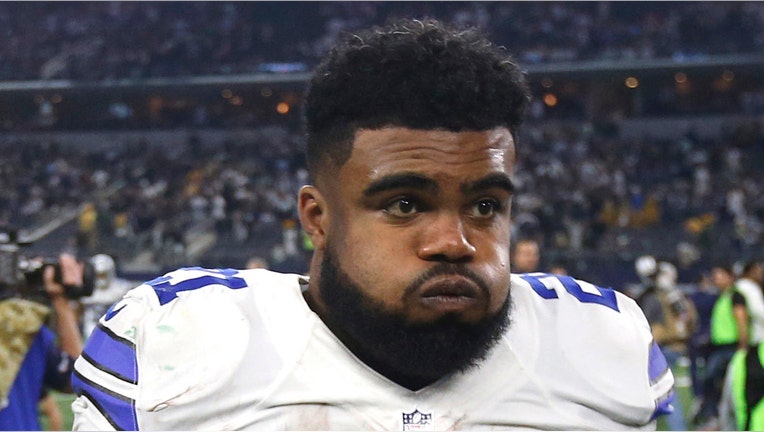 NFL-appointed arbitrator Harold Henderson opted Tuesday to uphold Dallas Cowboys running back Ezekiel Elliott's six-game suspension for violations of the league's personal conduct policy, according to multiple reports.
Despite the suspension, Elliott is permitted to play in the Cowboys' Week 1 game on Sunday because Henderson's ruling came after a 4 p.m. ET deadline. At present, Elliott's suspension will take effect starting in Week 2. Elliott's lawyers said they plan to challenge the decision in federal court.
"We are extremely disappointed with Mr. Henderson's inability to navigate through league politics, and follow the evidence, and most importantly, his conscious [sic] … the only just decision was to overturn the suspension in its entirety. Mr. Elliott is looking forward to having his day in federal court where the playing field will be level and the NFL will have to answer for its unfair and unjust practices," Elliott's lawyers said in a statement.
The NFL Players Association (NFLPA) preemptively sued last week to block any potential discipline against Elliott, alleging in a U.S. District Court filing that the league's handling of the appeal process has been "fundamentally unfair." The NFL responded with a motion to dismiss the NFLPA's petition, arguing that the union's lawyers improperly acted before Henderson could reach a ruling in the case.
A district judge is expected to rule later this week on whether to grant the NFLPA's injunction request. If granted, an injunction would likely allow Elliott to continue playing until a final court ruling on the suspension can be reached.
Elliott, 22, was initially suspended on Aug. 11 after NFL officials conducted a year-long investigation into domestic violence allegations against him. Tiffany Thompson, Elliott's ex-girlfriend, said the Cowboys star physically abused her on multiple occasions in July 2016. League officials interviewed more than a dozen witnesses, reviewed phone records and consulted a panel of experts as part of the investigation.
Elliott, who was never arrested or charged with a crime, has vigorously denied the allegations. However, NFL Commissioner Roger Goodell determined his actions constituted a violation of the NFL's personal conduct policy. Under the league's collective bargaining agreement, Goodell has far-reaching authority to discipline players regardless of whether they were charged with a crime.