Ezekiel Elliott, Cowboys Dominate NFL Players Merchandise Sales List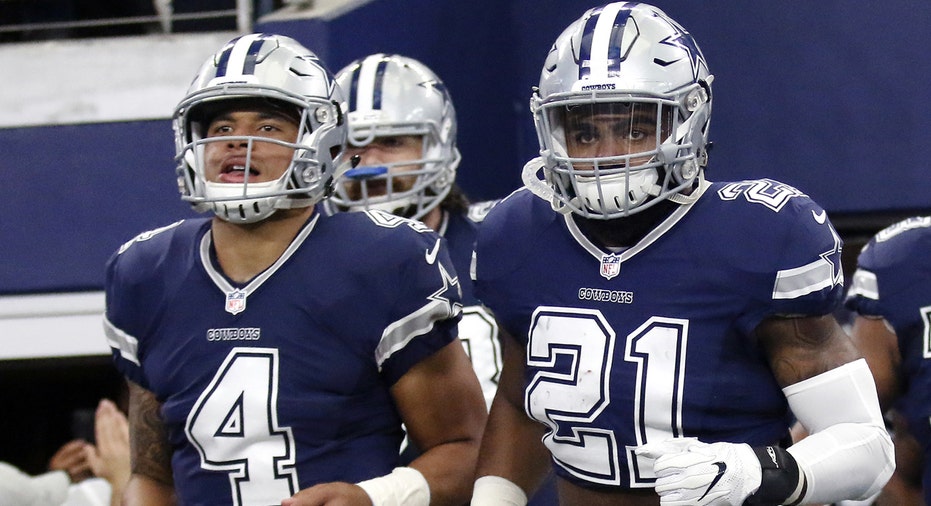 Dallas Cowboys running back Ezekiel Elliott needed just one season to rocket to the top of the NFL's player merchandise sales list, according to figures released Wednesday – and several of his teammates aren't far behind.
Elliott, who earned NFL rookie of the year honors in 2016, is the first rookie in league history to lead the NFL Players Association's list, which ranks all players by total sales of officially-licensed merchandise like jerseys and action figures. The 21-year-old running back rushed for more than 1,600 yards and 15 touchdowns last season.
"It's pretty humbling," Elliott said in a press release. "When you're a rookie, you're just looking to put your head down, help the team, and learn the ropes. To accomplish this level of success off the field shows just how passionate football fans are in Dallas, Ohio, my home state of Missouri and all around the world. And to be up there with Dak and Dez, alongside great players like Tom Brady and Odell Beckham, is very special to me."
Elliott wasn't the only Cowboys star to crack the list. Dallas quarterback Dak Prescott – also a rookie last season – ranked second, just behind his teammate. Prescott actually surpassed Elliott in terms of jersey sales, according to the NFLPA. Cowboys wide receiver Dez Bryant ranked fourth in merchandise sales, which made the Cowboys the only NFL franchise with three players in the top-10.
The Seattle Seahawks were the only NFL franchise other than the Cowboys to place five players in the top-selling list. The team's headliners include star quarterback Russell Wilson (ranked sixth) and cornerback Richard Sherman (ranked 24th).
New England Patriots quarterback Tom Brady, who led his franchise to yet another Super Bowl win in February, ranked third among NFL players. In addition, he outpaced all other players in terms of sales of kid-sized T-shirts and jerseys.
The full NFLPA player sales list for 2016 can be viewed here.