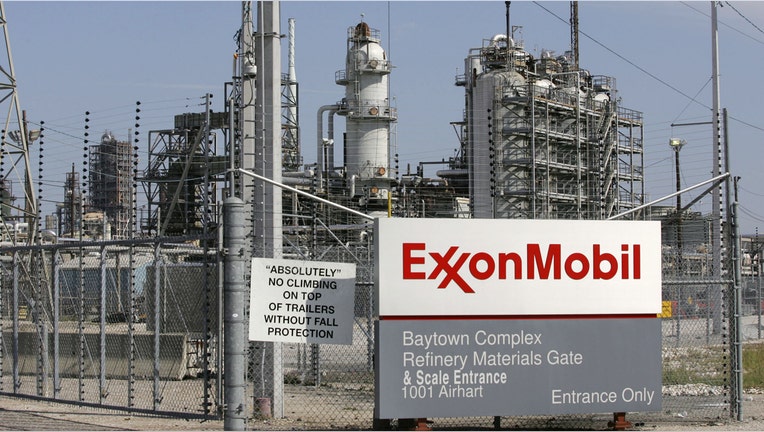 Exxon Mobil Corp. said revenue and profit slid in its third quarter as commodity prices tumbled, but results came in above Wall Street expectations as the largest U.S. oil company cut back on spending.
Shares of Exxon, down 11% this year, added 1.7% in premarket trading.
The Irving, Texas, company reported a profit of $4.24 billion, or $1.01 a share, down from $8.07 billion, or $1.89 a share, a year earlier.
Revenue fell 37% to $67.34 billion.
Analysts polled by Thomson Reuters expected a per-share profit of 89 cents and revenue of $63.75 billion.
Profit in the exploration and production, or upstream, business plunged 79% to $1.36 billion in the latest quarter, as its U.S. division swung to a loss of $422 million.
But Exxon was again helped by fatter profit in its downstream and chemicals divisions, which are helped by low prices for oil and gas. In the latest quarter, refining and marketing earnings, or downstream, essentially doubled to $2.03 billion. Exxon cited higher margins.
Chemical earnings edged up to $1.23 billion from $1.20 billion a year earlier, with growth moderated by foreign exchange impacts.
Exxon said it cut its capital spending by 22% from the prior year to $7.67 billion.
Exxon has moved to conserve cash in a sign that it doesn't expect a quick rebound in crude prices. The company has announced it would slash its capital spending by this year and reduce its stock buybacks in the near term.
Exxon said it plans to spend about $500 million on share buybacks in the current quarter, matching the reduced level it targeted in the third quarter.
Meanwhile, the company continues to grow its production. On an oil-equivalent basis, upstream production grew 2.3% from the prior year.
Chevron Corp., the second-biggest U.S. oil company in market value behind Exxon, is also set to report its earnings on Friday. On Thursday, ConocoPhillips reported a loss of $1.1 billion amid heavy impairments and announced plans to trim its spending further.
Write to Chelsey Dulaney at Chelsey.Dulaney@wsj.com
Access Investor Kit for "EXXON MOBIL CORP"
Visit http://www.companyspotlight.com/partner?cp_code=P479&isin=US30231G1022
Subscribe to WSJ: http://online.wsj.com?mod=djnwires
Copyright © 2015 Dow Jones Newswires