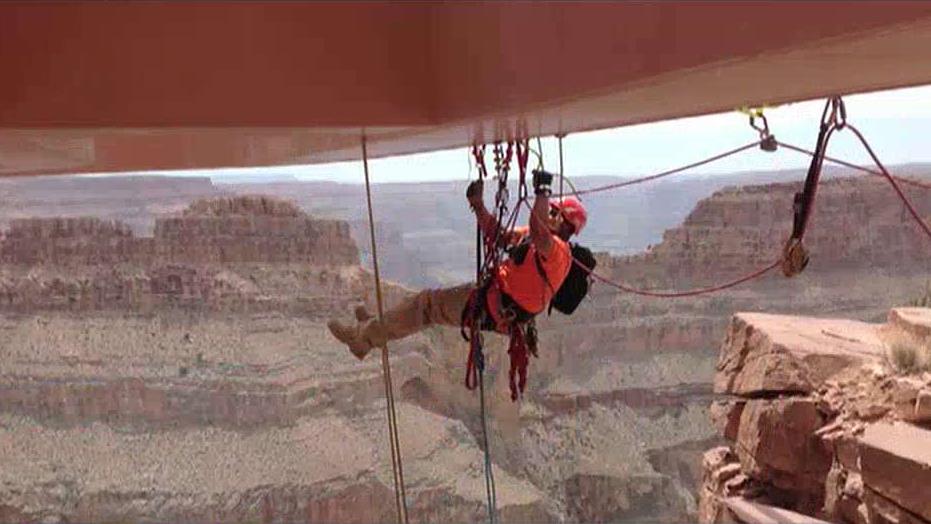 The Grand Canyon Skywalk is a glass bridge thousands of feet above ground, making it quite a challenge to clean. Abseilon USA CEO Kenneth Piposar and Abseilon USA Rope Access Technician Casey Gilmore discussed the skills and technology needed to get the job done Monday on the FOX Business Network.
"All of our technicians are SPRAT certified: SPRAT stands for Society of Professional Rope Access Technicians, and all of our technicians are certified. There is continuing education and specific training involved to accomplish the feat such as the Skywalk, so it's quite an interesting occupation to say the least," Piposar told Maria Bartiromo about the skills involved in doing that type of work.
He then explained the role technology plays in doing the job.
"We use some very interesting technology. We use a camera system that allows our technicians to stream live video with a one-second delay to a PC tablet, a computer, to, for instance, our engineers who could be in a different state." Piposar continued, "For example, we more recently did a bridge inspection, the Rio Grande River Gorge Bridge, and the technicians were communicating at that time with the engineers looking for fractures on the bridge."
On whether he experiences any fear while he is working, Casey Gilmore said, "That is actually a pretty common question. At the beginning you get a little nerves, a little anxiety there, but honestly, once you get into full focus, a lot of the times you're completely kind of oblivious to what's around you other than what the task is at hand."
More from FOXBusiness.com…
Piposar then gave some insight on the salaries for these skilled technicians.
"Well the salary varies. SPRAT has three different levels… A level three technician can make quite a nice amount of money over the course of his career. Probably a level three you are looking at about $60,000-$70,000 a year.