Exclusive: Tissot Unveils NBA Specialty Watches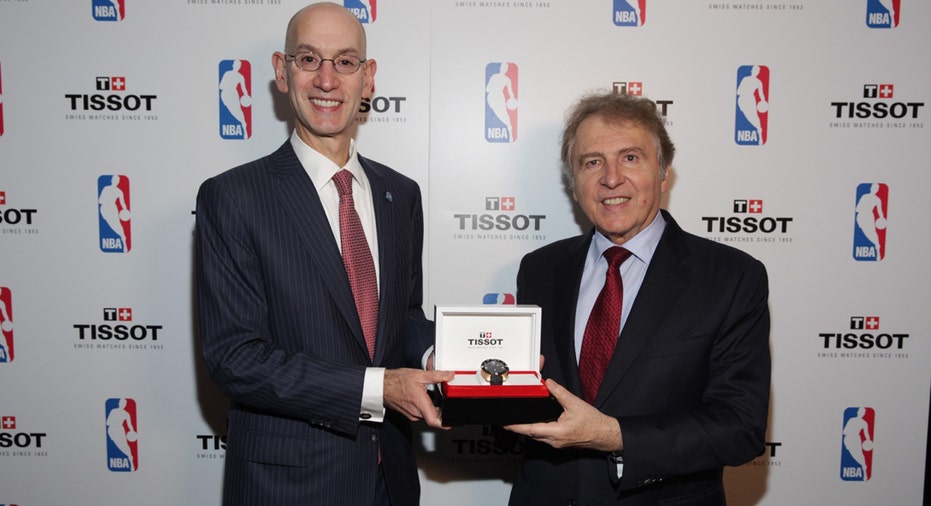 Swiss watchmaker Tissot is not wasting any time unveiling new products with its latest sports partner: the NBA. FOXBusiness.com has learned that Tissot on Wednesday will announce partnership deals with five NBA teams: the Chicago Bulls, Los Angeles Lakers, Miami Heat, New York Knicks, and San Antonio Spurs.
Tissot, which has signed on as the League's first official timekeeper, will sell six different watches ranging from "sporty to trendy to classic." The team watches will go on sale in time for the holidays and retail for $400 to $500 each. Tissot's even pricier NBA collection is expected to fetch up to $1,000 per timepiece
At last night's Knicks-Spurs game in New York, Tissot President Francois Thiebaud offered a sneak peak of the lineup along with officials from both teams and NBA Commissioner Adam Silver.
Before the game, Thiebaud told FOXBusiness.com, "We want to create and associate new products (with the NBA) to show we are a partner, not just a sponsor." He also said Tissot hopes to have a new multi-platform campaign in place in the next few weeks.
It's all part of a reported six-year, $200 million deal in which Tissot not only is the official timekeeper for the NBA, but also the company's name will adorn the 24-second shot clock in all 29 NBA arenas.
Tissot will also be the official timekeeper for the WNBA and NBA Development League. Additionally, the company will run the clock at marquee NBA events including the All-Star Game, the NBA Draft, NBA Summer League games and NBA Global Games
While coaches preach that every possession and every second is valuable, Tissot's deal has placed a value on that time. But befitting a profession built on precision and, well, taking its time to get things right, Thiebaud says the company is not trying to beat a deadline by rushing its brand of shots clocks to the hardwoods. He says the Tissot-branded shot clocks are being "fine tuned" and may not debut until the 2016-2017 season.
The brand is a division of The Swatch Group and has had a similar deal with the sport's global governing body, FIBA, since the 2008 World Championships. Tissot's sports sponsorships also include keeping time and data at every Olympic Games since 1976.
And it is precisely the growing global appeal of the NBA that captured Tissot's eye and opened the purse strings.
"Basketball reflects a beautiful sport and the Olympic spirit," Thiebaud says, adding, ""The NBA is a unique partner. There's no doubt this NBA exposure is worldwide. The games are televised in Europe and Asia. There's lots of visibility. It's a good partnership for both sides." Did Tissot score a sweet deal or overpay? It's hard to say as no one has ever sponsored the shot clock.
David Carter, a principal at The Sports Business Group and executive director at the University of Southern California's Marshall Sports Business Institute, says that both sides should get substantial global reach from the deal, "Sponsorship space is a lot like cherished real estate in that it has become increasingly scarce while becoming more expensive. Given the importance and visibility of the shot clock throughout sports, it is not surprising that a deal of this magnitude was struck."
Thiebaud says he prefers the relative intimacy of NBA courts vis-a-vis the stadia of the NFL or the English Premier League. "The courts are small and when you watch in the arena you can feel the emotion and see the people closer up. When you watch a football (soccer) game or the NFL, the crowd is much farther away. When you go to the basketball game, you can touch the people or they can be hit with a ball (courtside)."
And he is excited that basketball fans keep watching the clock, especially with so many games decided in the last minute and TV cameras fixed on the goal and the official time, "It can come down to someone having a last-second shot to win the game."