Exclusive: Nissan halts joint development of luxury cars with Daimler - sources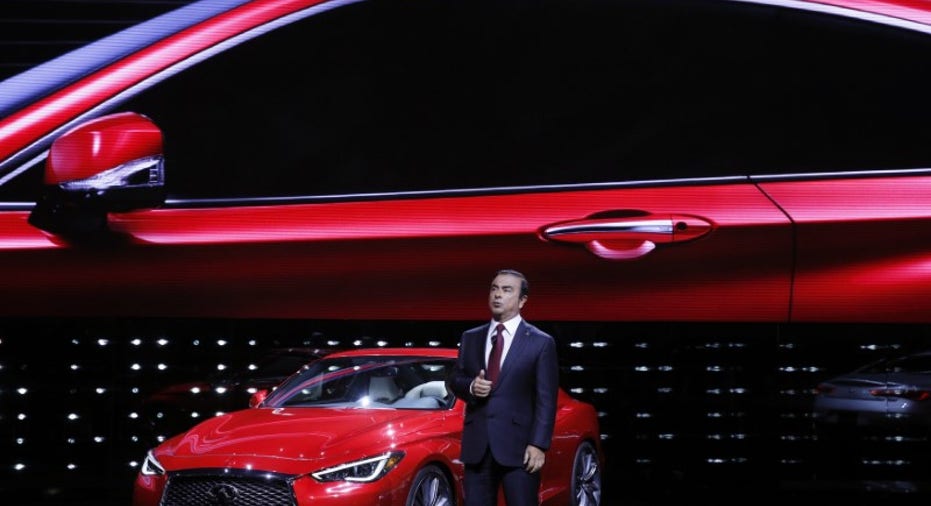 Nissan is halting joint development of luxury cars with Daimler's Mercedes-Benz, sources close to the companies told Reuters, suspending a key project in their seven-year partnership and potentially hitting profitability at a new shared factory in Mexico.
Nissan <7201.T> decided in October its premium Infiniti brand would not use "MFA2", an upgraded Daimler car platform that the companies have jointly funded, in part because Infiniti was not performing well enough to absorb Mercedes technology costs, the sources said.
"It wasn't possible to close a deal on the basis of MFA2," said one of the people. "The targets set by Infiniti were too difficult to achieve."
The move could reduce efficiency at a $1 billion shared factory opening this year in Aguascalientes, Mexico, where the companies had planned to use the same compact car architecture to cut complexity and production costs, two of the sources said.
It could also ultimately force Nissan to write down part of a 250 million pound ($306 million) investment at its UK plant that included Mercedes-based tooling, they added.
Daimler and Nissan pursue joint programs only when "beneficial for both sides", the companies said in separate statements to Reuters, without directly addressing emailed questions about their plans for MFA2 vehicles.
Projects are constantly reviewed against targets to account for "developments beyond the control of management", they added, and discussions about joint development of future premium compact cars are ongoing.
Nissan's decision deals a blow to the broad cooperation deal struck between Renault-Nissan boss Carlos Ghosn and his Daimler counterpart Dieter Zetsche in 2010.
It also underscores the mixed results of Nissan's battle over almost three decades to transform Infiniti into a significant global player in the lucrative luxury car market.
The decision predates Donald Trump's election as the next U.S. president, the sources said, and was unrelated to campaign vows to penalize Mexican imports that have rattled the auto industry. Ford on Tuesday scrapped a planned compact car plant in the country.
Nissan and Daimler are pushing ahead with Aguascalientes, where they will build Infiniti and Mercedes models for the U.S. and other markets from a single assembly line opening in 2017.
The project nonetheless faces weakening U.S. demand for smaller cars that contributed to Ford's cancellation and has further raised profitability hurdles for new Infiniti compacts.
Persistently low oil prices accelerated the market shift to larger vehicles in 2016, Ford sales chief Mark LaNeve said on Wednesday. "All the growth was SUVs and trucks."
PREMIUM STRUGGLE
Infiniti has struggled outside the United States, last year selling 16,000 vehicles in Western Europe and 230,000 globally - less than 5 percent of Nissan's overall tally and barely one-tenth of Mercedes's expected 2 million deliveries.
The first Infiniti appeared in 1989, the same year as the launch model for Toyota's <7203.T> upscale Lexus brand - which has since grown three times bigger by sales.
Modern carmakers pursue economies of scale by increasing the number of models built on each underlying platform - an adaptable chassis accommodating different body sizes, engines and alternative component sets for every part of the vehicle.
The retreat on luxury compacts leaves intact the sharing of engines between Infiniti and Mercedes, and small cars between Renault and Daimler's Smart. The three groups also collaborate on vans and pickups.
But joint premium car development for Mexican production was "one of the largest projects between the Renault-Nissan alliance and Daimler", Ghosn said when unveiling the program in 2014.
A year later, after upgrading its plant in Sunderland, England, Nissan began building the Infiniti Q30 hatchback on the current MFA architecture developed for the Mercedes A-Class and derivatives. The plant added the QX30 SUV in 2016, extending Infiniti's push into smaller vehicles.
Nissan has now ditched plans to use the updated Mercedes platform for successors to those models planned for Aguascalientes, the sources said - or for any future Infinitis. Other cancellations include a compact Mercedes-based Infiniti Q40 sedan earmarked for the plant in 2018.
Instead the single, less efficient assembly line will build Mercedes cars including an A-Class sedan and subsequent mini-SUV alongside Infiniti vehicles based on Renault-Nissan architecture, starting with a new QX50 SUV this year.
PRICING POWER
Nissan was forced to conclude that the Infiniti brand would not command the higher prices required to turn a profit on vehicles stuffed with Mercedes technology, one source explained.
"One of the lessons learned is that if you have the costs of a luxury vehicle but not the pricing, it's hard to be profitable," he said.
Nissan may end up writing down some Sunderland investment in Mercedes-based tooling that had been intended to outlast the current Q30 and QX30, people with knowledge of the matter said.
The company is still paying its share of MFA2 development costs running to hundreds of millions of euros for a platform it no longer plans to use, they said, but will leave Daimler with a higher share of some production costs in Aguascalientes.
The setback may also show the limits of Ghosn's consensual approach to economies of scale as head of both Renault and Nissan, whose 18-year-old alliance is underpinned by significant cross-shareholdings.
The slow pace of integration has contributed to upheaval at the recently created alliance powertrain division, charged with converging Renault and Nissan engineering.
Plans to build Infinitis on Mercedes technology had encountered resistance at Nissan from the start, one source said. "Once again, Ghosn has been unable to break through the wall of engineers to force commonality."
(Additional reporting by Joe White in Detroit and Edward Taylor in Frankfurt; Editing by Mark Potter)