Exclusive: New, Free App Revolutionizes Video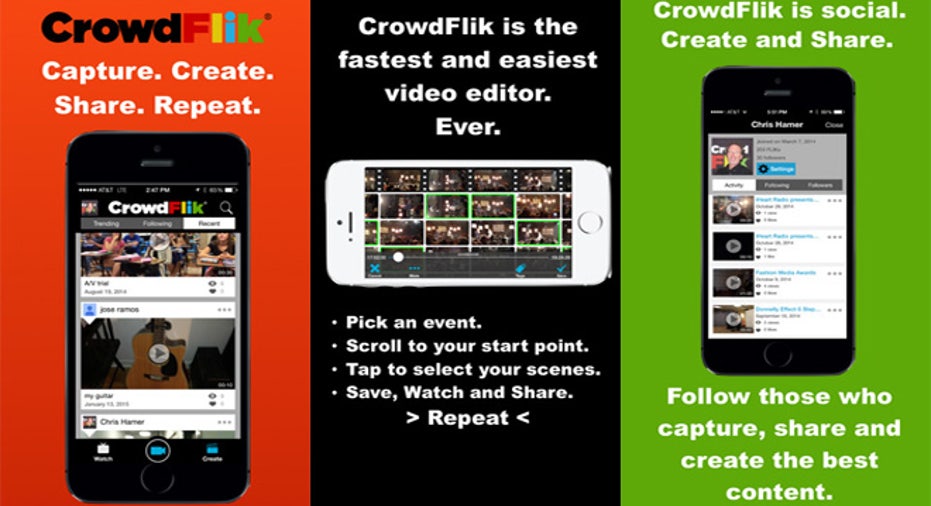 Say you're filming video of your child's soccer game. Or your brother's wedding. Or a rock concert.
Say you spot a stranger far across the way at the same venue taking videos of the same event.
You think to yourself: "Damn, he got a better shot of my kid's soccer goal I would have gotten if I wasn't an idiot and gone to Starbucks."
Or: "Darn it, she got a better angle of that wedding cake being smushed in my brother's face." Or: "I wish I could have gotten that guy's shot of the drum solo, considering this big head the size of the moon is in my way."
All of these thoughts have the same underlying anxiety: "Why can't I be a 'Stephen Spielberg mini me' and splice all of their good footage in with mine, to get a better Hollywood-style video?"
CrowdFlik does just that. This New York-based technology company has built a free app that lets users put together video clips filmed and shared by other users from the same event, be it sporting events, vacations, tours, weddings, birthday parties, corporate events and news events.
And now CrowdFlik just won a U.S. patent for its synchronized mobile video app that will have far-reaching applications for, say, Silicon Valley and the Defense Dept.
What Chris Hamer, founder and chief executive of CrowdFlik has done is both revolutionary and extraordinary. Somehow, he has built a free app that is not only fun to use, but with razor-edge precision, uses a unique synchronization process that automatically syncs all uploaded video footage to a master clock and geo-location data to help create more streamlined, more complete videos with multi-angle shots.
It means you don't have to do hours of tedious editing to get the timing of the shots right. Plus, you get multiple angles you never would have gotten unless you hired an army of camera men.
"CrowdFlik automatically shares synchronized copies of captured video to a proprietary, cloud-based video creation tool enabling users to create seamless, multi-angle videos giving billions of music fans, sports fans, wedding guests and more the power to easily create and share significantly better video than the vast majority of single camera-angle video captured today," the company says in a statement.
CrowdFlik's proprietary technology applies to a wide range of mobile devices that can be equipped to take videos with multiple angles, including mobile phones, action cameras, mobile security installations, dash cameras, even body cameras, drones and other devices. The CrowdFlik app is currently available for Apple devices, including iPhone, iPad and iPod Touch, as well as in Google Play.
Prior to creating CrowdFlik, Hamer worked in executive marketing positions at companies such Clear Channel Entertainment, Sony BMG (NYSE:SNE), General Motors (NYSE:GM) and priceline.com (NASDAQ:PCLN). Hamer had the epiphany for this app after attending a Dave Matthews concert. Looking around, he noticed a vast number of people in different locations were holding up their smartphones to film the concert.
"Almost everyone films songs at concerts. I just looked at that and thought there must be a way to bring all that great content from different angles together, put it on a platform that is super simple and allow any user to create his or her own edits from synchronized, gathered content," says Hamer.
The CrowdFlik app automatically cuts video into 10-second spots that are synced within 100 nanoseconds by using the U.S. Naval Observatory Atomic clock as well as geo-location data that delivers a degree of synchronization never before possible.
All you've got to do is open an event in the app, select the clips you want that were uploaded by other users, and drag the favorites into your timeline. CrowdFlik will then put the footage in the right sequence to help you produce one seamless, rich, colorful, and complete film, built on multiple points of view.
"The CrowdFlik app changes the way consumers capture, create and share mobile video, and now anyone with a smartphone can collaborate with others to easily create and share customized videos of any event such as birthday parties, sports events or concerts," Hamer says. "With this patent we are assured long-term market exclusivity while we explore licensing opportunities with other providers to collectively grow the world of 'connected-video.'"
Hamer adds: "With nearly two billion smart phones and another two billion mobile devices globally equipped to capture high quality video, the opportunities are enormous."