Exclusive Look: Ellen DeGeneres Bites Into Pet Industry
Ellen DeGeneres is going to the dogs, literally.
The daytime talk queen, digital content dynamo and business mogul is expanding her online and instore product line, ED by Ellen, to pets through a collaboration with PetSmart.
"Ellen was always looking to have a pet line and then PetSmart came about and it was a perfect partnership and a perfect time," Erika Stair, VP of Public Relations at ED LLC, told FOX Business.
DeGeneres is an avid pet lover – she and wife Portia DeRossi own three cats and three dogs.
"It's a multi-year deal, so we will be in collaboration for multiple years; it's a very comprehensive pet line. When we launch it will be in with more than 250 SKUS in a brand new fixture in our center drive aisle," Mardi Larson, director of Public Relations at PetSmart, tells FOX Business.
"I am so excited to launch my pet collection with PetSmart.  I mean, they help pets and they're smart. What more can I ask for?" DeGeneres jokes in a statement.
Ellen's unique style – bold Americana colors, positive affirmations of "love," racing stripes and nautical flair – are sprinkled all throughout products ranging from dog clothes and beds to chew toys and treat jars. FOX Business was given an exclusive photo of Ellen, check it out below.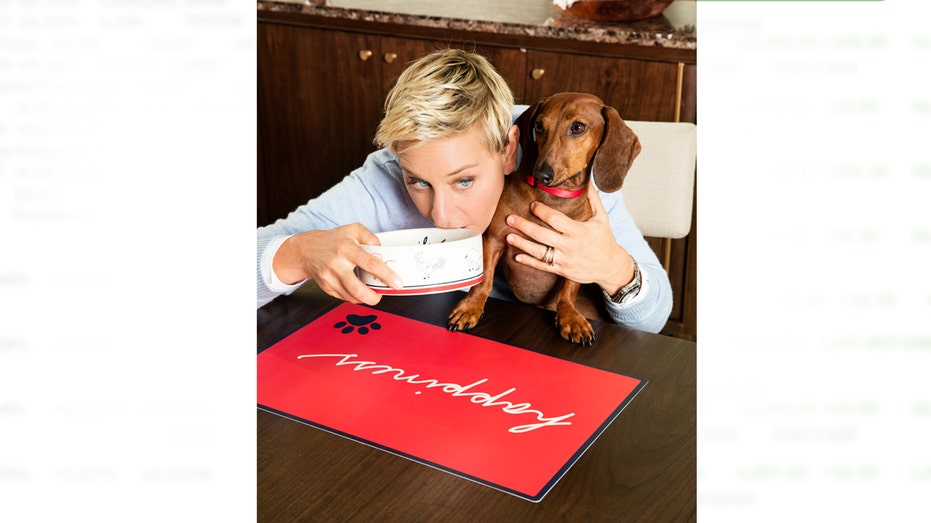 "She was involved with every step of the way from the beginning stages to the end product in store. She even would bring home the toys to test out on her pets to see what their favorite toys would be," says Stair.
The pet industry broke records in 2016, surpassing $62 billion in revenue, according to the American Pet Products Association. It only makes sense for DeGeneres to capitalize on Americans' love for their furry friends.
"Ellen is an icon, she is massively popular," adds Larson. "We are launching with dogs and soon to come cats."
DeGeneres is the number one creator of digital content online, with more than 1.1 billion views across platforms, reports Tubular Labs. "The Ellen Show" YouTube channel alone averages 300 million views per month. DeGeneres is also the most-followed TV host on Twitter (NYSE:TWTR).
To capitalize on the digital landscape, DeGeneres announced in May at the 2016 Digital Content NewFronts, the launch of the Ellen Digital Network. EDN will build off of DeGeneres' YouTube and Ellen.TV content.
"And PetSmart has partnered with Ellen's PetDish which is  part of Ellen's digital network.  The series is a look into the life of Ellen's pets while she isn't at home. The series will air in March 2017 on Ellentube.com," says Stair.
ED by Ellen for PetSmart will launch on February 1.
Be sure to check out a sneak peek of ED by Ellen's doggy line in the video and FOX Business photo above.