Exclusive: Embraer sees new E195 first flight sooner than expected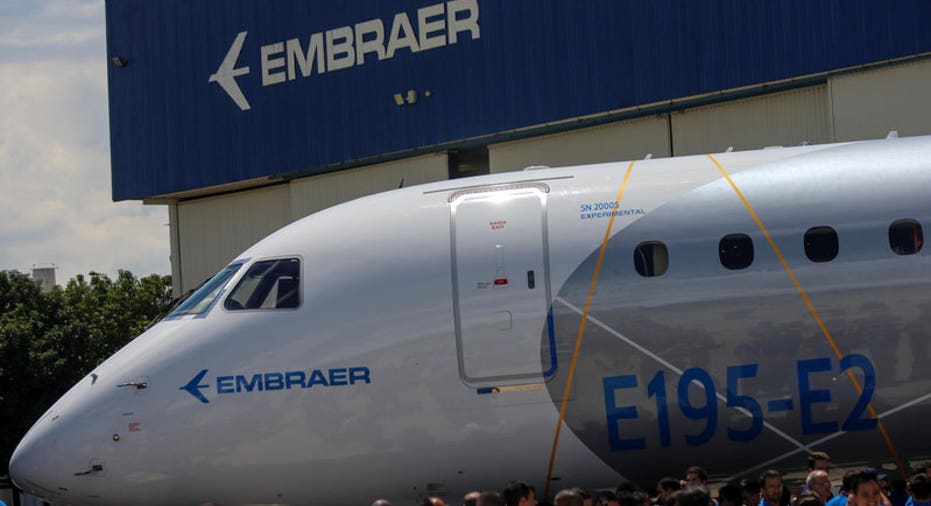 Embraer SA is on track to fly its next-generation E195-E2 commercial jet by June after an earlier-than-expected rollout of its first prototype on Tuesday, a senior executive at the Brazilian planemaker said.
Embraer's original timeline for the aircraft had projected a rollout in the first half of 2017 and first flight in the second half of the year, John Slattery, the company's commercial aviation chief, said in an interview with Reuters.
"Given our current trajectory ... I would be surprised if it took until the second half of this year to fly the prototype," he said before the rollout with thousands of employees in Brazil. "I do expect we'll fly ahead of schedule."
In a statement after the rollout, Embraer said the first flight of the new E195 was "scheduled for the coming months."
Embraer shares rose 1 percent in Sao Paulo, while the benchmark Bovespa index slipped 0.5 percent.
The swift development of Embraer's re-engined regional jet line-up, which Slattery said was on budget and in-line with performance specifications, has bolstered hopes for new sales in the company's biggest division.
Slattery said improved capacity, range, maintenance costs and fuel efficiency for the new E195 had drawn interest both from current European operators and from low-cost carriers around the world, especially in Southeast Asia.
That could boost the firm order backlog for the new jet, which is currently composed of two leasing companies and two airlines: Brazil's Azul Linhas Aereas Brasileiras SA and Indian low-cost carrier Air Costa Aviation Pvt Ltd .
Air Costa suspended flights last week and has stopped taking bookings after failing to make aircraft lease payments, according to business news publication Mint. The airline's press officers did not immediately respond to a request for comment.
Slattery said he was following Air Costa's situation closely and its orders remain in Embraer's backlog, adding that the airline was scheduled to receive a number of jets "in the low single digits on an annual basis."
"No single operator in the backlog would affect our production schedule," Slattery said, declining to comment further on implications of Air Costa's financial health.
In Brazil, where airlines have cut back flights in a deep recession, Slattery said he was "starting to see green shoots."
In Europe, where operators of Embraer's E-Jets include Air France KLM SA , Lufthansa and LOT Polish, Slattery said he expected "a lot" of sales activity in the second half of 2017 as airlines look to upgrade their fleets.
(Reporting by Brad Haynes; Editing by Bernard Orr and Leslie Adler)