Ex-MF Global CEO Corzine Sued by Trustee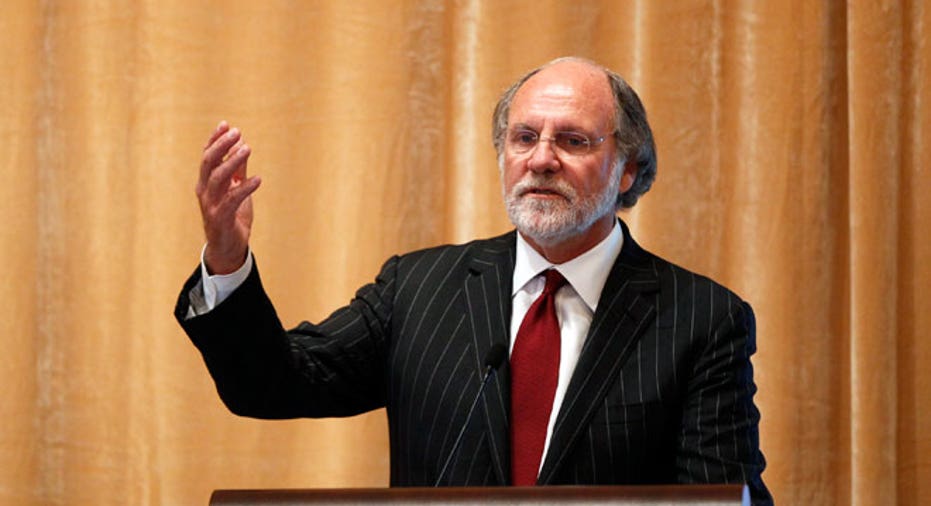 Jon Corzine, a former U.S. Senator and governor from New Jersey, has been sued for his role in the failure of brokerage firm MF Global Holdings, the eighth largest bankruptcy in history.
The trustee overseeing MF Global's bankruptcy, former FBI chief Louis Freeh, filed the papers against Corzine and two other top MF Global executives late Monday in federal bankruptcy court in Manhattan.
The other two executives named in the suit are former chief operating officer Bradley I. Abelow and former chief financial officer Henri J. Steenkamp, both close Corzine allies.
The suit alleges that Corzine, who served as CEO of MF Global until the firm collapsed in October 2011, and his fellow defendants "dramatically changed" the business model of the company, shifting it away from a commodities brokerage into a full-blown investment bank.
The suit says Corzine and the others did so with little regard to the risks inherent to such a move.
The executives, in particular Corzine, in their haste to build a world-class investment bank, ignored "systemic weaknesses" in MF Global's operations that eventually led to the firm's bankruptcy, according to the suit.
Corzine pushed MF Global's traders into "risky trading strategies" frequently tied to European sovereign debt, a bet few other Wall Street traders were willing to make in late 2011.
The bet on Europe backfired badly and MF Global rapidly imploded.
According to the complaint, which seeks an unspecified amount in damages, MF Global lost more than a billion dollars in value between Corzine's arrival at the firm and the start of bankruptcy.
Freeh said in the suit that Corzine, Abelow and Steenkamp breached their fiduciary duties, accusing the trio of being ultimately responsible for MF Global's downfall. Their actions "culminated in the business collapse of the company and the bankruptcies of the debtors."
The lawsuit came despite ongoing efforts to mediate the case rather than go to trial.
"Although the mediation process is ongoing and after further discussions with the mediator, the Trustee has determined that it is in the best interests of the Chapter 11 estates to file the complaint prior to the plan of liquidation going effective and transfer these significant claims to a litigation trust for the benefit of creditors," Freeh said Tuesday in a statement.
The lawsuit echoes many of the criticisms leveled by Freeh at Corzine and Corzine's "hand-picked deputies" in a report released by the trustee earlier this month. The 124-page report blasted Corzine for attempting almost single-handedly to transform MF Global's business model with apparently little regard to unforeseen circumstances.
The report paints a picture of an arrogant and insular leader who was myopic in his approach and deaf to any criticism or warnings that his plan was flawed.
At the time of MF Global's collapse it was believed that $1.6 billion had evaporated from client accounts, but Freeh has since said the money will likely be recovered.
Corzine is a former co-CEO of Goldman Sachs (NYSE: GS) but left Wall Street more than a decade ago to pursue a career in politics. His healthy personal fortune helped him secure a seat in the U.S. Senate as a Democrat from his adopted home state of New Jersey.
Corzine later left the Senate and successfully ran for governor of New Jersey. After a mostly ineffectual four-year term as governor, Corzine was ousted by Republican challenger Chris Christie in 2009.
After taking some time off and leveraging his Wall Street and Washington, D.C., connections as a big-time fund raiser for President Barack Obama, Corzine returned to Wall Street as head of MF Global in March 2010.
At the time the move to MF Global was viewed as surprising for Corzine, given his background at investment banking giant Goldman Sachs. But Corzine seemingly had plans all along to turn MF Global into a Goldman Sachs-like operation.
The plan failed miserably.
Attorneys for Corzine and the other two defendants couldn't immediately be reached for comment.
Corzine has said in testimony before Congress that he did everything he could to prevent the brokerage from collapsing and he has denied taking on unnecessary risk in an effort to speedily remake MF Global in the image of Goldman Sachs.