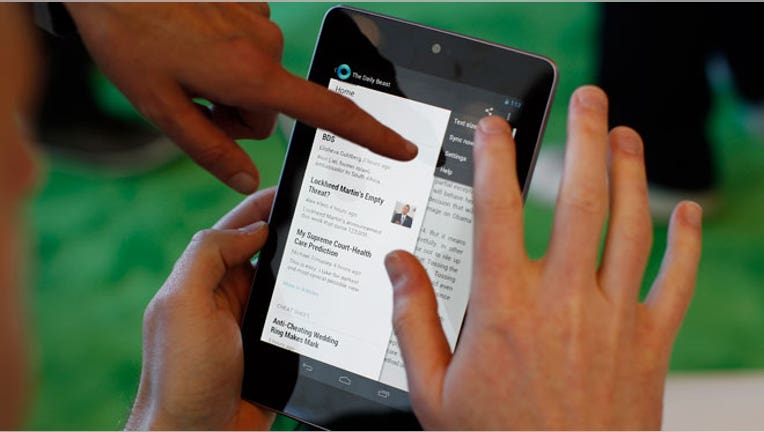 A day after Google (NASDAQ:GOOG) introduced a new tablet, operating system and touted the prototype of its smart e-glasses through a grand stunt that involved sky divers, one analyst still seems a bit skeptical about the company's future growth.
Evercore Partners (NYSE:EVR) on Thursday cut Google's price target to $750 from $790, but maintained its "overweight" rating. Shares of Google followed the broader market lower on Thursday, ticking about 1.6% lower.
The New York-based investment bank also lowered its second-quarter revenue forecast by 3.4% to $8.4 billion, which would represent a year-over-year increase of 21.1%, and cut its earnings outlook, excluding the impact of Motorola Mobility, to $9.94 a share from $10.38.
Of the 42 analysts polled by Thomson Reuters, the average consensus is $10.16 a share on sales of $8.43 billion.
Evercore analyst Ken Sena said the forecast change is not related to the developer conference and instead reflects updated foreign currencies, recent SEM channel checks and a "slightly more cautious view of display growth given overall industry trends."
A majority of analysts remain bullish on Google's growth prospects. Of the 42, 16 are urging clients to strongly buy Google, while 19 have a "buy" rating on the tech company and just 7 have a "hold" rating. None are encouraging clients to sell.
Evercore said it maintained its overweight rating because Google has demonstrated "continued improvement within search, growing advantage within display and strong positioning with local."
While Google's new devices and operating system are a positive step for the tech giant, it still faces a slew of changes, including ongoing Android lawsuits and steep competition from Apple (NASDAQ:AAPL).
At its develop conference in San Francisco on Wednesday, Google unveiled the Nexus Q media device that allows users to wirelessly stream and play music and video from Google Play and YouTube through connected devices inside the home.
The new product puts the tech giant in the cross hairs of Apple, Microsoft (NASDAQ:MSFT) and Amazon (NASDAQ:AMZN), all of which have long battled for control of consumers' living rooms.
Evercore said it views the Q's upside as possibly capped by its $299 price tax, which is three times the cost of its rival Apple TV, which is priced at just $99.
Mountain View, Calif.-based Google also introduced its first tablet called the Nexus 7 that puts it in direct competition with Apple in this space. The seven-inch screen and camera will be available for just $199, far below the cheapest iPad, with delivery set to begin in July.
Apple controlled some 68% of the worldwide tablet market in the first quarter this year, according to market-research company IDC, far more than its next-closest competitors, meaning Google has a ways to go before it can snag a leadership position.
But as IDC's research director of mobile connected devices, Tom Mainelli, said earlier this year, Amazon proved in the fourth quarter of 2011 that there "is room in the media tablet market for players besides Apple."
Sena said he sees the Google tablet as a "compelling alternative to Amazon's Kindle Fire as well as Microsoft's forthcoming Surface tablet."
Also on Wednesday, Google showcased the prototype of its smart glasses, known as Google Glass. Sky divers plunged from a blimp high above the San Francisco developer conference sporting the smart e-glasses as the tech maker tried to show off their promise.