Ever Ask Yourself What You're Supposed to do With Your Talents?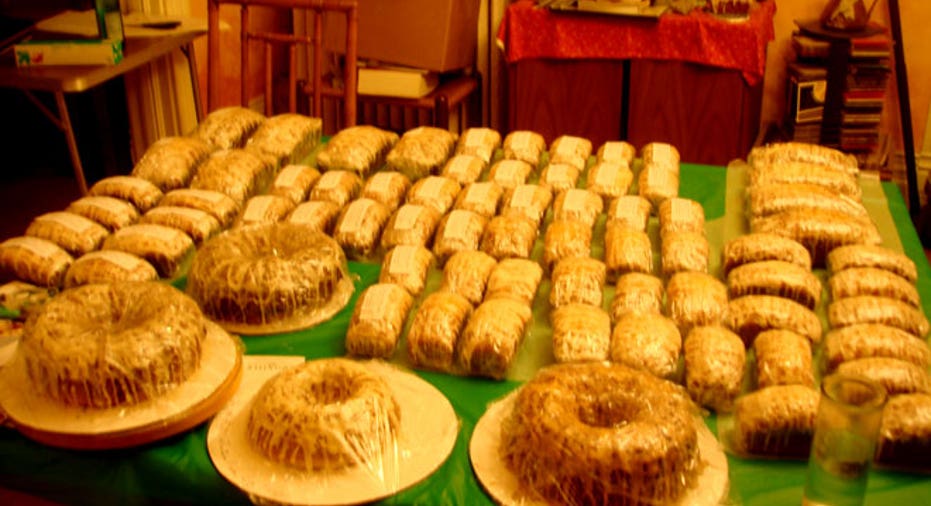 There is nothing about Mukanday Moore's business story that doesn't make me feel all is right with the world.
A stay-at-home mother turned entrepreneur, she runs Miss Bea's New Orleans Wine Cake, part cake business and part sustaining a love connection with the grandmother who lived in her home growing up.
When I ask Moore in our recent interview what she finds satisfying about starting this business prompted partly because her youngest of three children is now 12 years old and she has a bit more time, she laughs from a place that is organic and melodic and joyful.
"The aroma in my kitchen," she says. Then, upon further thought, adds, "This is a vehicle for me to just be as bold and vivacious as I want to. As I am."
Her personality is the piece that comes in handy when she is working her regular table--and selling it out -- at the local farmers' market in Lexington, Va. Her ability to interact and engage is a dynamic complement to the quality product she is offering.
"Even if they take a sample and a business card, that's cool," Moore says.
So there is the farmers' market component of her business and, since last spring, a web-based mail order component that has been steady since she launched.
"[Wine cake] presents like a simple pound cake," Moore says. "But the taste is a sophisticated, grownup one."
When I ask her how this all went from hobby to business in the last couple of years, Moore begins by talking about the nest becoming closer to empty and how her children's paths were becoming more clear. It was time to think about hers. She was at a crossroads.
"I thought, what am I supposed to do with these talents I have?" she says.
Passionate about gardening, knitting, dancing and cooking, Moore has also been a kundalini teacher for 13 years and currently teaches three classes a week. While she had been enjoying baking wine cakes primarily for the holidays, the demand had grown enough where she sat up and paid attention.
"I wondered, which one should I pick and develop?" she says. "I sat in patience and meditation every day and asked for guidance."
The answer came – cake. Do it more, and do it bigger.
After taking care of holiday orders, Moore used down time in January 2009 to begin voraciously researching marketing. She signed up for a "slew" of telemarketing classes and one happened to be with an entrepreneurial success coach.
"I was mesmerized by her language," Moore says. "I did her 12-week program and then I let things sit."
Moore had also sent the coach a wine cake and the following January she found out just how much she'd liked it.
"I call it the day the universe called my cell phone," Moore says. "She had her assistant call and order 125 wine cake cupcakes for goody bags for an event at the end of February. I said yes."
Again, Moore laughs that laugh, the kind that comes from someone who knows she's walking through doors that are flying open. She got a confidence boost from the call and signed up for the coach's one-year program, still in progress.
"I had all those self doubts," Moore says. "I didn't go to college. What do I know about business? I'm a stay-at-home mom, how can I manage advertising?"
But by educating herself and being alert to signs of encouragement that she stay her course, she started to realize how her experience as a stay-at-home mother was a valuable resource in areas like time management, logistics, multi-tasking and even negotiating. With a supportive husband and children behind her, she started to see it wasn't either/or, but a blending of her two worlds. Plus, an important insight showed itself.
"As simple as this cake is, it is of value," Moore says.
Moore knows value or, shall we say, values. There is a special page on her website about sending a cake to thank someone, but it goes into great, lovely detail about the benefits and impact of gratitude. The tagline for the business – The cake infused with Spirit – was carefully chosen to reflect that there is wine in the cake but also that there is a process involved in acknowledging her grandmother's presence and gift of the cake.
"Every time I set to baking, I invoke my honoring love for her," Moore says. "Therefore, my loving intentions are infusing the cakes. That's part of the 'essence' of the Miss Bea's New Orleans Wine Cake, the feeling of love, the prana of grandmotherly love. It fills people when they enjoy and share this cake."
When I inquire about where she sees her business five years from now, Moore is clear and sure footed in response.
"Where I live in mid-southern Virginia, there is a large focus on the local economy and local agriculture systems," she says. "I have a vision of generating enough business that I need a small factory. I'd like to keep it in a rural area, focusing on the economy and well-being of rural people. I can set up a business wherever a FedEx truck can reach me … and use the Internet."
Bold and vivacious. A family tradition continues. The holidays, followed by Mardi Gras, and so on, with birthdays in between.
"There's always an opportunity to enjoy cake," Moore says.
And she's happy to provide it.
Nancy Colasurdo is a practicing life coach and freelance writer. Her Web site is www.nancola.com and you can follow her on Twitter @nancola. Please direct all questions/comments to FOXGamePlan@gmail.com.