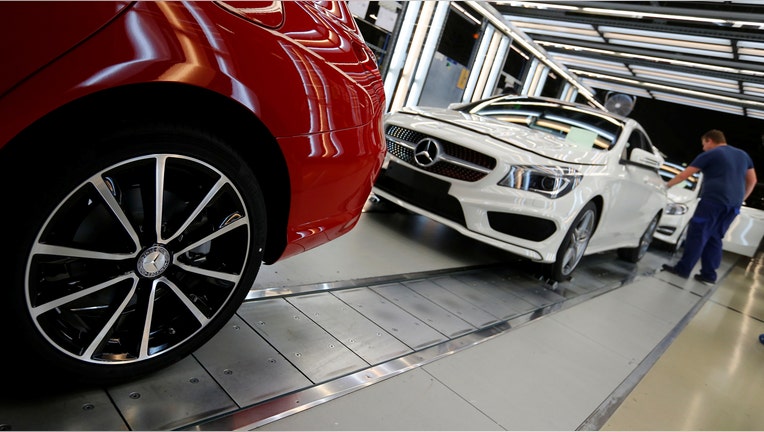 The European car industry received a confidence boost Wednesday as the continent's manufacturers continued to post a raft of positive first-quarter results, raising expectations that the region will book a strong year that brings it closer to its pre-crisis record for new vehicle sales.
Daimler AG, the maker of Mercedes-Benz cars, reported that quarterly net profit had doubled as sport-utility vehicle sales surged and raised its forecasts for the year. Peugeot, which during the first quarter reached an agreement to buy General Motors Co.'s (NYSE:GM) European business, reported a 4.9% rise in revenue that beat expectations.
Wednesday's results come after strong showings last week from Volkswagen AG and BMW AG.
The first-quarter results and upbeat forecasts will help to appease an industry that has been on edge despite recent signs of improvement. Enthusiasm for incremental advances in car sales seen since early 2016 were tempered by political upheaval such as the U.K's vote to leave the European Union and terror attacks across the region.
So far, car sales in the U.K.--the region's second-biggest market after Germany--have remained buoyant despite the Brexit vote and the small price rises that several companies introduced to help offset the fall in the value of the pound. The terrorist attacks didn't significantly hurt consumer confidence on the continent, while in the Netherlands the far-right populist party failed to make inroads and in France, a runoff in early May is expected to elect a centrist, pro-European president.
Car makers sold 14.6 million new vehicles in the EU in 2016, the highest number in almost a decade, yet the region has had a long journey back from the financial crisis and volume is still about 6% below the pre-crisis high set in 2007.
European recovery has been uneven with some countries, including Germany and the U.K., passing their pre-recession highs for car sales. Those on the southern edge of the continent, in particular Italy, haven't made it yet. That compares with the U.S. where auto makers set a second straight yearly record for vehicle sales in 2016.
European car sales had their best March ever and rose 8.4% in the first quarter, well ahead of projections made early in the year by both forecasters and the region's industry lobby, which is still forecasting growth of just 1% this year, a number in line with most analysts.
Daimler's net profit in the three months to the end of March doubled to EUR2.7 billion ($2.94 billion). The company said revenue and operating profit would "increase significantly" this year.
Peugeot, official known as Group PSA, said revenue in the first quarter rose to EUR13.6 billion as sales of higher-margin new cars helped offset currency pressure. The company said it expects the automotive market to grow by about 1% in Europe this year.
Paris-based Peugeot is focusing on Europe with its acquisition of GM unit Opel, which will boost auto sales there by 50%, making it the region's second-largest car maker after Volkswagen.
Fiat Chrysler Automobiles NV (NYSE:FCAU) reports later Wednesday and is expected to report that European results helped offset a softening in the U.S.