EU unveils new tax plans that could hit US tech giants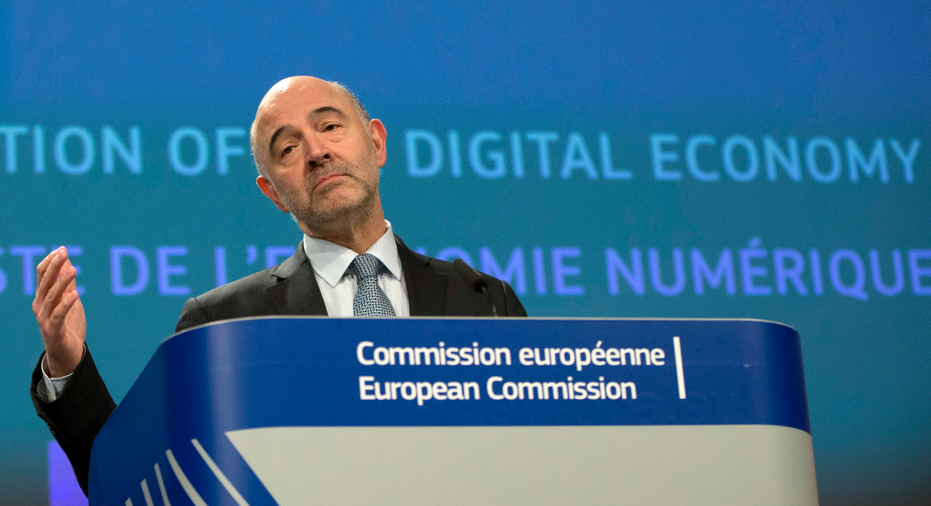 The European Union on Wednesday unveiled new plans to make big tech companies pay more taxes in a move that would, if endorsed, hit online U.S. firms like Google and Facebook.
Insisting that digital companies must pay their fair share, the European Commission said that EU member countries should be able to tax firms that make profits on their territory even if they aren't physically present.
It would concern any country where a firm's annual revenue exceeds 7 million euros ($8.6 million), or which has more than 100,000 users or more than 3,000 digital service business contracts in a tax year.
The plan also includes an interim measure that would allow countries to tax at a rate of 3 percent companies with total annual revenue of 750 million euros and revenues in Europe of 50 million euros. The European Commission estimates that up to 150 companies could be affected, around half of them from the U.S.
Brussels argues that digital companies are growing faster than the economy as a whole, while corporate tax rules haven't kept up, meaning that some make significant profits in Europe yet pay very little tax.
It says that, on average, many digital businesses face effective taxes of only 9 percent, less than half the 21-percent tax rate for brick-and-mortar companies.
"Our pre-internet rules don't allow our member states to tax digital companies operating in Europe when they have little or no physical presence here," EU Economy Commissioner Pierre Moscovici said. "This represents an ever-bigger black hole for member states, because the tax base is being eroded."
But the 28 EU nations, which must endorse the plan, are divided and it might never see the light of day. EU leaders will discuss the proposal at a summit in Brussels starting on Thursday.
Big EU members — notably France — accuse tech firms of shifting profits through small members like Luxembourg and Ireland, while these minnows in turn see the European Commission's plans as a maneuver to redistribute Europe's tax cake in favor of their bigger partners.
In a statement, France, Britain, Germany, Italy and Spain backed the commission said that "in the absence of a global consensus" at international level over how to tax digital companies "we need to move ahead at EU level."
Some opponents also see the plan as an ill-timed move that could backfire by further undermining already-tricky relations with the U.S.
A potential trade war is already looming over President Donald Trump's new tariffs on steel and aluminum imports, while his unclear tax plans have left the EU mulling countermeasures. Trump's threat to pull out of the Iran nuclear deal would also hurt European businesses.
But Moscovici insisted that "it's not anything that could be considered aggressive toward our American friends."
"Our proposal doesn't target any company or any country," he said. "We are addressing a structural problem with a structural solution."
But the Computer and Communications Industry Association immediately branded the scheme "discriminatory and harmful."
"We encourage the EU to seek international tax reform through the OECD rather than pursuing discriminatory, unilateral actions with risks to Europe's digital economy and international trade relations," said Christian Borggreen, CCIA Europe's vice president.
The American Chamber of Commerce, representing U.S. businesses in Europe, also expressed reservations, saying "we believe that the conversation should take place in a multilateral context in order to ensure widespread agreement."