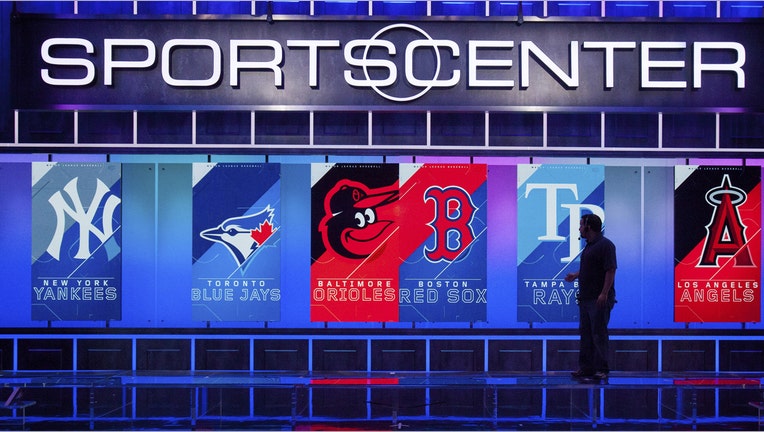 A top ESPN executive denied Monday that the cable sports network has a political bias amid criticism from conservative pundits who say political coverage has contributed to ESPN's subscriber losses in recent years.
"The whole narrative is a false one that was seeded and perpetuated primarily by a direct business competitor," Burke Magnus, ESPN's executive vice president of programming and scheduling, said during an interview with Sports Business Journal. "We have no political agenda whatsoever."
Magnus' reference to ESPN's "direct business competitor" appears to take aim at Fox Sports 1. Jason Whitlock, co-host of FS1's "Speak For Yourself" program, has repeatedly argued that a focus on progressive politics has impacted ESPN's business. Clay Travis, a Fox Sports contributor and operator of the "Outkick The Coverage" sports blog, has written several articles detailing ESPN's struggles with subscriber losses.
In a May 7 op-ed for the Wall Street Journal, Whitlock said close scrutiny by the sports blog Deadspin pushed ESPN to embrace "strict obedience to progressive political correctness."
"A progressive sports blog launched by Gawker Media bullied ESPN for a decade and their bullying led to ESPN adopting [a] progressive ideology and becoming so consumed with politics and political correctness that they took their eye off business," Whitlock told FOX Business Network last month.
Like most cable networks, ESPN has struggled to adapt to the rise of digital streaming options like Netflix and the resultant loss in revenue due to the "cord-cutting" trend. ESPN has lost roughly 13 million paid subscribers in recent years, from a high of about 100 million in 2011 down to about 87 million as of last May.
ESPN laid off about 100 employees last April, including several high-profile on-air commentators and journalists, as part of a strategy shift toward more digital offerings and personality-driven content.
Disney and ESPN executives, including company CEO Robert Iger, have repeatedly denied that ESPN displays political leanings when covering sporting events. Earlier this month, an ESPN-commissioned survey found 64% of the network's viewers felt it was "getting it right" with its coverage of political issues in sports.
"It would be foolish in the business that we're in to take sides on the political arena," Magnus told Sports Business Journal. "Our business competitor perpetuates this narrative because in this highly partisan time, it suits them to highlight this distinction, even when it doesn't exist."
Fox Sports is a subsidiary of 21st Century Fox, the parent company of Fox Business.