Equinox Offers the 'Golden Ticket' of Gym Memberships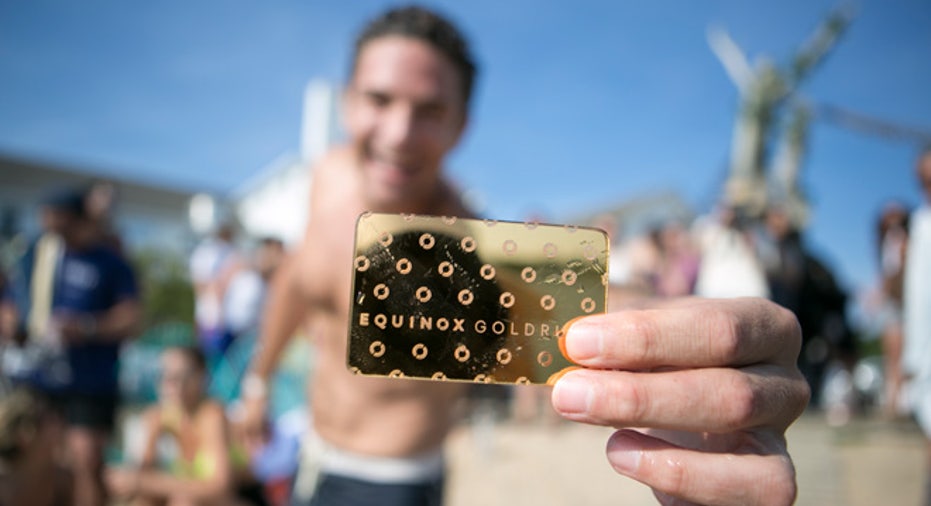 Would you push your body to its limit in order to win a one-of-a-kind gym membership? That's what Equinox is hoping with its summer Goldrush initiative.
The high-end fitness club is leading with the slogan, "The new Gold Membership can't be bought. It has to be earned."
In a Willy Wonka-esque strategy, five Gold Membership cards were planted around New York. Through intense physical challenges, competitors have the chance to win one of these five coveted membership cards.
The package includes a one-year membership to over 75 Equinox clubs globally, 24 personal training sessions, one 50-minute massage per month and $1,000 at The [Equinox] Shop, among other perks.
So far, three challenges (and thereby three memberships) have been won. The first entailed swimming 300 yards out to a buoy in Montauk, N.Y. Once an Equinox trainer gave the signal, participants had to dive 20+ feet to the bottom of the bay to find the Gold Membership card.
"I stood up and just before I took one last breath I told myself, whatever it takes you are coming up with that card no matter what," said challenge winner Elliot Weinberg.
While he did not know much about the event in advance, nor train specifically for it, Weinberg notes he is in excellent physical shape. He runs 30-40 miles a week and incorporates a combination of strength training, boxing, spinning and surfing into his workouts.
On winning the first coveted Gold Membership Card: "I had pushed myself to the point of exhaustion in the backyard of one of my favorite summer places and accomplished something that only one other person had (the dive master himself)… It was a surreal feeling."
Weinberg says he hasn't belonged to a formal gym in over seven years.
Unlike Willy Wonka, potential challenge participants have access to the Internet, which can aid them in their quest for a Gold Membership. The Equinox Twitter account and Goldrush website reveal details about each event as its date nears.
While the opportunity to compete is accessible in many ways, the degree of physical fitness needed to do so would arguably exclude most Americans. And Equinox doesn't dispute that.
"We want to motivate people to push themselves physically, and achieve things they didn't even know they could," a spokesperson said.
"For some, that could simply mean competing at all, but you'll definitely need to be in great condition to win."
So, what exactly is the point of holding these challenges? The Goldrush has certainly garnered attention for the Equinox brand.
The spokesperson said that through three challenges to date, over 500 people have attended and 150 have participated. Due to the overwhelming response on social media, Equinox says it is considering bringing the program to other locations around the U.S. in the future. Even celebrities are eager to have a go at the can't-be-bought membership; Neil Patrick Harris competed in the first challenge.
While Willy Wonka was tight-lipped about what was inside his chocolate factory, Equinox is transparent about its status as a luxury fitness company. The initiation fee to join is $200 for a single club or $300 for all access. Monthly rates vary by location from $160 to $175 for a single location, or $195 to $250 for global access. The cost of being a member speaks to the brand's exclusivity.
The next step in furthering its level of exclusivity then, was ironically introducing a membership that could not be bought, but rather earned by proving one's commitment to physical achievement.  So while the new Gold Membership may exclude some, it rewards those who are willing to work incredibly hard to achieve their fitness goals, regardless of economic status.
"Gold Membership is something very special, and if you've been training hard enough to conquer our challenges, you deserve special recognition," the spokesperson said.
And challenge hopefuls have certainly gone above and beyond to prove their dedication. The man who lost the race to be first in line at the first challenge, made sure he was first for the third challenge by camping out overnight on his yoga mat. Equinox says another went so far as to study the finer points of grave digging to unearth the second Gold Membership from beneath five feet of gravel.
It is also worth looking at the state of the U.S. fitness market when analyzing why Equinox would decide to roll out such a membership. The International Health, Racquet & Sportsclub Association (IHRSA) noted in its 2014 Health Club Consumer Report that boutique fitness studios captured 21% of the market in 2013, which rose from $21.8 billion in 2012.
As big box gyms like Equinox start to be outrun by more personalized facilities, a carefully crafted membership may be the "golden ticket" the brand needs to keep up.