Entrepreneurs Say 'I Do' to Ethical Engagement Rings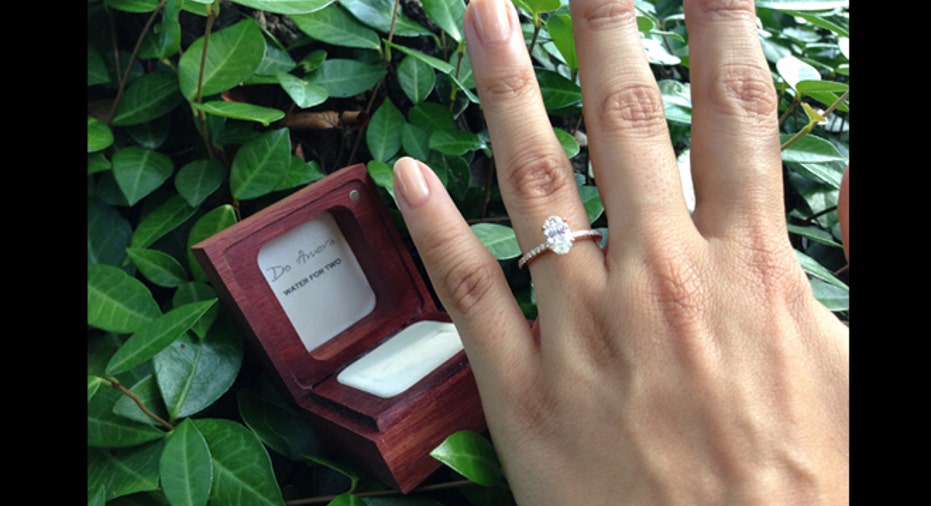 Wedding season is well underway, and social entrepreneurs in the multi-billion dollar industry are looking beyond carat, cut and shine as they help couples say 'I do' with ethical engagement rings.
"Many businesses out there are trying to do the right thing and be ethical," CEO and founder of The Wedding Report Shane McMurray says.
Jennie Ma, fashion editor at TheKnot.com, says the emphasis on conflict-free comes at a time when women are pitching in for their engagement rings, or "going Dutch." As many as 18% of couples are splitting the cost, according to TheKnot.com.
"Women are making a lot more money these days … and want to contribute a lot more equally," Ma says. "It's about being on equal footing and being in a partnership."
According to The Knot.com, the bridal jewelry industry is worth about $12.5 billion, and the engagement ring industry alone is about $7.7 billion. The Wedding Report's 2013 study puts the average cost of engagement rings at $3,355, while TheKnot.com places the cost at a slightly higher $5,598.
McMurray downplays the rise in use of heirloom rings, but says gemstones and metals other than the standard gold and silver such as tungsten are highly popular today. Where the soon-to-be-newlyweds purchase rings is also shifting, with 29% of couples reporting buying from small, independent jewelers, compared to the 32% who went to a chain. Different trends pop up and disappear, McMurray says, "but it really is about economics."
FOXBusiness.com spoke to a couple social-minded engagement ring vendors. Socially conscious brands like Brilliant Earth and Do Amore have made it their mission to do right by the consumer, as well as the diamond or gemstone supplier.
Pushing for Transparency
Excited by the opportunity to "align business success with social impact," Brilliant Earth co-founders Eric Grossberg and Beth Gerstein dove into the diamond business just after grad school. That, and the grueling search for a conflict-free engagement ring Gerstein and her now-husband Alex went through.
The pair says they were surprised at how often they encountered people in the jewelry industry simply "wishing the ethical issues around sourcing would just go away, rather than addressing them head-on. They saw blood diamonds as a PR risk to be managed rather than a real problem to be solved."
The Stanford classmates did their research and launched the San Francisco-based company in 2005, hoping to drive social change in developing countries, as well as foster transparency in the jewelry industry through responsibly-sourced jewelry.
During the set-up process, Grossberg and Gerstein were moved by a conversation they had with an activist from the Democratic Republic of Congo, with whom they're currently working through their non-profit arm.
"He [Hamuli Baudoin] talked about … how these gemstones that are symbols of love and joy in affluent countries too often don't benefit the people in mining communities, who live in extreme poverty," the partners recall.
To date, they've funded two community centers in Congo in partnership with Hamuli's non-profit CENADEP (Centre d'Appui au Développement et la Participation Populaire), which is dedicated to sustainable development and environmental protection in the region.
A Diamond for Others
Another company that promises ethical, conflict-free diamonds is Houston-based Do Amore.  With the purchase of every ring, the online-based startup helps provide access to clean water for somebody in need by co-funding a water well, in partnership with Matt Damon's Water.org.
Do Amore founder and CEO Krish Himmatramka, who has a medical-engineering background, says the inspiration for the business came when he went to propose to his now-fiancé. Himmatramka was struck by how a symbol so significant in our culture made such little positive impact on the people and place it originated.
"When [couples] get married, it's the happiest day of their lives," he explains. By giving back to the community from which these diamonds came through Do Amore's water initiative, "the ring [becomes] more than a symbol; it's a positive action for others … changing the lives of others forever, as well."
One thing Do Amore is "huge on" is introducing their customers to alternative gemstones like sapphires that come in an array of hues, which are often less expensive than diamonds and "can look just as beautiful." (For them, the average cost of a diamond engagement ring is about $1,300, while the average cost for a gemstone ring is closer to $800.)
The young year-old startup, whose name in Latin means "I give with love," has so far helped about 380 people access clean water, and says, as it stands, 51% of their net profits have gone into giving water (the remaining 49% has been reinvested into Do Amore).
"It's about how many people we're helping, [that's] always the goal we're oriented towards."