Employers Divided on Dealing With Sandy-Stricken Workers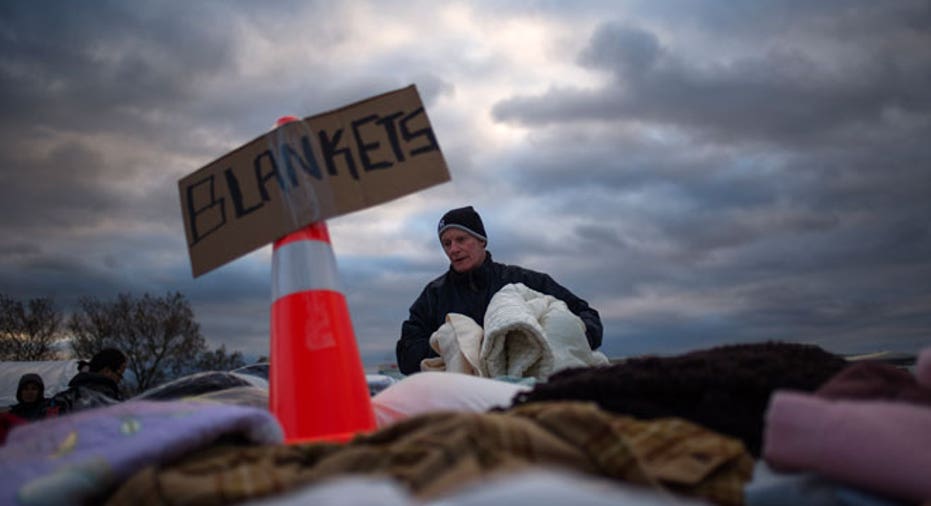 As businesses in the path of Hurricane Sandy's destruction look to get back on their feet, many are struggling with how to deal with their employees, millions of whom are still without power and still picking up the pieces in the storm's wake.
While some companies are providing hot showers and hotel rooms to those employees in need, others are demanding employees return to work or risk facing the loss of vacation time.
New York City's Madison Square Garden Company (MSG) has come under fire this week after Gawker.com reposted a company-wide email demanding employees return to work.
"In order to ensure that we continue operating our business and are able to deliver the very best experience for our customers, we are asking employees to come to work," the email stated. "In the event that you need to make the personal decision that you are unable to come to work, you will need to notify your supervisor and take a personal or vacation day to cover the time off."
MSG's approach may seem a little insensitive to many, but Laura Kerekes, chief knowledge officer at ThinkHR Corporation, said deciding how to handle employees in times of a disaster usually comes down to both finances and the company's culture.
"A lot of it has to do with cost and what a business can afford," Kerekes told BusinessNewsDaily.
Like family ... or not
Additionally, those companies that pride themselves on a family-type atmosphere are the ones that generally go above and beyond for their employees in times of crisis.
Kerekes said those companies tend to be the exception, rather than the rule, however.
One of those exceptions is TechMediaNetwork, the parent company of BusinessNewsDaily, which had all 70 of its Manhattan-based employees affected by Hurricane Sandy.
DeLonie Call, TechMediaNetwork's chief people officer, said as soon as the storm hit, the company's CEO, Jerry Ropelato, instructed her to help employees in any way they could.
"It is just basic human concern for our workers," Call said. "We have the resources and don't want our employees to struggle if they don't have to."
The company is offering employees reimbursements for everything from meals and cellphone charges to gym pass memberships for a hot shower and hotel stays.
Call said after suffering some lean years as a company during the recession, this was an opportunity to give back to those employees who stayed loyal during difficult times.
"It is an opportunity to reward those employees who stuck with us," Call said.
Another media company, NBCUniversal, went out of its way to take care of employees at its CNBC campus in Englewood Cliffs, N.J., during the hurricane. CNBC, which is a syndication partner of TechMediaNetwork, encouraged employees to work from home before the storm even hit, provided free meals for employees and immediate families, was prepared with generators, water and mattresses for employees who might need to stay at the facility.
Human resources consultant and president of Strategic HR, Inc. Robin Throckmorton said whether  businesses choose to go above and beyond or take a hard-line approach, businesses need to be aware of the strong message they are sending employees with their approach to the natural disaster.
"How we as employers respond to our employees in a time of crisis demonstrates our loyalty and respect of what they do for the business," Throckmorton said. "Whether it is a down economy causing financial concerns or a disaster causing emotional turmoil, it is up to the business to decide what message they want to send to their employees."
The law
While some companies are doing all they can to help out their staff, Kerekes said there are no laws that bind them to any type of assistance. The Fair Labor Standards Act states that exempt employees — those who earn a yearly salary — must be paid their full salary if they perform any work in a workweek and only miss work time due to the employer's closure of operations. With nonexempt employees — those who are paid hourly — there is no obligation under federal or state law to pay for time not worked.
Businesses that are struggling financially often are the ones forced to stick to the letter of the law on when to pay and not pay employees.
"Some employers who are struggling to keep the doors open may have to fall back on that," Kerekes said.
And no matter the decision, human resources consultant Paul Hilton said the steps companies take during a disaster like Hurricane Sandy can have long-lasting ramifications.
"If you take a hard line, the employees are going to come back [and] do what they need to do to keep their jobs, but they are also going to be looking for a new job," Hilton said. "It is a shortsighted approach."
Throckmorton said employers who forgo compassion in favor of their bottom line could end up costing themselves more in the long run.
"The employer that shows concern and helps employees will come out ahead in the end — public relations, future hires, retention, productivity," Throckmorton said. "The employer that takes the opposite stance will likely see mass exodus and trouble recruiting, not to mention employees that are merely 'present.'"
With social media able to spread messages in an instant, Kerekes warns that businesses that take an unpopular stance risk damaging their relationship with both their employees and their customers.
"It potentially could impact their business overall in terms of customer loyalty," Kerekes said.
Throckmorton advises companies struggling with how to handle the situation to involve employees in the decision-making process.
"Employees feel more support if they are involved in the solution," she said.
Follow Chad Brooks on Twitter @cbrooks76 or BusinessNewsDaily @BNDarticles. We're also on Facebook & Google+.