Emotional Side of Business: Why Starting Isn't the Hard Part
"We kind of just went all in," says Justin Matt Sapolsky co-owner of Matt and Marie's Modern Italian Sandwich Restaurants in Philadelphia.  "It's kind of what you do."
Teaming up with fellow University of Pennsylvania Wharton Business School graduate Nicole Marie Capp, the duo shared their love for food and desire to start a business at an alumni event.
"Both of us have no restaurant experience," says Capp.  "I found the best part of my day was lunch so I figured it was about time to make that my career," jokes Sapolsky
After researching the Philadelphia market, hitting the streets and scoping out the competition, they settled on hand-crafted, high-quality Italian sandwiches. Capp and Sapolsky rented out a test kitchen to make sandwiches and handle catering orders. They hired renowned Chef Ryan Smith to help develop their Italian-themed menu. In 2014, Sapolsky and Capp opened the doors to their first restaurant in Logan Square.
"Opening the first store was totally bootstrapped. Making a few thousand dollars off the catering… we kind of just went all in," says Sapolsky. "We were absolutely full time 24 hours a day to open the first store," adds Capp.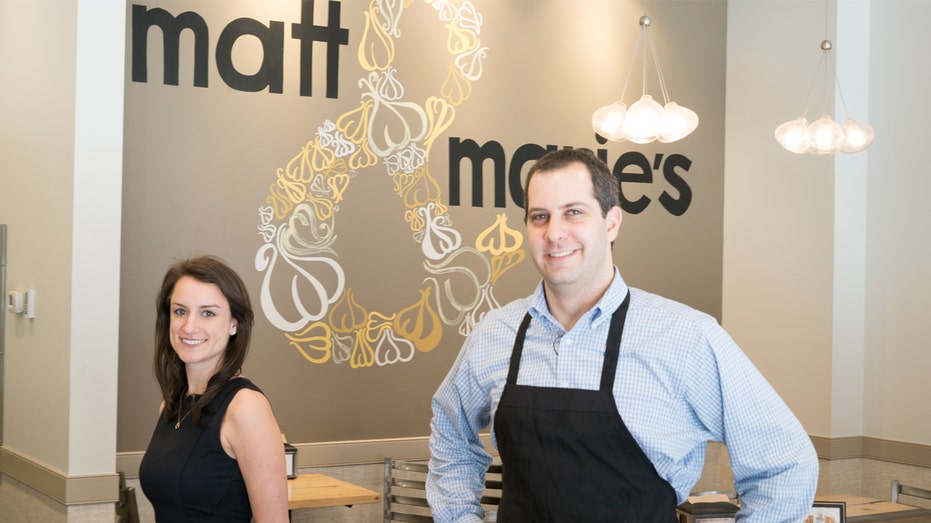 A smashing success, Matt and Marie's made a splash for with fellow lunch-goers.  However, it was keeping the momentum that was difficult.
'Opening day one, you are always busy when you first start. You have a line out the door and everyone is excited to support you. Keeping that momentum though is difficult," says Capp. "A bad day is that both Matt and I had to go outside and start flyering and grabbing person by person though an interaction to get them in the store."
Quickly shifting gears, yet never swaying from their concept, Sapolsky and Capp started to change their thinking. They sent out customer surveys, changed price-points and added different items to the menu.
"You have to teach people that you are here, it's a lot of guerrilla marketing outreach, phone calls, emails, standing on the corner with menus and samples just to let people know that you are there and it made all of the difference," says Sapolsky.
It worked. Fast forward to 2017 and Sapolsky and Capp opened an additional three restaurants including a salad-concept lunch spot, Kayu.
"When you write the first check, that is a scary moment but you're not really in it yet… you realize I have to pay my rent, I have to pay my people I have to pay my suppliers and I am always the last person," says Sapolsky
"Letting go and believing in your staff and the company culture you created and the product and knowing that you have the best suppliers… that for me is each day was, and is the toughest part of running your own business," says Capp.
Be sure to watch Sapolsky and Capp's full interview above.
This is part of FOXBusiness.com's The Emotional Side of Small Business series that taps into the human side of building a business – the part that doubts, questions, regrets, and celebrates.