Emissions Scandal Rocks Volkswagen, Diesel Sales Halted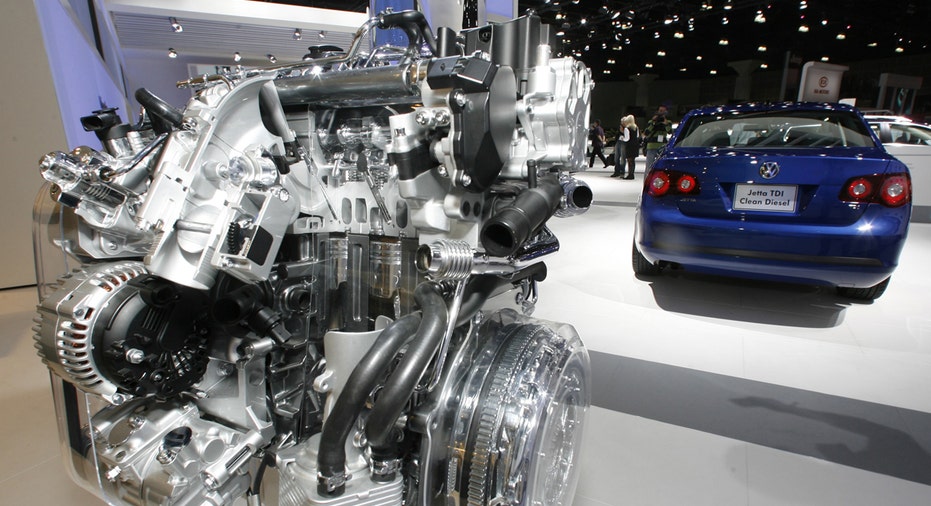 UPDATED
The fallout from allegations of emissions cheating at Volkswagen took another turn over the weekend when the German automaker told its U.S. dealers to stop selling certain 2015 diesel-powered cars.
The Environmental Protection Agency said Volkswagen and Audi diesels have skirted emissions rules using what regulators called a "defeat device." While the cars were under testing, software would activate emissions controls. On the road, the cars emitted up to 40-times more pollutants than allowed under federal clean air laws.
"I personally am deeply sorry that we have broken the trust of our customers and the public," CEO Martin Winterkorn said in a statement, adding that Volkswagen has launched an external investigation. "We do not and will not tolerate violations of any kind of our internal rules or of the law."
A Volkswagen spokesperson confirmed that dealers have halted the sale of model-year 2015 cars with 2.0-liter diesel engines. Cars featuring the TDI Clean Diesel turbocharged engines include the Audi A3 and the Volkswagen Golf, Passat, Beetle and Jetta.
Through the first eight months of 2015, U.S. sales of all Passat, Beetle and Jetta models are down more than 20% versus the same period a year ago. Volkswagen has delivered a total of 32,332 vehicles, an 8.1% decline.
Mounting Sales Problems
Lagging behind its peers, Volkswagen has reported sluggish sales amid a period of strong growth for the U.S. auto industry. Diesel cars were expected to hold down the fort until Volkswagen can begin shipping new models that are in the current pipeline. That plan is now in question.
"Diesel was one of few positive stories around Volkswagen over the last couple of years. This is a pretty big blow to potential U.S. sales," said Karl Brauer, a senior analyst at Kelley Blue Book.
Max Zanan, co-founder and CEO of dealership consulting firm IDDS Group, also believes that Volkswagen may have lost its best weapon against rival automakers. Diesel "was something that differentiated Volkswagen and Audi from the competition," he said.
Volkswagen, the top seller of diesel cars in the U.S. market, was accused of manipulating emissions data for approximately 482,000 cars that have been sold since 2008. Its diesel models account for roughly 25% of total sales.
$18 Billion Fine
The company would face a massive fine of $18 billion if every car is found to be in violation of U.S. law, and Volkswagen lost around $17 billion in market value following the news. Winterkorn, who survived former Chairman Ferdinand Piech's campaign to oust him, may find his job in jeopardy because of the scandal. The board was already scheduled to meet on Friday to discuss the corporate structure.
"This is not your usual recall issue, an error in calibration or even a serious safety flaw," Bernstein analysts wrote in a research note to clients, according to Reuters. "There is no way to put an optimistic spin on this—this is really serious."
German environmental regulators are planning to speak with Winterkorn as part of their own investigation into whether Volkswagen cheated on emissions tests in Europe, where diesels are far more popular. Several reports on Friday said the U.S. Department of Justice has opened a criminal probe, and the EPA plans to look at diesel cars made by other companies.
Winterkorn promised that Volkswagen will cooperate with government agencies "with transparency and urgency."
"The trust of our customers and the public is and continues to be our most important asset. We at Volkswagen will do everything that must be done in order to re-establish the trust that so many people have placed in us, and we will do everything necessary in order to reverse the damage this has caused," he said.
Looking for an Explanation
Volkswagen advertised its TDI Clean Diesel technology and ultra-low-sulfur fuel as an alternative to hybrids, touting the benefits of greater fuel economy. "This ain't your daddy's diesel," Volkswagen says on its website.
So why would Volkswagen deactivate the systems that reduce emissions? The company's motivation remains a mystery. Brauer suggested that Volkswagen may have been seeking to improve vehicle performance and fuel efficiency or reduce engine wear and warranty costs.
No matter the reasoning, Volkswagen has likely damaged its own reputation and consumer perceptions of diesel cars.
"That's probably one of the most unfortunate developments of all this," Brauer said. With current technology, Volkswagen and other manufacturers like General Motors (NYSE:GM) can achieve better mileage while eliminating the cloud of black soot that was synonymous with diesels. "In that area, Volkswagen was making progress. This will absolutely damage the image not only of Volkswagen diesels, but all diesels."
Retail Impact
For Volkswagen dealers, used-car sales will be critically important while TDI diesel cars remain off limits, according to Zanan. Dealers must also reach customers who are interested in other Volkswagen and Audi vehicles.
Audi, unlike the Volkswagen brand, has generated significant demand among American car buyers this year. The luxury brand posted its 56th consecutive month of record U.S. sales in August, and year-to-date sales are up 12.1%.
"Both Volkswagen and Audi have positioned themselves as the clean-diesel car companies in the U.S. I'm pretty sure that Audi diesel sales might suffer," Zanan said.
He noted that Toyota (NYSE:TM) and other hybrid makers stand to benefit if more consumers shy away from diesels.
Volkswagen surpassed Toyota in the first six months of 2015 as the largest automaker in the world. Volkswagen sold 5.04 million vehicles across its entire portfolio of brands, while Toyota shipped 5.02 million.