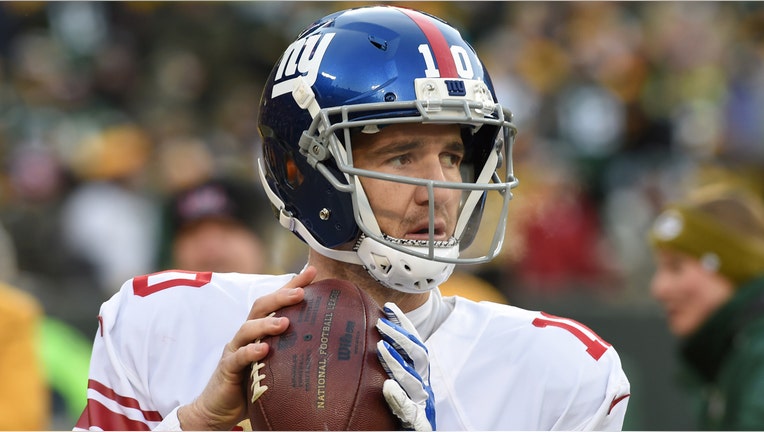 An ongoing civil lawsuit that accuses New York Giants quarterback Eli Manning of knowingly defrauding memorabilia collectors could have significant consequences for his booming off-field brand, experts told FOX Business on Friday.
Civil court documents filed Tuesday include a 2010 email in which Manning allegedly asks a Giants equipment manager to produce "two helmets that can pass as game-used" for Manning's co-defendant, Steiner Sports, that were later marketed and sold as authentic. The alleged correspondence entered the public record as part of a civil racketeering case against Manning, the Giants, Steiner Sports and others, as first reported by the New York Post.
While the legal case against Manning has yet to conclude, the Giants quarterback already faces overwhelming criticism in New York tabloids and on social media. As more details emerge, Manning's reputation as a squeaky-clean front man for mainstream American companies could take a hit, according to Shawn McBride, an executive vice president at Ketchum Sports and Entertainment, a public relations firm.
"It is certainly fair to state that his image or brand, will be tarnished in the short term, given the perception that he knowingly misled his most avid fans or supporters – those who would pay a premium for this type of merchandise – through these alleged actions," McBride told FOX Business.
The lawsuit, which is set to reach trial in September, further alleges that the Giants organization deleted relevant emails, in violation of team policy, rather than turn them over. Plaintiffs Eric Inselberg, Michael Jakab and Sean Godown are seeking unspecified damages. At present, neither Manning nor any of the case's other defendants face any criminal charges, and there is no evidence that authorities launched a criminal investigation.
"The email, taken out of context, was shared with the media by an unscrupulous memorabilia dealer and his counsel who for years has been seeking to leverage a big payday," legal representatives for the Giants organization said in a statement. "The email predates any litigation, and there was no legal obligation to store it on the Giants server. Eli Manning is well known for his integrity and this is just the latest misguided attempt to defame his character."
Manning's marketing agent, Alan Zucker, did not respond to FOX Business' request for comment on the allegations.
Until now, Manning has parlayed his on-field success and sterling off-field reputation into a stable of high-profile endorsement deals. He earns $8 million annually through deals with top companies like Nike, Gatorade, Toyota and DirecTV, according to Forbes.
So far, the allegations and pending civil suit haven't seemed to affect Manning's relationships with key sponsors.
"We are aware of the recent reports involving Eli Manning. As a matter of policy, we do no comment on the off-field lives of our athletes," a Gatorade spokesperson told FOX Business.
Representatives for Nike, Toyota and DirecTV did not immediately respond to FOX Business' request for comment. Another commonly-referenced sponsor, Dunkin' Donuts, said its deal with Manning ended in 2015.
"The emails, as depicted in the court filing, don't necessarily prove that Manning broke the law. But that might not matter in the long-run. The emails reflect poorly on his judgment as a person. That could be much more impactful on his reputation and his marketability than whether the lawsuit succeeds or fails," said Michael McCann, a Sports Illustrated legal analyst and law professor at the University of New Hampshire.
While Manning may have to contend with the PR fallout from the memorabilia scandal for at least the next several months, the public release of his emails isn't a death blow for his defense team, according to Dan Werly, a Nashville-based sports lawyer and founder of "The White Bronco" sports law blog.
"Manning's legal team certainly takes a public relations blow from the email released as part of the civil conspiracy lawsuit filed against Eli and the Giants but from a legal perspective, it may not be as damaging as one would expect," Werly told FOX Business. "The accuser still must demonstrate that the email is authentic and Manning's team will have the opportunity to explain the email in the context of other email or communications.  The Giants legal team has already stated that this email was taken out of context."
An eventual loss in the civil suit would likely place Manning on the hook for a hefty payout to the plaintiffs. But the real impact could reach the playing field, if the NFL determines that Manning's off-field actions violated its personal conduct policy. The case has already drawn comparisons to the "Deflategate" standoff between New England Patriots quarterback Tom Brady and the NFL.
"In this case, a loss would only be a financial one for Eli," Werly said. "The bigger question: Would Roger Goodell find this to be 'conduct detrimental' to the NFL, opening the door for a suspension?"
The NFL did not immediately respond to FOX Business' request for comment.