Electric car tipping point may challenge pioneers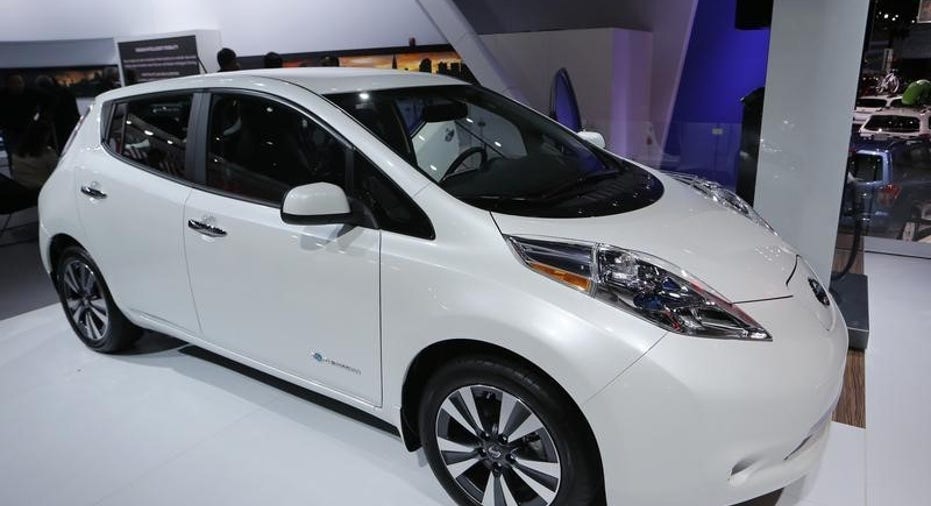 Electric car prototypes and plans are set to dominate the Paris auto show as the Volkswagen diesel scandal and falling battery costs persuade executives and investors that plug-in vehicles are ready to go mainstream.
The expected flurry of announcements signals a threat to pioneers of the current generation of battery-powered cars, such as Tesla and Renault-Nissan , who will now have to work harder to defend their lead.
VW is leading the charge, keen to turn a page after its exposure last year as a U.S. emissions test cheat. The German carmaker will showcase new electric vehicle (EV) architecture underpinning a staggering June pledge to achieve annual sales of 2 million-3 million electric cars by 2025.
"Everyone's watching VW - they've set out some very high expectations," said Ian Fletcher, an analyst with consulting firm IHS Automotive.
"Brands like Renault, Nissan and Tesla are still going to be mainstays, but there will be far greater competition for electrification."
Nissan's <7201.T> 2010 Leaf kicked off the contemporary crop of battery-only cars, joined two years later by alliance partner Renault's Zoe, a hatchback subcompact. 7201.T>
But scarce charging points, a driving range limited to around 100 miles (160 kilometers) and cheap fossil fuel stifled mass-market demand. Renault-Nissan, whose Chief Executive Carlos Ghosn had promised to deliver 1.5 million EVs by 2016, has logged barely 350,000 sales to date. The Leaf accounts for two-thirds of those, more than any other electric model.
Tesla meanwhile stormed the premium market with its Model S sports car, tallying about 130,000 sales since its launch the same year as the Zoe. Its success proved that consumers were prepared to pay $72,000 for an EV that can do 265 miles (425 km) on one charge.
But that kind of range is about to be matched by mass-market vehicle brands at much lower prices, thanks to a leap in battery technology that is mirrored by sales projections. Electric cars may claim 15 percent of registrations in 2025, Barclays analyst Kristina Church predicts, compared with 0.4 percent last year.
Chevrolet's $37,500 Bolt, arriving in U.S. showrooms late in 2016 and in Europe as the Opel Ampera-e next spring, covers 238 miles (383 km) with its 60 kilowatt-hour battery from LG Chem <051910.KS>, General Motors announced earlier this month. 051910.KS>
"Opel is democratizing the electric car with the Ampera-e," Opel CEO Karl-Thomas Neumann said at the time.
Tesla had promised to do that with its promised Model 3, but the new vehicle will trail the GM launch by at least a year, with a shorter expected range. The Bolt also travels further between charges than the entry-level Model S.
"Tesla is the champion of EVs, but long-term success not guaranteed," Church said in a note to Barclays clients. "Traditional manufacturers are better prepared to face future mobility trends than some believe."
In Paris, Renault will unveil a longer-range Zoe "LR", with an upgraded 40 kWh LG battery that can power it almost as far as its larger GM rival, company and industry sources told Reuters. The new version will go on sale almost immediately.
But affiliate Nissan, which builds its own batteries in a venture with NEC <6701.T>, will not be in a position to follow suit for another year, the sources said - leaving its flagship Leaf outgunned by the Bolt in the interim. 6701.T>
Daimler will show an electric car in Paris and outline plans for as many as nine production models, a source told Reuters recently, as part of a push by German luxury heavyweights to challenge Tesla.
BMW bosses are staying home to thrash out plans to follow their i3 electric mini with an expanded EV lineup, people familiar with the matter said.
They are not the only executives taking a pass on Paris - where the outcry over "dieselgate" and weak emissions regulation has sharpened enthusiasm for electrified motoring. Ford and Volvo <0175.HK> are among the absentees. 0175.HK>
As if to underline growing hostility towards combustion engines in congestion-clogged cities, the French capital held its biggest ever "Car-Free Day" the Sunday before the show. Lawmakers voted the following day to pedestrianize the Seine's right bank, permanently closing a major traffic artery.
Autonomy, a new Paris gathering of ride-sharing startups and other "urban mobility" operators, is also giving the traditional automotive fest a wide berth, setting up camp in a diametrically opposite corner of town.
"The car show is for people who see vehicles as objects of desire," said organizer Maureen Houel. "Autonomy is for city-dwellers who need to get around effectively."
(Additional reporting by Edward Taylor; Editing by Ruth Pitchford)