Eight Great Ways to Save Green on Lawn Care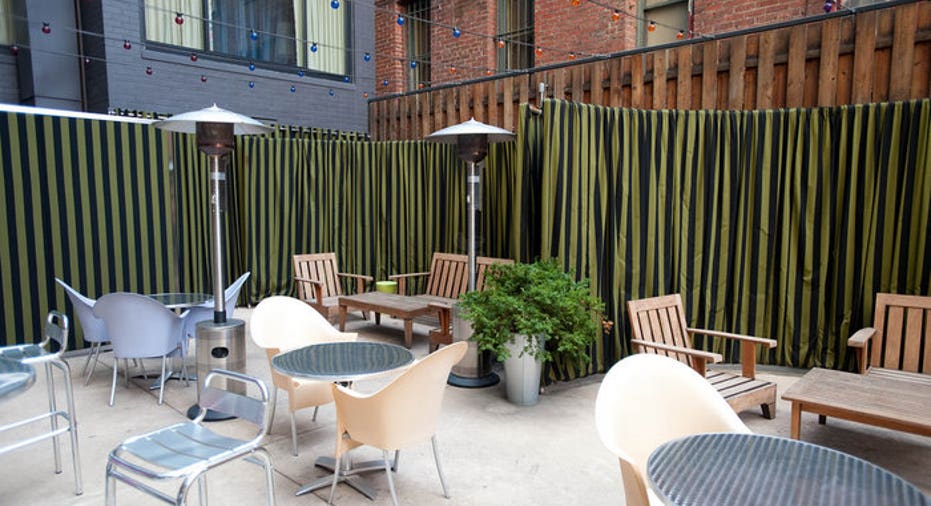 Save Money on Lawn Care
When people think of saving money around the house, they think of things that happen inside, such as utility usage and family meals. But your lawn care and gardening habits could be costing you more than you think.
Between water, fertilizer, lawn care services, seed, gardening equipment and other costs, Americans spend an estimated $40 billion caring for their lawns every year, according to "American Green: The Obsessive Quest for the Perfect Lawn." Not only that, but they also spend an average of 73 hours a year cutting grass, pruning and doing all the other tasks that help keep yards beautiful, according to the Bureau of Labor Statistics.
That's a huge investment of time and money that should be put to the best use possible. Here are some tips to help you frugalize your yard and save money over the long term.
Xeriscape Your Yard
Minimizing the area of your yard by planting trees and plants native to your region, part of a technique called xeriscaping, can help you save money by keeping your lawn green without constant watering.
Cut back on the size of your lawn, says Eric Liskey, deputy editor at Better Homes and Gardens magazine. "It's the most maintenance intensive, water-hungry kind of thing you can have in your yard," he says.
Instead, Liskey recommends planting drought-tolerant plants that can get by better on natural rain and more sporadic watering.
"Focus on drought-tolerant plants," Liskey says. "Most nurseries and garden centers now will highlight that."
The savings can be big. One estimate by the University of Illinois Extension puts the amount of water a lawn needs to stay green in summer at 1 inch of water per week, which translates to an average of about 2,500 gallons of water per week to keep a 4,000 square-foot lawn green, assuming no rainfall. If you pay $3 per 1,000 gallons, that's almost $400 per year to water your lawn. Xeriscaping cuts that in half, according to the University of Georgia Cooperative Extension, making the savings almost $200 per year.
Plant Fruit Trees
Not only can fruit trees save money by providing shade for your home to reduce heating bills, but they're also a great source of free fruit if properly maintained.
For instance, one healthy semi-dwarf apple tree can yield 4 bushels, or about 168 pounds, of apples per year, according to the Master Gardener Manual for the Cooperative Extension of the College of Agriculture at the University of Arizona. If apples are selling for $2 per pound at your local grocery store, that tree drops $336 worth of apples each year. And that's not even taking into account reduced doctor bills (get it?).
Compost Organic Waste
Grass clippings, vegetable scraps and other organic waste can be turned into free compost to augment soil, to mulch around trees and to fertilize your lawn. A small compost bin can generate up to 40 cubic feet of compost per year, and because factory-produced compost can go for as much as $5 per cubic foot at stores like Home Depot, your household waste could net you $200 worth of free fertilizer per year.
"Instead of throwing stuff out and sending it to the landfill or down the drain, you can turn it into something useful," says Liskey.
Another way to save money is to buy a mulching lawn mower, says Bob Markovich, home and yard editor for Consumer Reports. Instead of blowing it out the side or into a bag, such mowers chop the cut grass into tiny pieces, creating a layer of composting material that can help keep grass green, Markovich says.
Also, your current lawn mower may have the ability to block off the exit vent on the right side of the mower to get a mulching effect, Markovich says.
Plant Perennials Instead of Annuals
Annuals are plants that must be replanted every year. That can be time-consuming and pricey, especially if you buy live plants instead of seed. Save money by planting perennials that will last three years or more, says Liskey.
"You don't have to replant them; they come back every year," Liskey says.
Another benefit to perennials is that many can be divided and the parts replanted in other areas of your yard, says Liskey.
"After a couple of years in the ground, they're big enough that you can dig those clumps up and divide them into three or four parts, and then replant those around" says Liskey. "Basically, you're getting free plants."
One more bonus: You can get together with friends and neighbors and trade your divided plants, adding variety and beauty to your yard for free, says Liskey.
Plant Leafy Shade Trees Around Your Home
It will take awhile, but once trees take hold and get big enough, their shade can keep your home significantly cooler and help you save money.
While it is conventional wisdom to plant shade trees on the south side of the home to provide the most protection from the sun, the best approach is planting trees on the east- and west-facing sides, says Liskey. That's because trees on the south-facing side can boost utility bills in winter by blocking out valuable sunshine during the warmest part of the day, he says.
The savings you'll reap on your utility bill could be eye-opening. Depending on where you live, one tree planted on the west side of your home can reduce your energy bills by 3% within five years, according to the Center for Urban Forest Research in Albany, Calif. Within 15 years, that savings jumps to nearly 12%, and planting another tree on the east side can boost the total savings to nearly 22%.
Start With Seeds and Smaller Plants
Time is money, especially when you want to save money on plants, says Liskey.
Plants need time in the nursery to grow bigger, and the nursery is going to charge for the cost of storing and maintaining the plant for a longer period of time. Then there's the added expense of transporting bigger, heavier plants.
"Start with small plants. They just take longer to grow and get to be the size you like," says Liskey. "But if you're landscaping a yard, you can cut your costs down by a half to two-thirds if you just buy quart-sized plants instead of gallon-sized containers."
The same applies to trees, says Liskey. You may have to wait a few more years for a $25, 5-gallon tree to grow to the size of an $80 tree, but the savings can be significant, especially if you're buying multiple trees.
Don't Replace Outdoor Furnishings; Paint Them
You can save money on yard furnishings with some creativity and a little elbow grease.
Got any large ceramic pots? Rather than buy new ones, give the old ones the look of expensive glazed pots with special paint from Rust-Oleum or Krylon, says Liskey.
"It's a simple do-it-yourself project that's inexpensive and kind of a fun way to add some color and pizazz to a patio," he says.
Do you have a sad-looking patio furniture out in the yard? It may need nothing more than a little sanding and a fresh coat of paint to look brand new again, says Liskey.
Shop Plant Sales in the Fall
Especially in the northern part of the country, you can save money as nurseries clear their inventory for the winter with plant clearance sales in mid to late fall, says Liskey.
"The nurseries don't really want to carry that stock over into the winter, so they're pretty aggressive about end-of-season clearance deals," says Liskey.
Buyers can expect to see discounts of 30% to 50% off trees and shrubs, he says.
And while fall may seem late in the year to plant, Liskey says that as long as the ground isn't frozen, September and October -- the months when these clearance sales typically happen -- are actually good months to establish new plants.