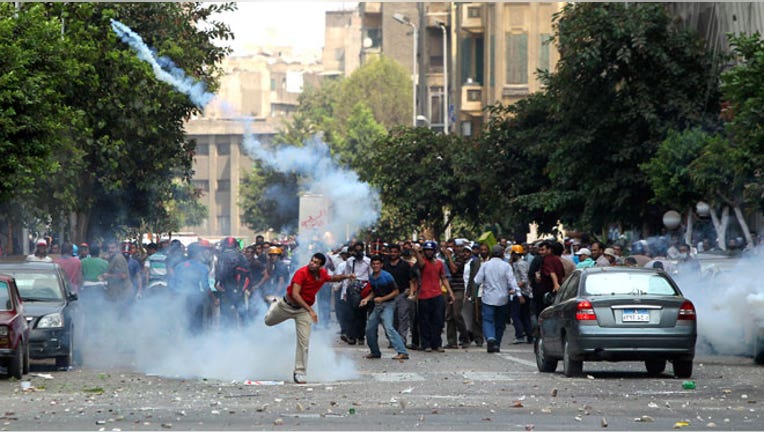 Shares of Apache (NYSE:APA) slumped more than 4% on Monday after Stifel Nicholas downgraded the oil-exploration company due to concerns that deepening chaos in Egypt could cause a disruption.
The negative research note comes as investors continue to pay attention to the situation in Egypt, which plays a pivotal role in the global energy market as a key transit center.
"While Egyptian production operations have not been disrupted to date, the potential risk of disruption going forward cannot be ignored," Stifel Nicholas analyst Amir Arif wrote in the research note.
Stifel downgraded Apache to "hold" from "buy" and removed its $90 price target.
The firm notes that Apache relies on Egypt for 19% of its production, about 24% of the company's cash flow and a portion of its free-cash flow.
"We believe that the risk/reward profile has decreased, near-term catalysts have mostly played out, and while the name remains a value stock, we do not see any key drivers to move the name higher," Amir wrote.
Crude oil prices have rallied in each of the prior six sessions, soaring more than $4 a barrel, on worries about whether or not the crisis in Cairo could impact supplies. Despite more violence over the weekend, crude fell 49 cents, or 0.46%, to $106.81 during afternoon trading on Monday.
Egypt is not much of an oil producer, but the country's Suez Canal plays a key role in the transportation of crude oil and liquefied natural gas.
"During the previous two year transition in Egypt, in our view, the key risk was not disruption risk as much as it was changes to contract terms or new profit taxes being added. However, with the recent pickup in civil strife, the risk of having local personnel to properly manage the assets and/or disruption risk cannot be ignored," Amir wrote.
Shares of Houston-based Apache fell 4.48% to $75.45 Monday afternoon, knocking them almost 4% in the red on the year.