Edmunds compares Subaru Outback and Buick Regal TourX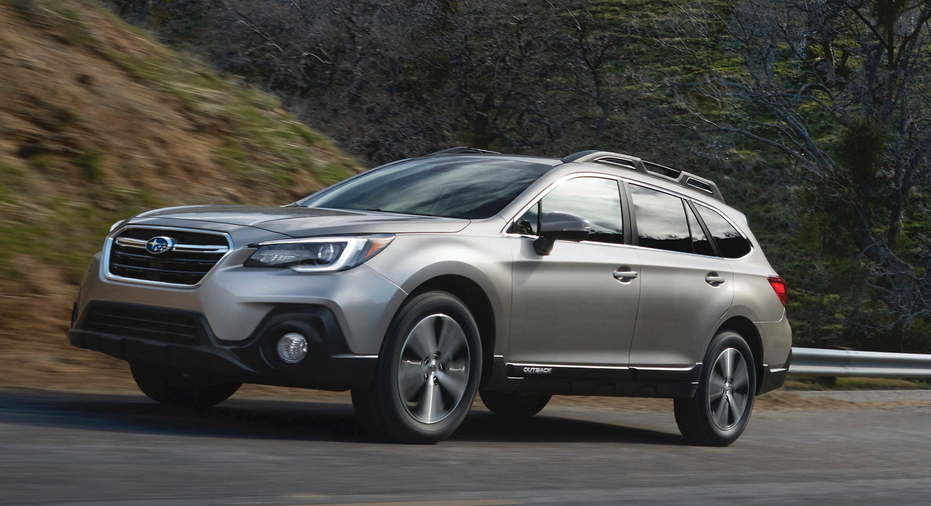 Subaru is well-known for offering cars that can handle themselves when the going gets rough, and its Outback lies squarely in that tradition. Essentially a wagon with extra ground clearance and a capable all-wheel-drive system, the Outback is a model alternative to an SUV. It's been popular with American car shoppers since its debut in the 1990s.
But now Subaru has new competition from a company that has a significant wagon-building heritage of its own: Buick. You might think of the old, gigantic Estate and Roadmaster when you read "Buick wagon," but the company's all-new Regal TourX is a svelte wagon with SUV-like attributes. So how does it stack up against the granddaddy of the segment?
STICKING CLOSE TO THE FORMULA
The Regal TourX sets itself apart in a few key ways, but it doesn't deviate much from Subaru's blueprint. Both the 2018 Regal TourX and the 2018 Subaru Outback come standard with all-wheel-drive systems, a feature that's optional on many SUVs. All-wheel drive provides extra traction on gravel or dirt roads and in inclement weather.
Both also have plenty of cargo space. With its rear seats up, the Outback has 35.5 cubic feet of space, while the TourX offers 32.7. Folding the rear seats flat opens the Outback's trunk up to 73.3 cubic feet, and the TourX's to 73.5. Those are impressive numbers, on par with the cargo space in top-rated small SUVs such as the Honda CR-V.
While both vehicles have similar cargo and passenger space, the keen observer will note a difference in shape. The TourX is 6.5 inches longer than the Outback and its roof is 7.7 inches lower. This means that the TourX not only looks sleeker but is also easier to load and unload items from the roof rack. Its lower, longer body has a drawback, however. More about that a bit later.
SIMILAR PRICING
Overall, the Subaru is a little less expensive. For example, the Outback starts with an MSRP of $25,895 for the base 2.5i trim level, while a base TourX is $29,995. But the variance narrows as you approach the most expensive trims. Fully loaded, both the Outback and the TourX can cost close to $40,000.
Standard equipment for both vehicles includes a touchscreen infotainment system with Android Auto and Apple CarPlay smartphone integration, but the base Regal TourX has a few extra conveniences such as a proximity entry with push-button start and onboard Wi-Fi.
If you're interested in active safety features and driver aids, Subaru's excellent EyeSight system is available on midlevel Outbacks, which start around $31,000. EyeSight adds automatic emergency braking and adaptive cruise control, among other features. These features are only available as an option on the top trim level of the TourX, so you'll spend several thousand dollars more to get them.
SUBARU WILL TAKE YOU FARTHER
While their all-wheel-drive systems are comparably capable, the Subaru has an advantage when it comes to rough roads: 8.7 inches of ground clearance, more than many SUVs. With its longer, lower body, the TourX is more like a regular car, and so has less ground clearance, 5.8 inches. The Outback will be able to drive over rocks or ruts that might stymie the TourX.
The Subaru also averages four more miles per gallon than the TourX. The Outback's base four-cylinder engine isn't as powerful as the Regal TourX's turbocharged four-cylinder, but it boasts an EPA combined rating of 28 mpg versus the TourX's 24 mpg combined.
BUICK'S NEAR-LUXURY PROPOSITION
On the road, the TourX presents a more refined experience than the Outback. Buick has positioned the car as a "near-luxury" vehicle, and it worked to reduce noise in the Regal's cabin, going so far as to insert soundproofing material in the tires. Subaru has come a long way in terms of interior quality, but it hasn't tamed cabin noise as Buick has.
Both vehicles have comfortable seats with available leather upholstery, though the Subaru's seats are more accommodating for larger drivers and passengers. Still, in terms of material and design, the TourX feels more upscale than the Outback.
The TourX also offers a more refined driving experience on the road. For starters, it handles turns with more composure than the Outback. The TourX also comes with a significantly more powerful engine that puts out 250 horsepower. Compared to the Subaru with its base 175-horsepower engine, the Buick accelerates more quickly and sounds less strained in regular driving. A six-cylinder engine is available for the Outback, but with this pricey upgrade it loses its fuel-economy edge and still is slightly slower than the TourX.
EDMUNDS SAYS: The TourX offers a more upscale experience and handles adverse conditions with aplomb. For a pavement-focused vehicle, it's a great wagon to get. But the Outback is a better choice if you plan on occasional recreational use, and it offers greater access to advanced safety features.
____
This story was provided to The Associated Press by the automotive website Edmunds. Will Kaufman is an associate staff writer at Edmunds. Instagram: @didntreadthestyleguide.
Related links:
— 2018 Subaru Outback Review: https://edmu.in/2ItIsY2
— 2018 Buick Regal TourX Review: https://edmu.in/2k0qsKi
— 2018 Buick Regal TourX Video Test Drive: https://bit.ly/2Ie9wyB