Edmunds compares 5 midsize pickup trucks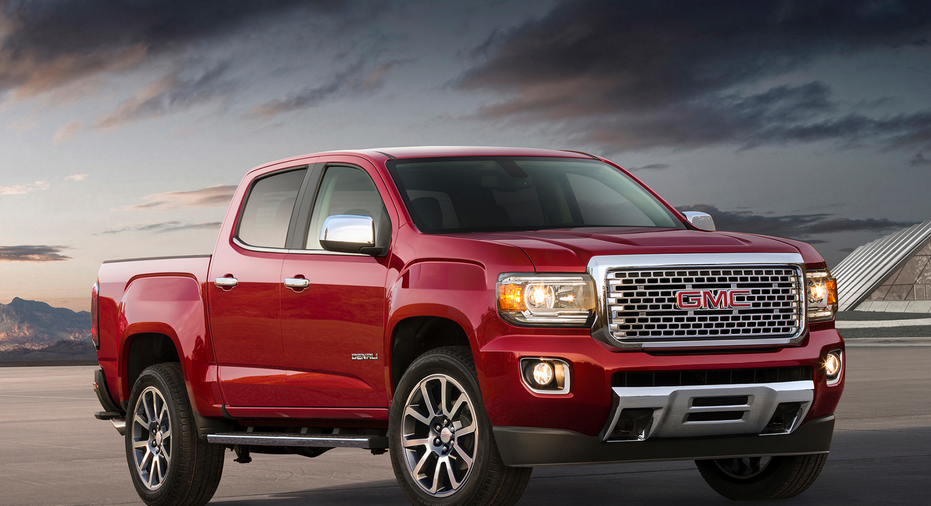 Full-size trucks such as the Chevrolet Silverado and Ford F-150 are hugely popular. But not everyone needs that much capability from a new pickup. For them, a midsize truck is a viable alternative. The latest midsize trucks are able to tow, haul and transport passengers nearly as well as their full-size brethren, yet they offer increased maneuverability, lower starting prices, and the potential for better fuel economy. Which one is the best? Edmunds rounds up the lot to explain their individual benefits and drawbacks.
2018 HONDA RIDGELINE
The Ridgeline lacks the traditional body-on-frame construction that's typical for a truck, and softer-looking styling might have you thinking it's less capable. But the reality is that it's one of the most appealing and capable trucks in its segment. The Ridgeline is the comfortable and quiet truck here. It also offers some unique features. In the bed, for instance, there's a watertight storage trunk plus a two-way tailgate that you can open either up and down or sideways for easier loading. You can even add an in-bed stereo system as an option.
Under the hood, the Ridgeline's 3.5-liter V6 engine provides smooth power and respectable fuel economy. The powertrain does have its limits, though, as its all-wheel-drive system isn't as capable for off-road use as the four-wheel-drive systems on competitors. And with that all-wheel-drive system, the Ridgeline's towing capacity tops out at just 5,000 pounds.
2018 TOYOTA TACOMA
The Tacoma is one of the most capable pickup trucks on the road regardless of size. For truck shoppers wanting to go as far off the beaten path as possible, the Tacoma will be a great choice. It'll also tow up to 6,800 pounds, and it enjoys a great reputation for high resale value and aftermarket parts support.
In other ways, however, the Tacoma isn't as dominant. The interior is bland, the driver's seating position can be uncomfortable, and the ride quality on the highway ride is subpar. Toyota offers two engines in the Tacoma, a base 2.7-liter four-cylinder engine or a 3.5-liter V6. The four-cylinder is adequate for some tasks, but we recommend upgrading to the available 3.5-liter V6. Overall, the Tacoma isn't the most refined midsize truck, but for most truck shoppers it's the most adventure-ready rig.
2018 CHEVROLET COLORADO AND GMC CANYON
Chevrolet's smart-looking Colorado is easy to drive every day. We like its simple but easy-to-use interior and many of its available technology features upgrades. Chevy also offers the most choices for engines. The Colorado comes standard with a 2.5-liter four-cylinder engine, but you can upgrade to either a 3.6-liter V6 or a 2.8-liter turbocharged four-cylinder diesel engine. If you opt for the diesel, maximum towing capacity goes up to an impressive and class-leading 7,700 pounds. And while the Tacoma has traditionally been the undisputed midsize king of off-road country, there's now real competition from the purpose-built, off-road-ready Colorado ZR2.
If you're looking for a bit more upscale vibe in your midsize truck, the GMC Canyon has the same underpinnings as the Colorado and more to offer on the options sheet.
2018 NISSAN FRONTIER
Though the 2018 Nissan Frontier has a few upsides, it has the least overall appeal in our opinion. While the other midsize trucks benefit from recent and comprehensive redesigns, the Frontier has only received a few minor changes over the last decade. As such, cabin materials and construction feel dated from the moment you sit down. The uncomfortable seats and a strikingly bland dashboard display are decidedly uninspiring. On the highway, the Frontier continues to disappoint, with drawbacks like a noisy cabin and spongy brakes. Middling fuel economy and subpar safety scores are also significant knocks against it.
The Frontier's list of advantages is short, but most notably it can cost significantly less than competitors. If you're looking for a bare-bones truck, the Frontier is appealing. But your driving experience will be much better in the Chevy, Honda or Toyota.
2019 FORD RANGER
While it hasn't arrived on U.S. shores yet, the Ford Ranger warrants a mention in any discussion of midsize trucks. The Ranger has been absent from the U.S. market for several years, but Ford reintroduced an all-new Ranger at the Detroit Auto Show just a few months ago. It will go on sale late in 2018. The Ranger is set to receive a turbocharged 2.3-liter four-cylinder engine, which should provide decent towing and hauling capabilities, as well as the latest Ford technology features. Depending on your needs, this new Ranger might be worth waiting for.
EDMUNDS SAYS: Midsize trucks are more capable and more appealing than ever, and they are a compelling alternative to full-size trucks if you want something that's more maneuverable. Whether you're into off-roading or just need to stick a few surfboards in the back, midsize pickups can provide all the utility you need.
____
This story was provided to The Associated Press by the automotive website Edmunds. Travis Langness is a staff writer at Edmunds. Twitter: @travislangness
Related links:
— 2018 Chevrolet Colorado Review: http://edmu.in/2tQqJaE
— 2019 Ford Ranger Review: http://edmu.in/2tPOKyg
— 2018 GMC Canyon Review: http://edmu.in/2FYRDSh
— 2018 Honda Ridgeline Review: http://edmu.in/2FWAXLr
— 2018 Nissan Frontier Review: http://edmu.in/2G31czJ