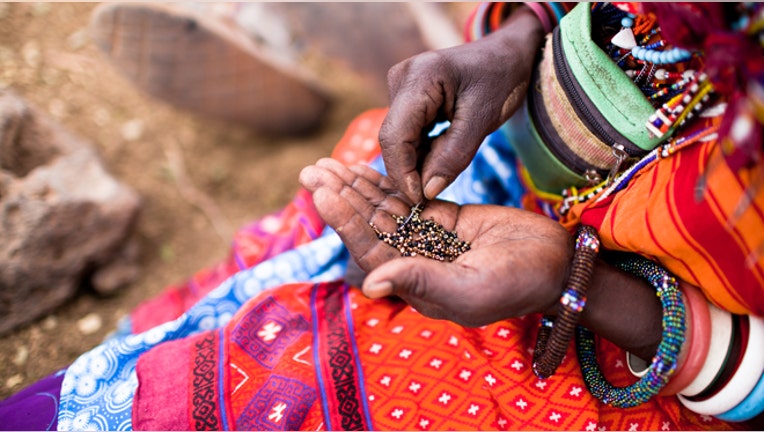 Small Business Spotlight: Raven + Lily, @RavenAndLily
Who: Kirsten Dickerson, co-founder and CEO
What: Socially conscious lifestyle brand Raven + Lily is dedicated to empowering women through design partnerships and sustainable economic opportunities.
When: First founded as a fiscally sponsored non-profit in 2008, moved into for-profit in August 2013
Where: Austin, TX by way of Los Angeles, CA
How: Kirsten Dickerson, Raven + Lily's co-founder and CEO, has 20 years' worth of worldwide humanitarian experience. For years she has worked with her film-maker husband (who photographed Raven + Lily's newest catalogue) on the art direction and styling for his videos, and says it's always "tremendous fun," but her heart was always leaning toward non-profit work.
"Through this global experience I have seen firsthand the suffering of women and children, as well as the need to create jobs as a sustainable solution to breaking the cycle of poverty," she says. "Raven + Lily is focused on becoming one of those sustainable solutions."
In an effort to combine her love of fashion and design with her desire to help alleviate poverty among women, she teamed up with friend Sophia Lin (Raven + Lily co-founder) and the two launched the eco-friendly company in 2008.
While the first goal behind the company was to empower at-risk women, Dickerson and Lin say today they also work to empower their consumers to make a positive impact through their purchasing power.
"As consumers we are often feeding an industry (fashion) that is a leading contributor to pollution and unethical labor," Dickerson says. "Instead, I want to offer designs that empower the female consumer to tell a story of beauty through their purchases."
From beaded jewelry and leather totes, to silk dresses and hand printed stationary, Raven + Lily merchandise prices in the new Spring/Summer2014 collection (which launched last week) range from $15 to just over $200.
Raven + Lily currently help employ over 800 women with design skills in India, Ethiopia, Kenya, Cambodia and the U.S., and are developing new partnerships in Malaysia, Pakistan and Guatemala.
The company is currently registered as a B-corporation (Public Benefit Corporation) and has plans to open its first brick-and-mortar location this year in Austin.
Biggest challenge: Dickerson says the greatest obstacle for her has been going through "on-the-job training" as CEO, and explains that while she's made some mistakes, those trials have allowed her to grow as an individual and as a business owner.
For the self-described "creative entrepreneur," having a husband who is a fellow creative and visionary has been invaluable to growing her business.
"It's not easy being a mom of two kids and running a company that works in multiple countries and employs women from vulnerable backgrounds," Dickerson says. "I would have given up years ago if he hadn't been there cheering me on and believing so deeply in the mission of this company."
One moment in time: "The most memorable ones have been the times that I've visited the artisans and seen firsthand how their lives have improved through a partnership with Raven + Lily," Dickerson says.
She took her nine-year-old adopted daughter with her last year on a trip to India to meet the women who make the company's wood and leather jewelry collection. She remembers crying when Ferdoz, one of the key leaders and jewelers in this collaboration, proudly declared that women in her community no longer mourn when they give birth to daughters.
"They rejoice because they have learned how valuable girls are," Dickerson says. "These women are helping to change attitude within their communities [and when] I see this happening I realize there is no end to the possibilities of empowering women through design."
Best business advice: "I've had the privilege of being mentored by some successful businessmen and women in Austin, Texas," Dickerson says. "They have helped me to learn the importance of taking the time to define the mission and core values of my company."
She explains how these lessons have been vital to the company's growth and success because she is able to make sure the decisions she makes are in line with what is most important to her and Raven + Lily.
Most influential: "The women in my partnerships – they have inspired me to not give up when life doesn't go as planned, and they have helped me to see beauty in the most dire of situations."