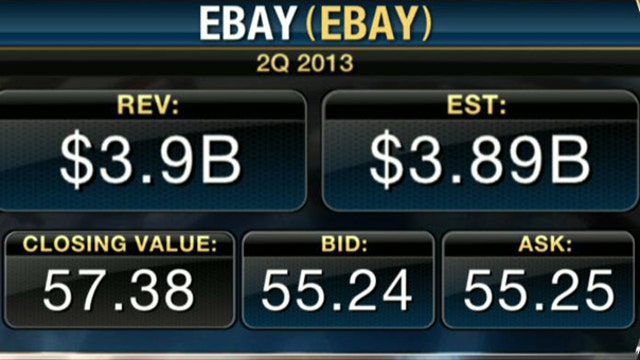 Online auction and payment company eBay (NASDAQ:EBAY) on Wednesday reported second-quarter revenue slightly below forecasts and provided forecasts for the rest of the year that also fell short of earlier estimates.
Revenue for the three months ended June 30 rose 14% from a year ago to $3.88 billion with earnings per share of 63 cents. Analysts had predicted revenue of $3.89 billion and 63 cents a share.
The company reported second quarter net income of $640 million, or 49 cents per diluted share, a 7.5% drop from $692 million, or 53 cents per share, a year earlier.
For its PayPal payments unit, eBay said revenue rose 20% to $1.62 billion, from $1.36 billion during the same period a year ago. The marketplace division, home of eBay's namesake auction site, saw revenue rise to $2 billion, from $1.81 billion.
For the current quarter, the company projected revenue of $3.8 billion to $3.95 billion, and earnings per share of 61 cents to 63 cents. Wall Street had forecast $3.97 billion in revenue and  earnings per share of 65 cents.
For the full year, the company forecast revenue in a range of $16 billion to $16.5 billion, and earnings per share in a range of $2.70 to $2.75. Those projections also fell short of analysts' estimates of $16.31 billion and $2.75.
EBay shares fell $2.83, or almost 5%, to $54.55 in late trading.
"We had a strong second quarter, with $51 billion of enabled commerce volume across Marketplaces, PayPal and eBay Enterprise driving double-digit revenue and earnings growth," eBay President and CEO John Donahoe said in a statement.
"Macroeconomic headwinds in Europe and Korea will continue to be a challenge in the second half of the year. But our core businesses are strong and we continue to attract millions of new customers each quarter through mobile innovation," he added.