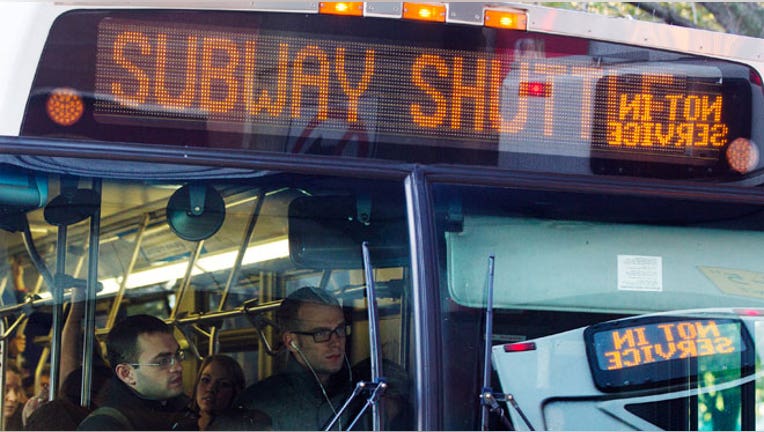 Rescuers searched flooded streets and swamped houses for survivors, drivers lined up for hours to get scarce gasoline and millions remained without power on Thursday as New York City and nearby coastal towns struggled to recover from one of the biggest storms ever to hit the United States.
New Yorkers heard the rumble of subway trains for the first time in four days as limited service resumed, but the lower half of Manhattan still lacked power and surrounding areas including Staten Island, the New Jersey shore and the city of Hoboken remained crippled from a record storm surge and flooding.
At least 87 people died in the "superstorm" that ravaged the northeastern United States on Monday night. Officials said the number could climb as rescuers searched house-to-house through coastal towns.
The hunt for gasoline added to a climate of uncertainty as the death toll and price tag of the storm rose.
"I'm so stressed out," said Jessica Bajno, 29, a school teacher from Elmont, Long Island, who was waiting in line for gas. "I've been driving around to nearby towns all morning, and being careful about not running out of gas in the process. Everything is closed. I'm feeling anxious."
More deaths were recorded overnight in the New York City borough of Staten Island, where authorities recovered 17 bodies after the storm lifted whole houses off their foundations. Among the dead were two boys, aged 4 and 2, who were swept from their mother's arms by the floodwaters, police said.
In all, 38 people died in New York City, officials said.
The financial cost of the storm also promised to be staggering. Disaster modeling company Eqecat estimates Sandy caused up to $20 billion in insured losses and $50 billion in economic losses, double its previous forecast.
At the high end of the range, Sandy would rank as the fourth-costliest catastrophe ever in the United States, according to the Insurance Information Institute, behind Hurricane Katrina in 2005, the Sept. 11 attacks of 2001, and Hurricane Andrew in 1992.
JERSEY SHORE STAGGERS
In hard-hit New Jersey, where oceanside towns saw entire neighborhoods swallowed by seawater and the Atlantic City boardwalk was destroyed, the death toll doubled to 12.
Floodwaters finally receded from the streets of Hoboken, just across the Hudson River from Manhattan, leaving behind a stinky mess of submerged basements and displaced cars littering the sidewalks.
"The water was rushing in. It was like a river coming," said Benedicte Lenoble, a photo researcher from Hoboken. "Now it's a mess everywhere. There's no power. The stores aren't open. Recovery? I don't know."
In neighboring Jersey City, drivers negotiated intersections without traffic lights. Shops were shuttered and lines formed outside pharmacies while people piled sodden mattresses and furniture along the streets. The city imposed a curfew and banned driving from 7 p.m. to 7 a.m.
New Jersey favorite son Bruce Springsteen, along with Jon Bon Jovi and Sting, will headline a benefit concert for storm victims Friday night on NBC television, the network announced.
The U.S. government agreed to cover 100 percent of emergency power and public transportation costs through Nov. 9 in eight New Jersey counties. The Federal Emergency Management Agency, which already pledged aid directly to victims and local governments, told New Jersey's U.S. senators of the decision, an aide to Senator Frank Lautenberg said.
Sandy started as a late-season hurricane in the Caribbean, where it killed 69 people, before smashing ashore in the United States with 80 mph (130 kph) winds. It stretched from the Carolinas to Connecticut and was the largest storm by area to hit the United States in decades.
About 4.6 million homes and businesses in 15 U.S. states were without power on Thursday, down from a record high of nearly 8.5 million.
Sandy made landfall in New Jersey with a full moon around high tide, creating a record storm surge that flooded lower Manhattan. By Thursday, the storm had dissipated over the North American mainland.
OBAMA BACK ON CAMPAIGN
After a four-day suspension to deal with the storm, President Barack Obama returned to the campaign trail. Polls show him locked in a virtual tie with Republican challenger Mitt Romney before Tuesday's presidential election.
The president toured devastated New Jersey areas on Wednesday with the state's Republican governor, Chris Christie, a vocal Romney supporter who nonetheless strongly praised Obama's response to the disaster.
Obama received an update on storm recovery efforts Thursday from his crisis management team, White House spokesman Jay Carney told reporters on Air Force One.
More than 36,000 disaster survivors from New York, New Jersey and Connecticut have applied for federal disaster assistance and more than $3.4 million in direct assistance has already been approved, Carney said.
GASOLINE SCARCE
Fuel supplies into New York and New Jersey were being choked off in several ways. Two refineries that make up a quarter of the region's refining capacity were still idle due to power outages or flooding. The New York Harbor waterway that imports a fifth of the area's fuel was still closed to traffic, and major import terminals were damaged and powerless.
In addition, the main oil pipeline from the Gulf Coast, which pumps 15 percent of the East Coast's fuel, remained shut.
The scarcity of fuel, electricity and supplies made cleanup more daunting for barrier towns such as Seaside Heights, part of the Jersey Shore.
Seaside Heights residents who obeyed the mandatory evacuation order were cut off from their homes. The entire community was submerged by the storm surge that washed over the island and into the bay that separates it from the mainland.
"The bay met the ocean," said Frank Meszaros, 43, standing next to the closed bridge that kept him from returning home.
Chris Delman, 30, saw a photograph of his house in a local newspaper Wednesday, noticing it was still standing.
"We ain't living in Seaside no more, that's obvious," Delman said. "I just want to know what I have left."