East-Coast Bias Underscores NBA's Wealth Gap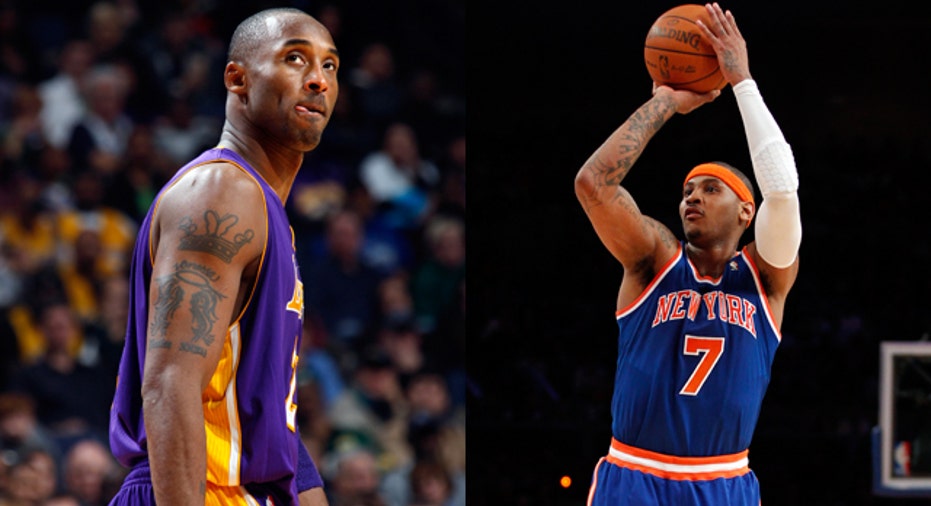 The swarm of superstars leaving their West Coast teams for the bright lights of big East Coast markets like New York may have restored the National Basketball Associations's geographical balance of power, but it has also thrown a harsh spotlight on the gap between the league's richest and poorest franchises.
In the short term, the NBA is likely to benefit from higher TV ratings sparked by the high-profile player movement, highlighted by the recent acquisition of Carmelo Anthony by the New York Knicks, the league's most valuable franchise.
However, the apparent East Coast bias also leaves many small-market owners scratching their heads, wondering how, in a league that has gone increasingly to a hard-wage scale, they can prevent their homegrown talent from leaping to larger cities with more off-the-court opportunities.
"This is a league that really needs to cut expenses and is becoming a little bit of a tale of two cities of have and have-not franchises," said Robert Boland, a former agent and a professor at NYU.
Coming just as the NBA gears up for what are expected to be heated negotiations on a new labor deal, the big-market favoritism may lead to a new push to help teams retain their superstars.
Taking Their Talents to the East
Questions about the balance of power have grown as Anthony and Amar'e Stoudemire left the Denver Nuggets and Phoenix Suns, respectively, to sign up with the Knicks.
Then the Utah Jazz traded Deron Williams, arguably the NBA's best point guard, to the New Jersey Nets, a franchise set to open an $800 million arena in Brooklyn in 2013. In recent years Kevin Garnett and Ray Allen left smaller markets in Minnesota and Seattle, respectively, for the Boston Celtics.
To be sure, the flurry of players headed eastward would seem to correct a decade-and-half of dominance in the West, which has won 75% of the titles in the 12 seasons since Michael Jordan left the Chicago Bulls.
"Things go in waves. Things go in cycles," said Marshall Glickman, former president of the Portland Trail Blazers and CEO of G2 Strategic. "It's important to the league there is balance across the country and I think there is."
Todd Jewell, professor at the University of North Texas, echoed that sentiment, writing in an email, "The NBA has always been a West Coast/East Coast league (think Magic Johnson and Larry Bird), and this recent trend is no different."
And all NBA owners stand to gain from increased TV revenue from Time Warner's (NYSE:TWX) TNT and Walt Disney's (NYSE:DIS) ESPN networks that is likely to accompany New York fielding a compelling team for the first time in a decade. The NBA inked an eight-year deal with the networks in 2007 that pays about $930 million a year, a 20% rise from its previous average.
Advantage: Big Markets
Yet the East/West debate sheds light on the gap between big and small market franchises. After all, LeBron James, the sport's brightest star, left his hometown Cleveland Cavaliers for the allure of the Miami Heat, teaming up with Chris Bosh, who left the Toronto Raptors.
Just like in the Anthony trade, James and Bosh were joining a more competitive team in a larger market that offered them a greater stage that could make them better national endorsement candidates.
"Players are chasing teams that will allow them to be competitive and markets that will give them exposure," said Kevin Adler, president and founder of Chicago-based Engage Marketing.
The trend seems to tip the scales away from smaller market franchises like the Indiana Pacers that aren't likely to offer the same marketing opportunities as New York or Los Angeles.
"I'm a little concerned about the gravitation away from the smaller teams,'' Pacers owner Herb Simon told the Indianapolis Star. "If Green Bay can win (an NFL) championship with 100,000 population, then we should be able to win a championship, too.''
To be fair, there is a clear track record of very successful small-market NBA franchises. Simon needs to look no further than the Spurs, which have won four titles in 12 years despite residing in San Antonio.
"I think the small market versus big market thing is overplayed by the small market guys to some extent as an excuse," said Glickman, who ran a small-market team himself. "Yes, market size is a factor. In my opinion, it's too convenient and too simplistic of an explanation."
The Spurs have benefited from excellent management that drafted less-sought-after foreign players like France's Tony Parker who have turned into stars.
"They are figuring out how to value players appropriately, how to acquire them inexpensively and how to manage them," said Boland.
Likewise, the Oklahoma City Thunder has been a surprising success, building around rising star Kevin Durant, who last year signed a five-year deal worth $86 million.
The LeBron Rule?
Ironically, the NBA's hard-wage scale may be hurting the smaller teams. The scale largely locks players into a tight salary range based on their years of service and tenure with a given team, meaning teams wooing a particular free agent may not be able to offer him much of a financial incentive.
That contrasts greatly with Major League Baseball, where franchises often offer widely varying salaries, underscored by the Washington National's $126 million, seven-year signing of outfielder Jayson Werth.
The NBA's "hard-wage scale that you would think would drive parity is actually driving clustering," said Boland.
After all, if a player feels he can make $15 million anywhere he wants, he's likely to figure, "I might as well make it in New York where the off-the-court opportunities" are "exponentially greater," said Boland.
That economic argument could play a role in the NBA's labor negotiations, which some believe will scuttle part or all of next season.
"It shouldn't be only the large markets who win championships. So I think the owners are very united on the tack we want to take to make the system fairer for everybody," Simon told the Star.
Some have proposed the NBA institute a hard salary cap such as the one employed by the National Football League.
Jewell said he doesn't believe a hard cap is in the offing, particularly because the players are "much too powerful to let that happen."
More likely, the NBA could adopt a version of the NFL's franchise tag, which allows teams to hold on for one year to one player each offseason who is scheduled to become an unrestricted free agent.
Boland suggested a third option, which he dubbed the LeBron Rule. The provision would update the Bird Rule, which allows teams to breach the salary cap with impunity to keep their own free agents for up to six years.
To counter the NBA's hard-wage scale, the LeBron Rule would let franchises pay substantially more to prevent their stars from jumping ship, giving small-market teams a new selling point. If it had been in place, perhaps James would have thought twice about taking his talents to South Beach.
While it may prevent the gap between rich and poor from widening, Boland concedes a LeBron Rule would not be "compatible" in today's cost-cutting environment.