Earning College Credit Outside the Classroom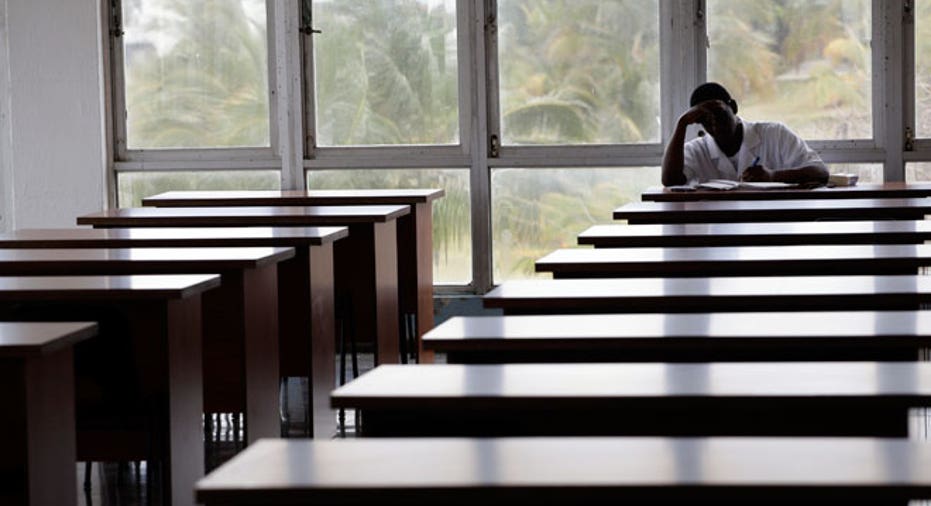 Although it's common for high school students to take college-level classes, they are increasingly looking for ways to gain the credit beyond their school's walls.
According to the College Board, about 903,630 U.S. public school graduates took at least one Advanced Placement exam and 540,619 achieved a passing score of 3 or higher in the 2010-2011 academic year, a rise of 34% from five years ago in the number of students passing and a 40% increase for the number of students taking the exam.
Most universities give college credit in subjects where a student scores a three or higher on a test, which can mean big savings for not having to pay for a class on campus. However, those students who took the exam make up just under a third of the more than three million high school seniors in the U.S.
With the rising costs of college, earning credit for college can help bolster their admissions status and can save money in the long run if they earn enough credits to knock out several or even a semester's worth of courses. With this in mind, Chuck Cohn, founder and CEO of Varsity Tutors, says students are seeking ways to earn college credit on their own rather than depend on the school systems.
"This trend has been accelerating over the last five years for several reasons. Many high school students simply have difficulty enrolling in desired AP courses either because of scheduling conflicts or they didn't meet the performance requirements in prerequisite classes," he says.
Making college-level courses more accessible to students has provided tremendous gains for students from underrepresented populations, says Suzanne McGurk, senior assessment manager for the College Board.
"It's not just that student from an elite socioeconomic background that might be your classic AP test taker, we're seeing very strong accomplishments and success rates of students across the socioeconomic platform."
For students wanting to take earning college credit into their own hands, here's what experts say to consider.
Alternative Ways to Earn College Credit
Taking online AP courses can be a great alternative for students to earn college credit on their own time.
"It means that where a small or rural high school can never have enough students to offer AP Latin, a student who's interested in that subject can [join] 10 or 12 students from around the country and a qualified teacher and get credit for it online, both at the high school and the college level as long as they do well," says Jeff Livingston, senior vice president, education policy at McGraw-Hill Education.
Students can also look into the College-Level Examination Program (CLEP), a sister product to the AP program that allows students to earn college credit without a high school course as long as they pass the exam, says McGurk.
"You're able to take a CLEP exam when you feel that you're ready for it, regardless of at what point that is. That gives more flexibility for students who might branch off of AP testing into CLEP exam testing."
Prepare for the Extra Coursework  
Without the structure of the classroom, taking on additional curriculum through self-learning can be a tall order for many students.
"The kiss of death is to assume you can slack off on the online course because there are no teachers in your face making sure you get your work done--you really have to think of it as exactly like the rest of your classes, you just don't physically see your teacher as often," says Livingston.
Students need to be realistic about the additional time and effort necessary to perform well on the end exam, says McGurk.
Although students can guide themselves through AP prep books and should frequently refer to course syllabi and example questions, seeking out specialized tutoring can help them prepare more efficiently, explains Cohn.
"Tutoring sessions for AP courses are most effective when students prepare lists of concepts that they don't understand completely," he says. "That allows the tutor to prioritize the topics more effectively and ensure that the student has a complete understanding of the concepts they had the most difficulty comprehending."
Research Administrative Requirements
It doesn't help at all to study, take and pass an AP test and then learn a school's policy won't allow the credit.
Students need to be responsible for making sure they have all of their bases covered in terms of costs and resources.
"A student who is looking for opportunities might even find that the schools have provided resources to help a student in that situation and make sure they have the technological resources to do that," says Livingston. "In some states, they are so eager to get students taking online courses at the state level that the state will put in a computer lab just to make that possible."
Students need to stay on top of all exam sign-up deadlines and for students with serious financial need, seek out exam fee subsidy options from the school district or state, suggests McGurk.
"They wouldn't just want to pay out of pocket to take this test just because they're not attached to a particular high school or a particular class, so they really want to look into the resources that might be available to assist them."