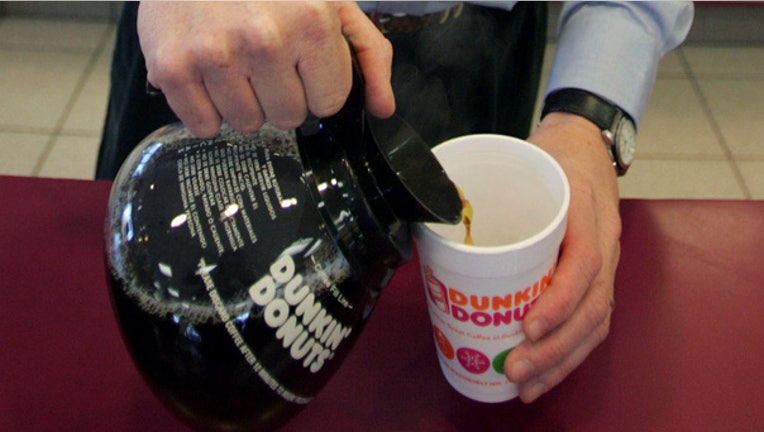 Dunkin' Brands (NASDAQ:DNKN) said Thursday its fourth-quarter profit jumped 23%, as the restaurant operator saw improved customer traffic and same-store sales.
The Dunkin' Donuts and Baskin-Robbins parent also raised its quarterly dividend by four cents to 23 cents a share and offered an upbeat forecast.
The company expects full-year adjusted earnings of $1.79 to $1.83 a share, while analysts polled by Thomson Reuters recently estimated $1.80 a share. U.S. same-store sales are projected to grow 3% to 4% at Dunkin' Donuts and 1% to 3% at Baskin-Robbins.
Dunkin' rallied to new 52-week highs on Thursday morning, climbing 6.2% to $50.24 in recent trading.
The Canton, Mass.-based company reported net income of $42.1 million, or 39 cents a share, compared to $34.3 million, or 32 cents a share, in the year-ago period. Excluding one-time charges, adjusted earnings checked in at 43 cents a share versus 34 cents. Revenue rose 13% to $183.2 million.
Dunkin's performance topped Wall Street views, with analysts forecasting adjusted earnings of 40 cents a share on revenue of $178 million.
Dunkin' benefited from improved results at its Baskin-Robbins ice cream shops, which have been the subject of a turnaround effort. U.S. same-store sales were up 2.2% at Baskin-Robbins and 3.5% at the company's namesake doughnut stores. Internationally, comparable store sales rose 1.6% at the ice cream chain but Dunkin' Donuts fell 0.3%.
Domestic Dunkin' Donuts stores saw more traffic and a higher average ticket, due in part to new beverage products. The company said holiday-themed ice cream helped drive traffic to Baskin-Robbins shops during the period.
Recent strength at the Dunkin' Donuts chain has spurred the company to expand its portfolio of stores. Dunkin' recently unveiled plans to open roughly 400 new doughnut restaurants in the U.S., as it enters new markets like California and Texas.
Chairman and CEO Nigel Travis said the company is looking to make its brands "more accessible to consumers" with a new mobile and rewards program.