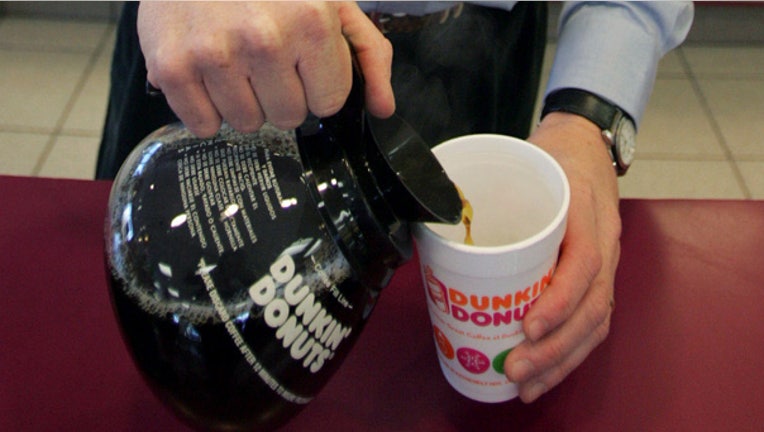 Dunkin' Brands (NASDAQ:DNKN) said Thursday it signed franchise deals that will bring its namesake restaurants to London, as the company moves forward with expansion plans.
The Canton, Mass.-based chain, which also owns Baskin-Robbins, signed franchise agreements with Court Group and DDMG to develop 50 Dunkin' Donuts restaurants in Greater London over the next five years.
The expansion into the U.K. marks Dunkin' Donuts' return after leaving the country in the mid-nineties.
Dunkin' also said it's in advanced talks with other franchise partners. Those deals would bring the five-year total to 150 U.K. restaurants.
The restaurants there will offer coffees, teas, frozen drinks, and espresso-based beverages, as well as donuts, muffins, croissants and sandwiches. Regional menu items will also be featured, the company said.
In an interview last year, Dunkin' Brands CEO Nigel Travis told the Telegraph, a U.K. newspaper, that he believed Dunkin' Donuts' breakfast items, donuts and "slightly milder" coffee could appeal to people who visit Starbucks (NASDAQ:SBUX) or McDonald's (NYSE:MCD).
Dunkin' already has 100 of its Baskin-Robbins ice cream shops in the U.K.
"We feel there is significant opportunity for Dunkin' Donuts in the UK, and we have had a tremendous response from potential franchisees interested in developing the brand across the country," Giorgio Minardi, President of Dunkin' Brands International, said in a statement.
Dunkin' Donuts will compete in the U.K. with rival Krispy Kreme Doughnuts (NYSE:KKD), which has been in the country for several years.
Dunkin's latest move to expand internationally follows an announced return to Russia, which it exited in 1999. The company unveiled plans in 2010 to open 20 restaurants in Moscow.
The chain has also begun to expand domestically into western U.S. states, planning a return to California starting in 2015.
Shares closed Wednesday at $43.76, up 31.9% so far this year.