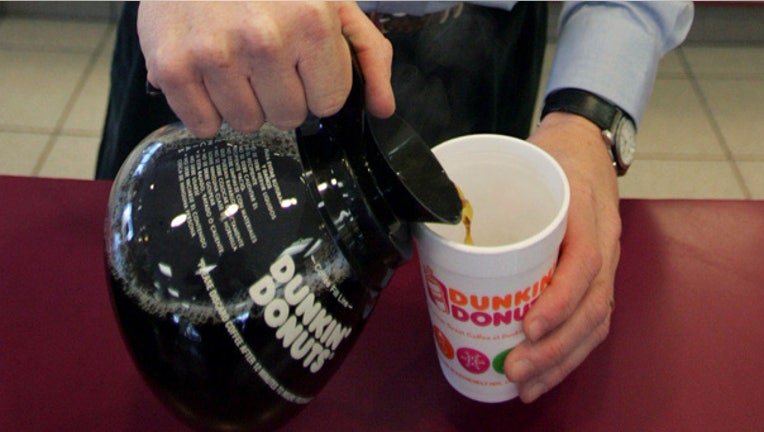 Dunkin' Brands (NASDAQ:DNKN) – the parent of Dunkin' Donuts coffee shops and Baskin-Robbins ice cream stores - swung to a fourth-quarter profit and topped Wall Street estimates, but its shares slumped 3% Thursday morning.
Higher traffic and average tickets at its franchises were driven by demand for beverages, new breakfast products, such as its Smoked Sausage Breakfast Sandwich, and sales of K-Cups.
It's been about a year since Dunkin' started selling branded K-cup coffee pods for Green Mountain Coffee Roaster's (NASDAQ:GMCR) popular Keurig single-cup coffee machine and demand for the product has soared.
The company also opened more stores in core markets and benefited from an earlier refinancing plan, partially offset by higher taxes.
The Canton, Mass.-based company reported net income of $11.6 million, or 10 cents a share, compared with a year-earlier loss of $15.3 million, or $1.02 a share.
Excluding one-time items, the company earned 30 cents, just ahead of the 28-cent estimate put forth by analysts' polled by Thomson Reuters.
Revenue for the three-month period was $168.5 million, up 12% from $149.8 million a year ago, trumping the Street's view of $160.1 million.
Sales at Dunkin' Donuts stores in the U.S. open more than a year were up 7.4% during the quarter, while those same-store sales at Baskin-Robbins grew 5.8%.
The company's chief executive, Neil Moses, touted the company's "outstanding 2011" and said its "asset-light franchised business model" helped revenues grow and margins improve.
"We are excited about our prospects and remain focused on executing our growth strategies and delivering shareholder value," he said.
Since Dunkin' was taken public last summer by private equity firms, its share price has climbed more than 50%.