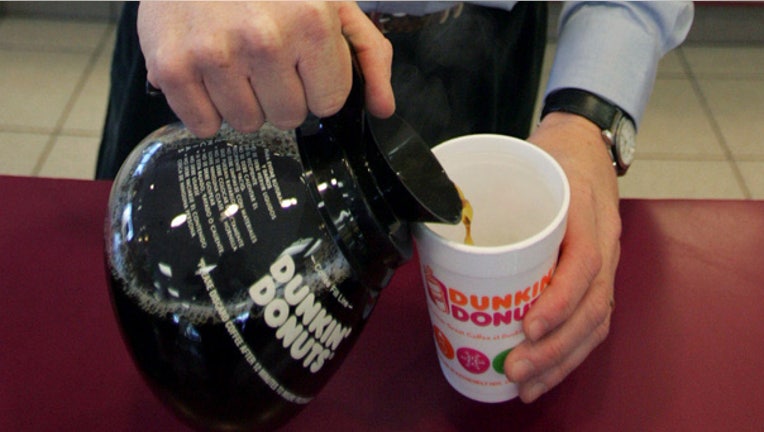 A year after its public market debut, coffee and ice cream giant Dunkin' Brands (NASDAQ:DNKN) unveiled on Thursday second-quarter earnings and sales that handily topped Wall Street expectations, and slightly lifted its fiscal 2012 outlook.
The parent of Dunkin' Donuts and Baskin-Robbins reported net income of $18.5 million, or 15 cents a share. Excluding one-time items, Canton, Mass.-based Dunkin' said it earned 33 cents a share, matching average analyst estimates in a Thomson Reuters poll. Adjusted earnings per share climbed 32% year-over-year.
Revenue for the three months ended June 30 was $172.4 million, up 9.8% from $157 million a year ago, topping the Street's view of $170.1 million.
The company increased its earlier provided fiscal 2012 outlook by a penny to a range of $1.22 to $1.25 a share from an earlier $1.21 to $1.24 a share. The consensus is still calling for slightly higher earnings of $1.25.
Dunkin' Brands began trading on the New York Stock Exchange on July 27, 2011, in an IPO valued at more than $400 million. Since then, the company has been building its customer base and adding new products in an effort to boost its top line.
"We believe our strong performance to date clearly demonstrates the platform for growth that we laid out at the time of our IPO," Dunkin' CEO Nigel Travis said in a statement.
Shares of Dunkin' were down about 1.3% Thursday morning to $13.41, but are up 12.5% from its IPO. Operating margin fell to 26.8% during the quarter from 39.4%.
Travis noted that Dunkin's franchises generated revenue growth and high margins during the quarter as it continued to franchise, brining total restaurants worldwide as of June 30 to 17,000.
In its latest quarter, the company's franchisees and licensees opened 140 new restaurants, and Dunkin' Bands on Thursday increased the number of international stores it plans to open this year to between 400 and 450 from an earlier view of 350 to 450.
Dunkin' Donuts' comparable sales grew 6.9% in the U.S. during the second quarter, led by higher average tickets and traffic, while Baskin Robbins' increased by 4%. Internationally, Dunkin's sales jumped 4.6% and the latter's climbed 3.5%.
The gains were led by promotions, such as a 99-cent Tea offer at Dunkin' Donuts, as well as new products such as its Black Cocoa Crème Iced Coffee and new breakfast sandwiches.
Earnings were further cushioned by a decrease in interest expense associated with the refinancings completed last year and the repayment of debt using proceeds from its IPO.
Dunkin' declared on Thursday a quarterly cash dividend of 15 cents a share, payable on Aug. 24 to shareholders of record on Aug. 6.